When I first learned how to shirr on my sewing machine, I had a hard time finding a good tute using a Brother on account of the drop-in bobbin style so I want to share what I find works wonderfully for me (after a lot of trial and error!).  This may sound complicated but I promise, after you get the hang of it, you'll love elastic thread and shirring!
If your pattern doesn't tell you how much fabric length to use, the usual shirring ratio is 2:1.  So, let's say I'm shirring a dress for my daughter.  If her chest circumference is 20″, I want to my fabric piece to be 40″ across (plus an inch or two for seam allowance).
First thing first.  The elastic thread only goes in the bobbin.  This might go without saying but when I first started to sew, I failed to read the instructions on the elastic thread package and couldn't for the life of me figure out how to get such thick thread in the needle…that's because you don't!  Normal thread on top, elastic thread in the bobbin.
This is the elastic thread I prefer.  It's by Stretch Rite and looks like this:
I use my machine to wind the bobbin with the elastic thread, only I hold the thread in my hand and give very light tension as I wind with the pedal.  I wind 3-4 bobbins with elastic thread each time I do a shirring project.  You'll go through several bobbins per project so it's convenient to have a few ready to go.If you run out of bobbin thread mid-line you can stop and start with a new bobbin on the same line in the spot where you ran out of bobbin thread, just tie the elastic threads together so they don't pull out after you finish that line.
Now, before you load your bobbin into your machine, we'll need to adjust the tension on the bobbin case.  To do this open your lid above the bobbin case and wiggle to pull it out.  On the front you'll see a little screw.  You need to tighten it by turning a full turn to the right.  (Just don't forget to change it back when you want to sew with regular bobbin thread again!).  Mine has a little green paint dot on it so I use that to judge my turning.  Put the bobbin case back in and replace the cover piece.  Load bobbin as you normally would.  Test the tension by pulling gently.  You want it to move but you want to have to pull a bit to get it to unwind.
Replace the little clear plastic bobbin area lid.   Thread your machine as normal but set your stitch length to 4.  I use normal tension.
Now hold your thread as your turn the wheel so that the machine is starting to do a stitch by hand.  This will pull up your bobbin thread.  You may need to use a little pin or something to help you pull up the bobbin thread.  Now it will look like this:
We're ready to shirr!  Some people mark lines with a washable pin on their fabric but I'm too lazy for that.  I typically just make each row of shirring the width of the presser foot (or eyeball if I do rows of close shirring).
Usually, you won't backstitch at the start/end of each row, which means you'll have lots of thread "tails" hanging until you sew up your seams but you'll cut off all the excess after.  You want to leave a few inches of thread on each side of your row to ensure the threads don't pull out.
Start sewing rows.  The shirring will become more evident the more rows you do.You need to stretch the previous rows out as you sew consecutive rows.
If all of your settings/tension are correct, the back of your project should look like this with the elastic thread in a nice straight line.  If it's wonky, you might have your bobbin thread tension too tight or too loose.
Once you've completed the desired number of rows, sew up your seams.  Now the fun part.  Heat up your iron with steam.  Press the rows with normal thread side up and watch it shrink up!  (I used a scrap piece of an old shirt to demonstrate shirring so that's what you see in these pics).
The front side, finished:
And the back side:
The shirring steps in sum:
Wind several bobbins with elastic thread.
Tighten your bobbin tension by turning the front screw on the bobbin case 1 turn to the right.
Use normal tension and 4.0 stitch length on the top thread.
Shirr in rows leaving several inches of "tail" with each row.
Sew your seams and trim threads.
Shrink your shirred rows with a hot iron

with

steam.
And don't forget to turn your bobbin case screw back one turn to the left when you sew with regular thread again!!  (I say this, but I forget to do it all the time…until I start to sew and my bobbin thread is way too tight.)
NEW! Share Photos of things you make using my tutes in the Designed by Dawn Nicole Flikr Group
As Seen On: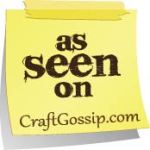 Linking up on: