In my post yesterday, I shared my DIY Jumbo Wall Art Chalkboard-Style Wood Sign. It will become part of our TV Gallery Wall. I searched online for inspiration and thought it would be fun to share the 12 Awesome TV Gallery Walls I've gathered. A TV is a bit of an eyesore, but I'm the first to admit, I LOVE my TV, so a gallery wall is a great way to make it more of a design element in a room.
Clicking the links or any photos will take you to the source's page for all the details on how these talented blogger's created their respective walls. If there is one you especially like, please show them some love and visit their blog and maybe even make their day by leaving a kind comment. 🙂
I love how Vanessa made eclectic work so well together and the personality shown in the pictures she choose.
Caitlin's pops of color, arrow print, and unexpected items made me fall in love! There are things my hubby will declare "too girly" for our wall, but if I were a single gal this would just how I'd want my TV wall to look.
Christine's wall is the one my husband really loves and the décor would fit well with the movie quote on our Chalkboard-Style wood sign. Aren't the giant chalkboards so fun? I wish we had room to do something similar!

4. Tidbits & Twine
I'm a sucker for classic black and white. With moving the way we do, I adore the idea of adding in some road signs like Kim did on her fabulous wall!
The antlers and shutters (seriously, such a smart idea) are two of my favorite elements of Rhoda's cozy den wall.
Isn't Shauna's wall just so inviting and homey? Love the shelf and the pops of color!
When I came across Ashley's wall, I immediately notice she used the Ampersand print in my round-up of Typographic prints to love from Minted, so she obviously has great style. 😉 I love the mix of classic and modern pieces and use of all different neutral frame colors.
I love that Rachel used a map among her gallery wall, another thing that would pay tribute to our moving-every few years kind of life. The pops of red look so stylish too!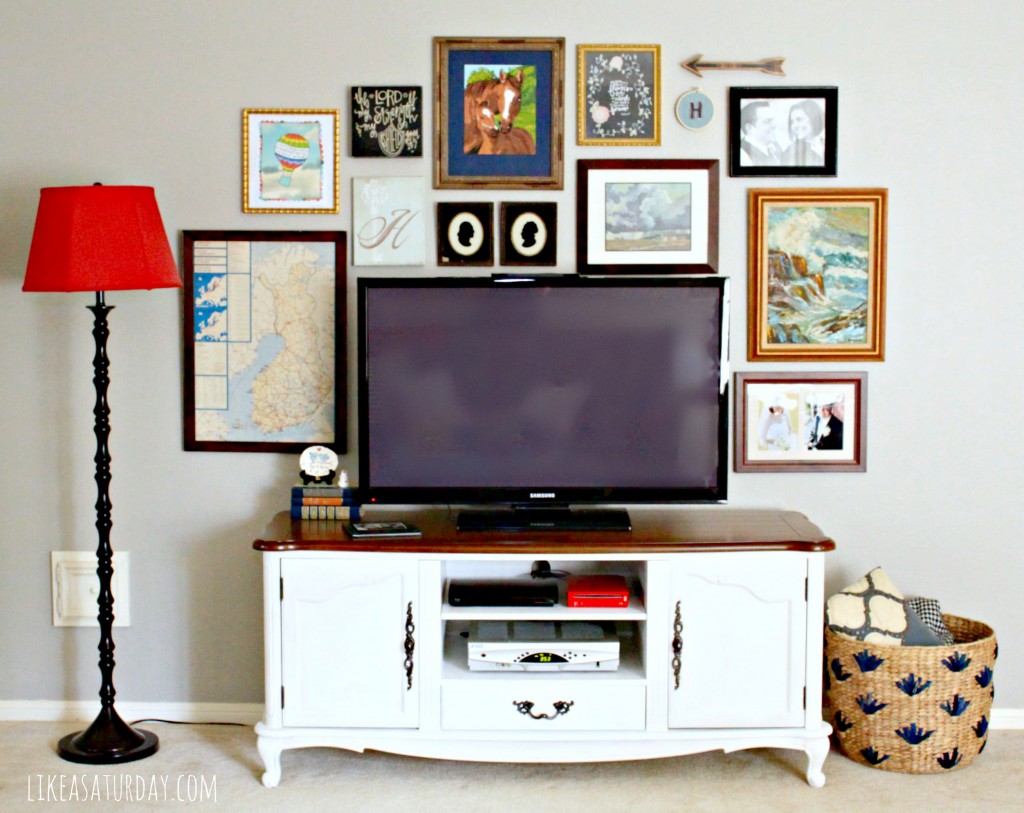 I love Jenna's color scheme and the antler and chevron prints mixed with mirrors and photos! Mint, gold, white and black is a color scheme obsession of mine lately!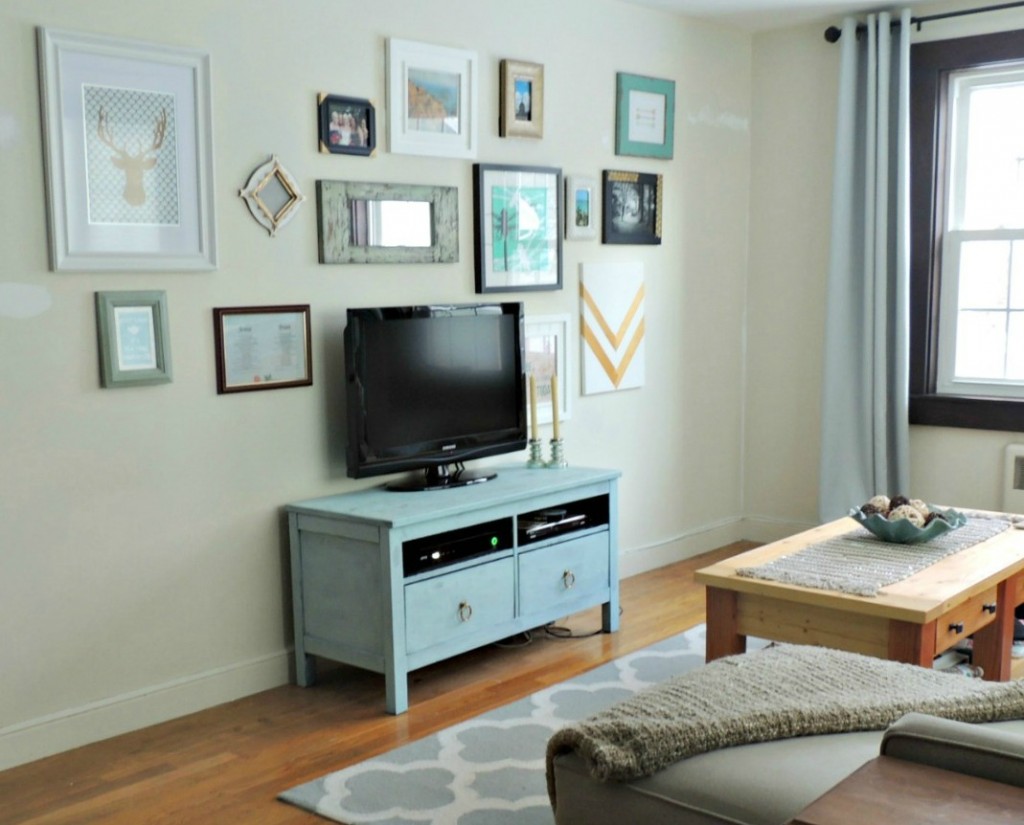 I adore Jenna's use of color, playful prints, records, and empty frames as design elements.
I love Missy's classy neural color scheme and the wire tray she painted a Canadian Maple leaf on (my husband was born in Canada). The French Typography on her lamp shade is such a fun element too!
Turning a TV into a design element simply by framing it is so smart, easy and inexpensive!
I hope these beautiful walls inspire you as much as they have me. I finished my wall last night so you'll see the big reveal on the blog soon! 🙂
Happy creating!
Let's Connect – Facebook – Google+ – Pinterest – Instagram – Twitter – Etsy