Basic Strokes Worksheets for Small Brush Pens. Download these free brush calligraphy worksheets and get practicing!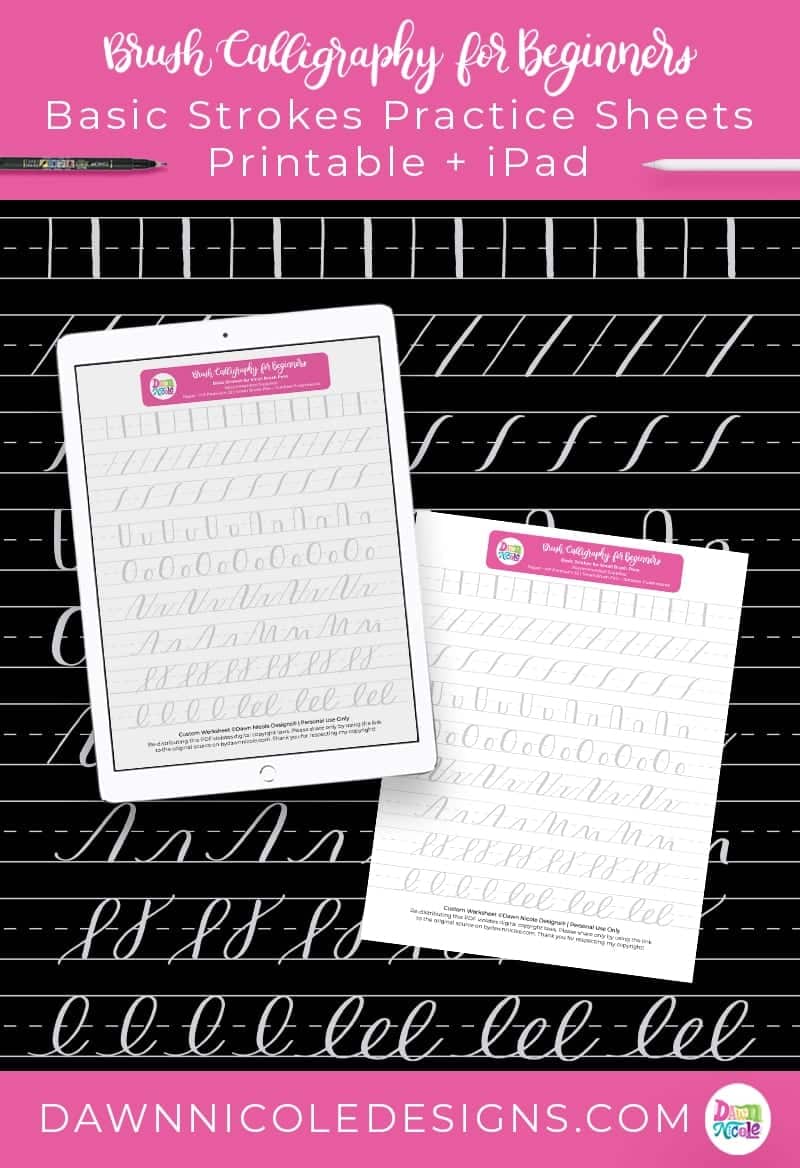 Basic Strokes Worksheets for Small Brush Pens
Whether you're a newbie or experienced with brush calligraphy, it's always a good time to practice basic strokes.
It's also a great warmup exercise if you haven't lettered in a while or got a new type of brush pen.
Small brush pens are the perfect way to start brush calligraphy if you're a newbie! They're much easier to work with the larger brush pens.
The new sets of Basic Strokes Worksheets include an expanded set of basic calligraphic strokes. These strokes are simply pieces of all the letters of the alphabet.
Supplies
These worksheets were designed for use with small brush pens. These are the supplies I recommend using.
Paper: Print on Brush Pen-friendly paper. The recommended copy paper is HP Premium32 Paper.
Small Brush Pen: The Tombow Fudenosuke is the best brush pen for these smaller "create" words on these worksheets. It's ideal for beginners and pros alike! It comes in hard and soft tip options. I recommend the combo pack so you can see which you prefer. Or use the Fudenosuke Colors to make practicing even more fun.
Procreate Brush: DND Basic Brush. Simply adjust the size on the slider to fit the size of the word you're tracing. I usually set it to about 4% for the smaller words and 8% for the bigger ones.
Doing the Worksheets
Don't focus on making your strokes perfectly match mine. Focus more on the thin upstrokes and thick downstrokes part! Remember to use light pressure for the upstrokes and heavy pressure for the downstrokes.
Go slow. Like super slow. Speed comes with practice and time but I find my work is most consistent when I keep it slow.
Feel free to turn your page to get a better angle when needed.
Be sure to set your printer scaling "Fit to Page."
The Printer I currently use is the HP Color LaserJet Pro MFP M281cdw.
---
Brush Calligraphy Basics Video: Supplies
A short intro video on the basics supplies used for brush calligraphy.
Brush Calligraphy Basics Video: The Basic Strokes
A video lesson demonstrating how to do the basic strokes.
---
Download the Practice Sheets
Terms of use: Custom lettering design + worksheets are ©Dawn Nicole Designs®. They are for personal use only. Re-distributing PDFs/JPGs violates digital copyright laws.
Please share these free worksheets only by using the link to this original blog post on bydawnnicole.com.
Thank you for respecting my copyright!
---
Click the buttons below to download the practice sheets
Printable Practice Sheet (PDF)
Procreate Practice Sheet (JPG)
When the JPG pops up, right-click and select "save as image."
---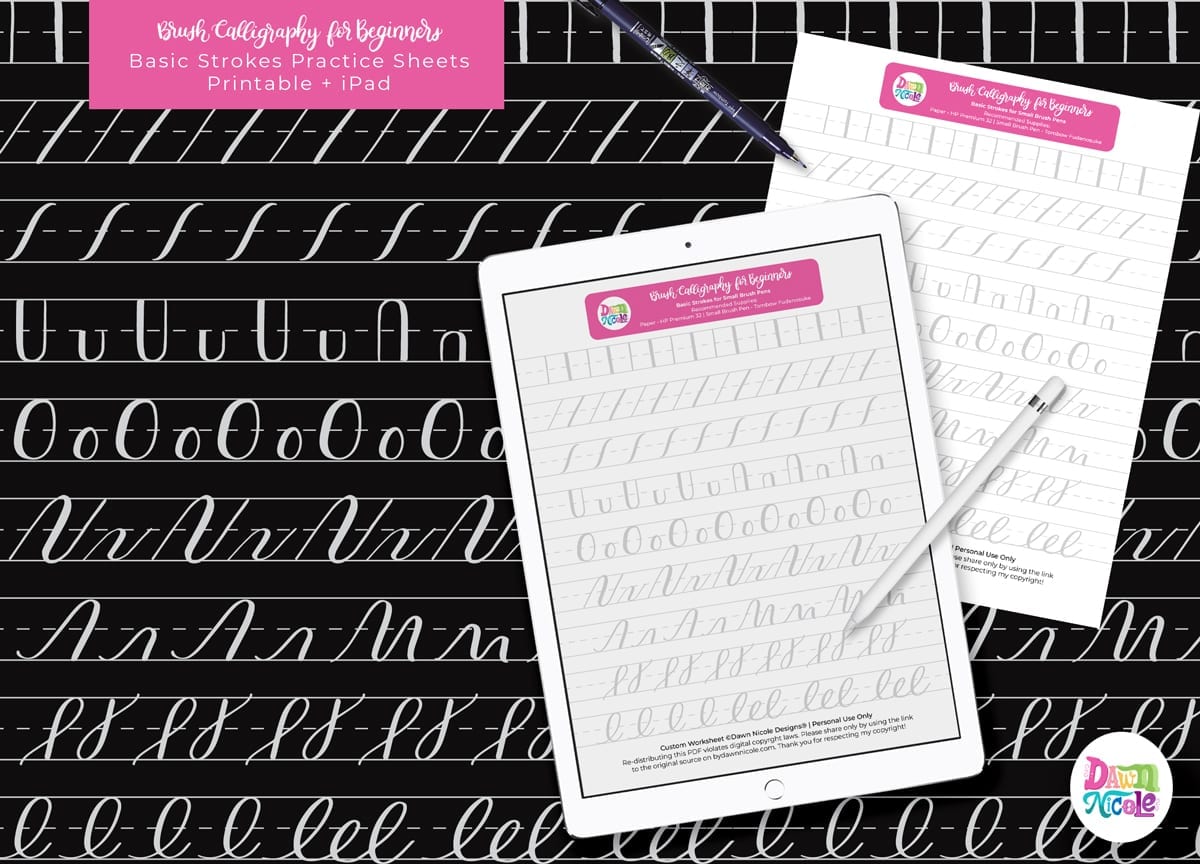 ---
Bonus Brush Calligraphy Basics Video here:
---
Want to learn lettering + calligraphy in greater detail?
Check out the five-star rated Workbooks + Procreate Brushes in my shop!

---
Basic Strokes Worksheets for Large Brush Pens
Pop over to this post to get the set of Basic Strokes Worksheets for Large Brush Pens.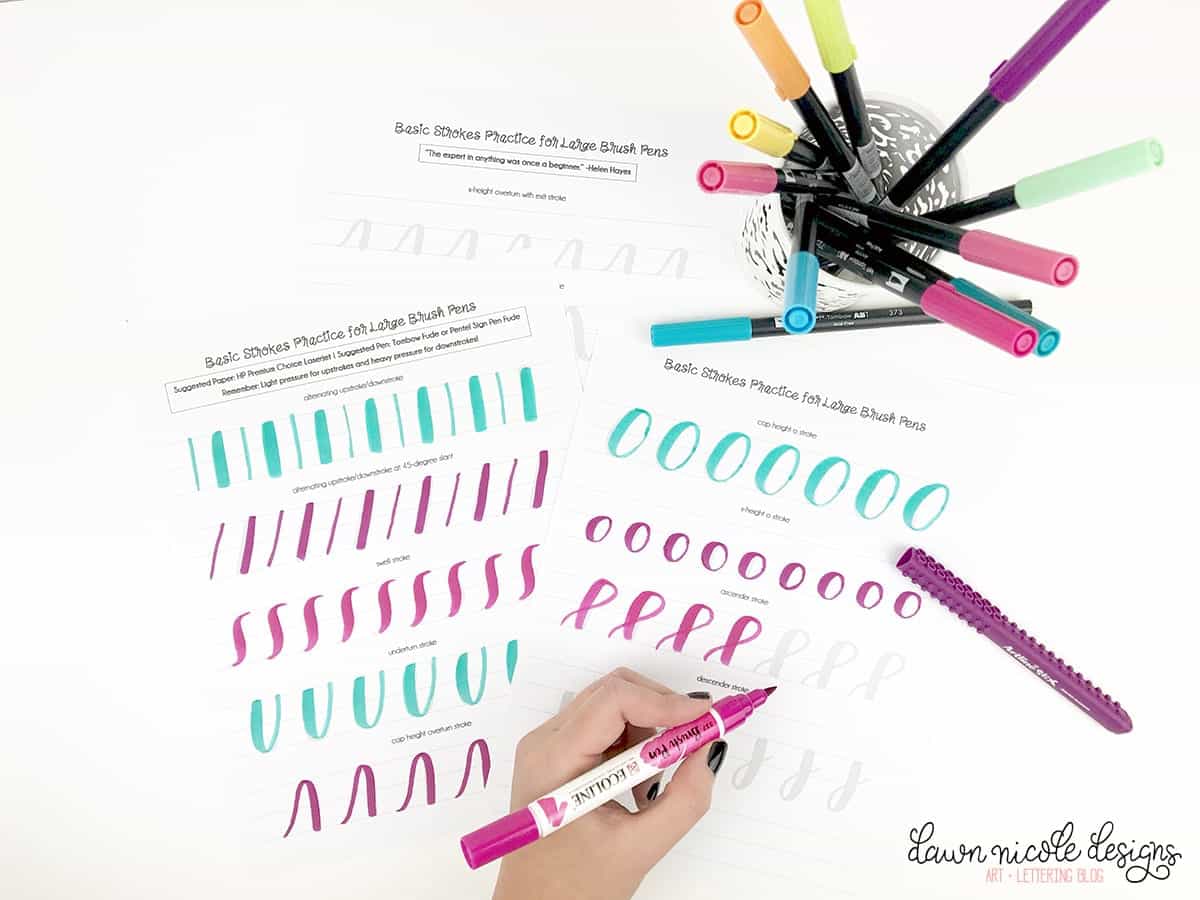 Let's Connect
Facebook // Pinterest // Instagram // Shop