Best Brush Calligraphy Pens for Beginners. The reasons I love and recommend the Tombow Fudenosuke as THE brush calligraphy pen for newbies! Plus, some more colorful brush pen options.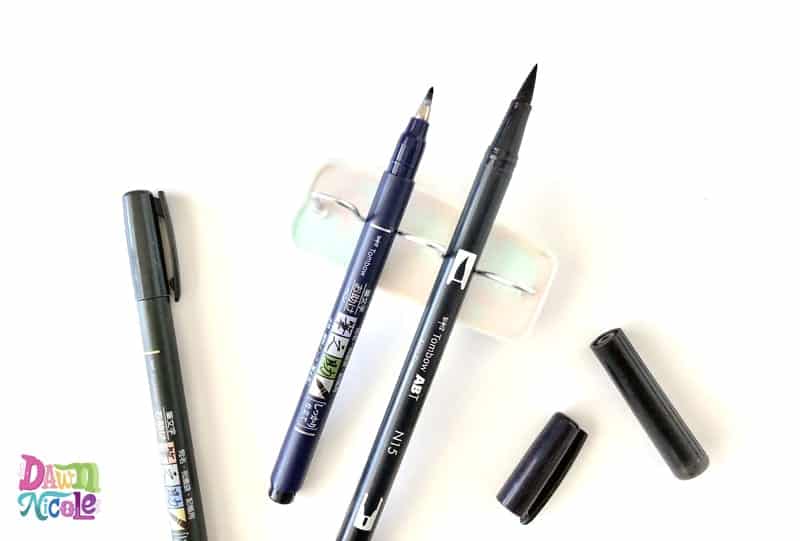 Best Brush Calligraphy Pens for Beginners
Hello, my creative friends! Although there are many brush pens on the market these days, there are two standouts for me: the Tombow Fudenosuke and the Pentel Fude Sign Pen (Flexible Tip).
Why do I love the Tombow Fudenosuke?
Let me count the ways!
The Tombow Fudenosuke is the number one brush pen I recommend to Brush Calligraphy newbies. The small brush nib is much easier to learn with than larger nib brush pens (including the Tombow Dual Tips).
If you learn with the Fudenosuke First, the Dual Tips will be much easier to use than if you were to start with the Dual Tips.
---
Tombow Fudenosuke FAQs
How do I pronounce "Fudenosuke"?
First, as someone who pronounced its name incorrectly for a long time, I'll share the correct pronunciation: "foo-den-OH-ski." Many of us call it the "Fude" for short.
What options does it come in?
It comes in three options: Hard Tip, Soft Tip, and Twin Tip.
Which Fude should I start with?
If you're new to the Fude, I always recommend buying the Hard + Soft Tip Combo pack so you can see which feels more natural to use. Most people gravitate toward one or the other when they're first learning.
Does it come in colors?
YES! As of October 2018, the Tombow Fudenosukes now come in colors! They are the same flexible, hard tip Fudenosuke Brush Pen you know and love, just in color.
Grab them as a 10-Pack here.
Shop individual colors here.
NEW as of October 2019! Now available in a 6-pack of Neon Colors as well! Grab those here.
---
The Pentel Sign Pens with Flexible Tips are very similar and also an excellent calligraphy pen for beginners.
---
What About the Tombow Dual Tips?
The Dual Tips are my favorite brush calligraphy pens because they are versatile. They come in 108 colors. But I recommend you get comfortable with the small tipped brush pens first and then move on to the larger tipped ones.
Here's a side-by-side comparison of the tip sizes: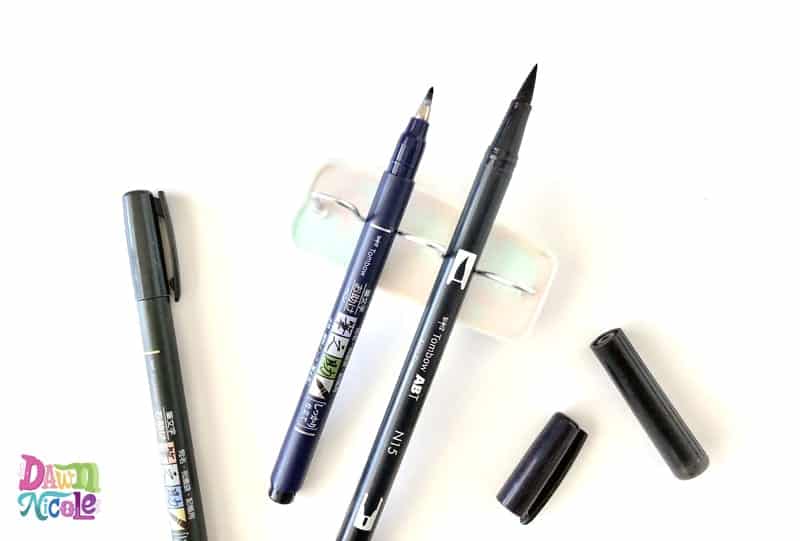 Is it refillable?
The Tombow Fude is non-refillable. Nor are the Dual Tips or Pentel Fudes. But I find that they last a long time!
Which one is your personal favorite?
I use and love all three, but when I was learning to use pressure to control my upstrokes and downstrokes, I found the flexibility of the soft easiest. Now that I'm comfortable using pressure, I tend to reach for the Hard Tip more often. The Twin Tip has a black end and gray end, and its nib flexibility feels more like the Soft Tip to me.
My fellow marker addicts will get plenty of use from all three!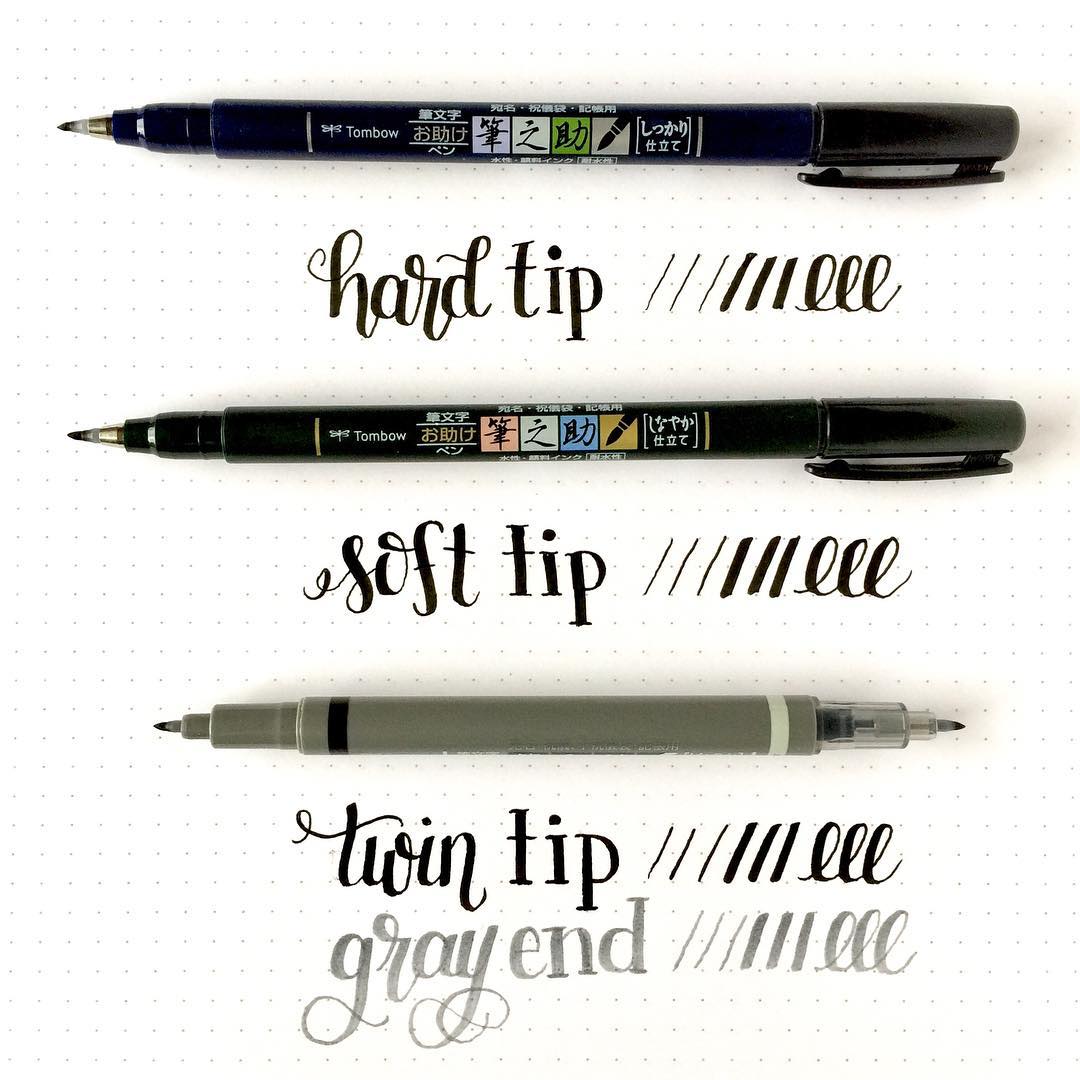 ---
Why is my Tombow Fude streaky?
The slightly streaky look is typical for the Tombow Fude. I like the slightly distressed look and character it gives. It's not as "juicy" of a marker as some others but the easiest to learn with.
Paper type, how fast you go, and the pressure you use will affect the look. If your sketch pad has pages that are on the rougher side, the streaky look will be more prominent because the paper is more porous.
A super-smooth paper is best for your markers.
What paper do you recommend using for brush calligraphy pens?
Using the proper paper keeps your brush tips in excellent condition, so look for ultra-smooth paper designed for use with brush pens and markers.
My favorites are detailed in this post.
Do you have practice sheets for these pens?
I sure do! Grab TONS of free practice sheets on the blog here.
The 30 Days of Drills Workbook
This workbook is perfect for busy beginners who want to learn the art of Brush Calligraphy. Commit to doing just one worksheet every day for 30 days, and keep track of your progress with the included checklist!

---
---
That it's for this Best Brush Calligraphy Pens for Beginners post.
If there is an art supply or product you'd like me to test and review in detail, please let me know in the comments, and I will add it to my list. 🙂
Happy lettering!
LET'S CONNECT
Facebook // Pinterest // Instagram // Shop