How to Do Brush Lettering with Free Practice Worksheets. Download these free worksheets and get practicing!
How to Do Brush Lettering
Brush lettering takes some practice but it's really fun once you get the hang of it. Using a marker or pen with a brush nib, you use pressure to create a calligraphic style of lettering. On the upstrokes, you use light pressure and on the down strokes, you use heavier pressure. I'll demonstrate this in a video later in the post.
Practice definitely makes progress, so I designed some free printable practice sheets. I suggest printing these and trying to do them once a day until you are comfortable with using pressure to create the calligraphic lettering style.
Paper Matters
Using the proper paper keeps your brush tips in great condition so look for ultra-smooth paper designed for use with brush pens and markers. My favorites are:
Holding the Brush Pen
You can really hold your pen however it is comfortable for you, but one thing you need to do is hold it at a roughly 45-degree angle, as demonstrated in the video at the top of this post.
More Brush Lettering / Brush Calligraphy Basics
Watch a Brush Calligraphy Basics Video here:
This video is a free mini bonus module from my Constellation Lettering Online Class.
---
The 30 Days of Drills Workbook
This workbook is perfect for busy beginners who want to learn the art of Brush Calligraphy. Commit to doing just one worksheet every day for 30 days and keep track of your progress with the included checklist!

NEW! The 30 Days of ABCs for Small Brush Pens
The second workbook in the 30 Day series is here! Commit to just one worksheet a day, and you'll see significant improvements over the month.


---
Want to learn Brush Lettering in a more in-depth way?
Check out the free hand-lettering worksheets archives here.
Beginners: Check out my 30 Days of Drills Workbook above!
Intermediate: Check out my Constellation Lettering Online Class here.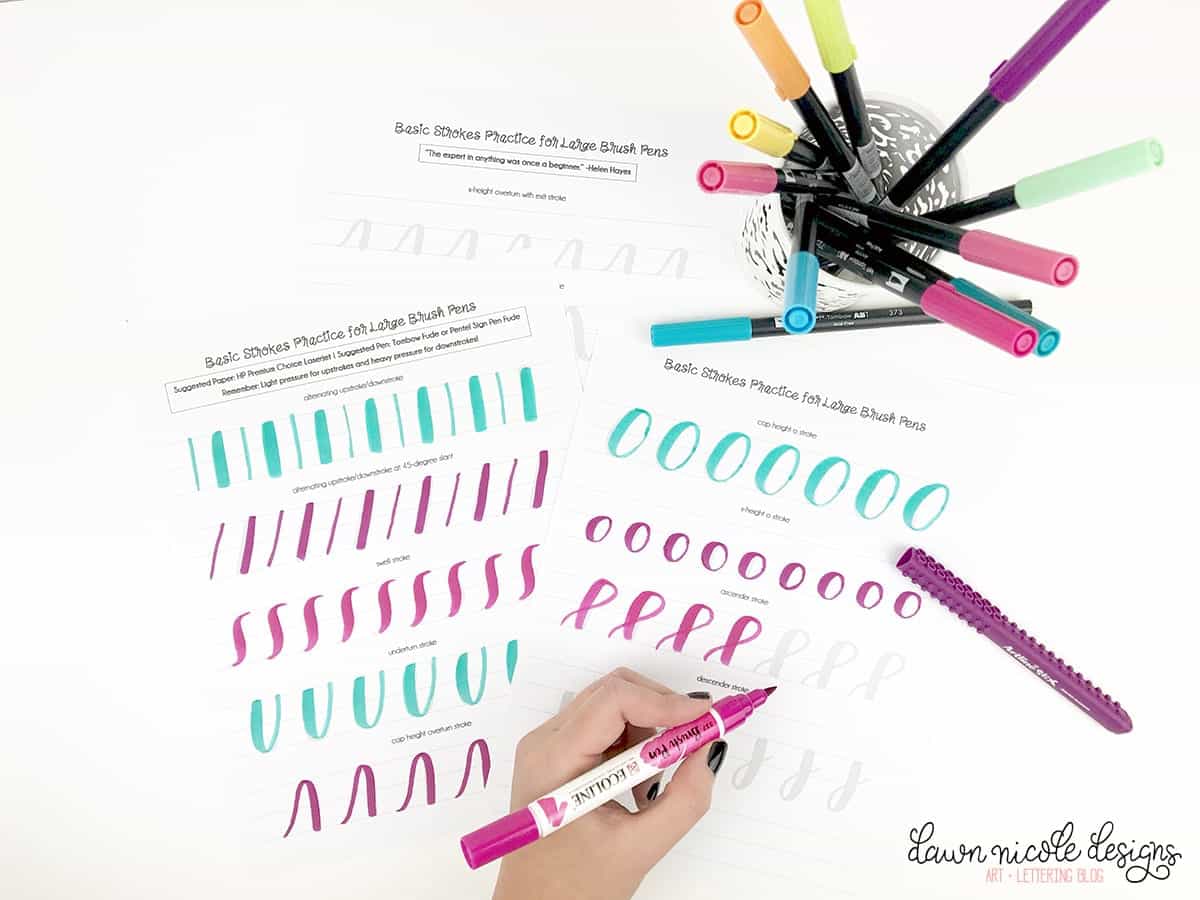 Are you a fellow writing-utensil addict?
Check out all my favorite Pens, Markers and Pencils here.
Let's Connect
Facebook // Pinterest // Instagram // Shop