Create Room DreamBox Review. The DreamBox is serious organizational goals, but is it as dreamy as it appears? Should you do the DIY or Pre-Built Option? Find out in my blog post and video!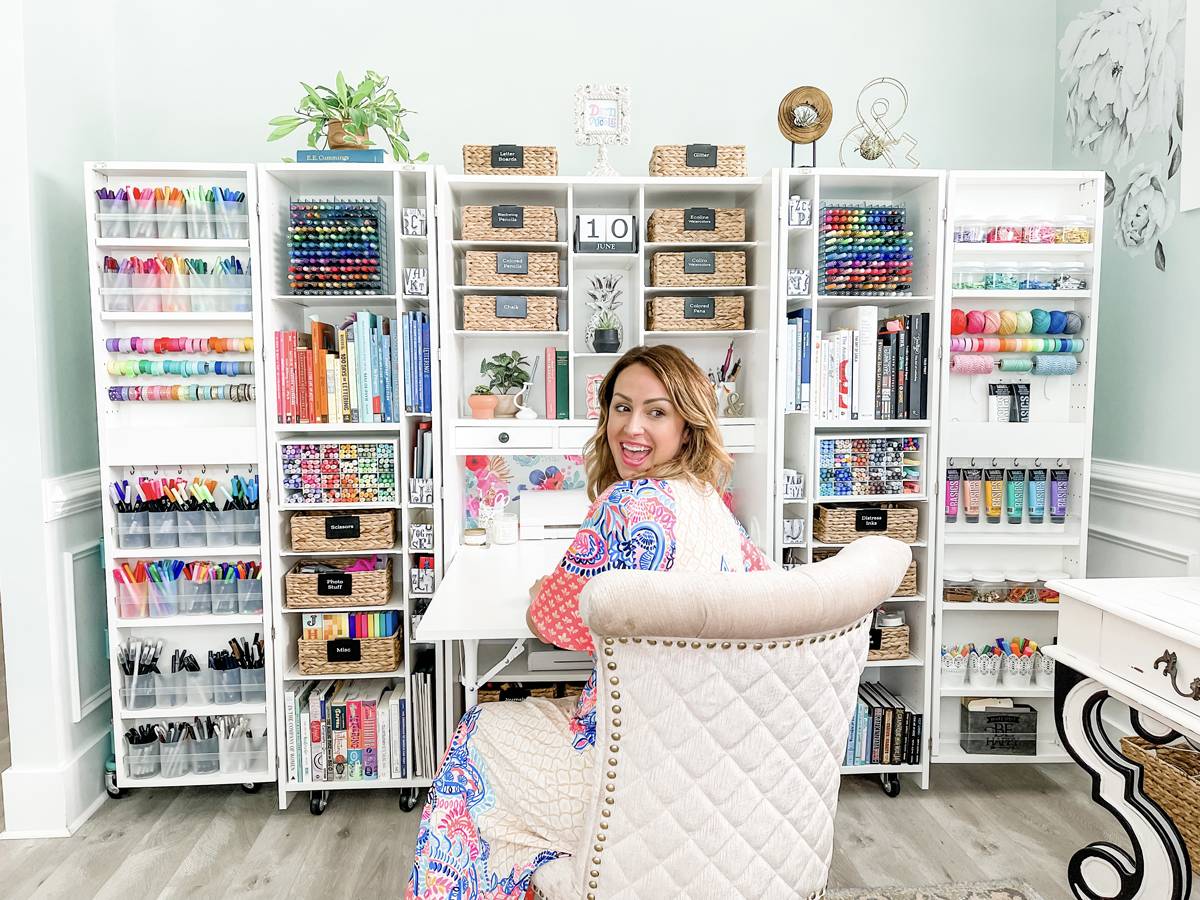 THe Ultimate DreamBox Review + Coupon Code
In December of 2016, I purchased the Workbox 2.0 by Create Room (formerly known as The Original ScrapBox) with my own money. My husband and I assembled it, and it's traveled with us from Germany back to the United States.
After the Workbox 2.0 came the WorkBox 3.0. Flash forward to the Winter of 2019; my friends at Create Room offered to upgrade me to the newest model, the DreamBox, so I can share it with you.
To be forthcoming, I was not paid for this blog post, but I did receive the newest model of their craft cabinet for free on 2019. However, since I've already paid for and assembled one of these beauties with my own time and money, I'm writing this DreamBox Review from the perspective of someone who has invested the time and effort into one.
Ok, let's talk about how dreamy the organization is!
P.S. If you wonder about the various photos of my DreamBox, I've had it several years since I first wrote this post. I've updated it this year (2022) with new photos as I've painted and re-arranged my office. We recently moved from SC to IL, so I'll have new photos to add soon! Here's a sneak peek of how it looks in my new home office (with fun new wallpaper from Create Room!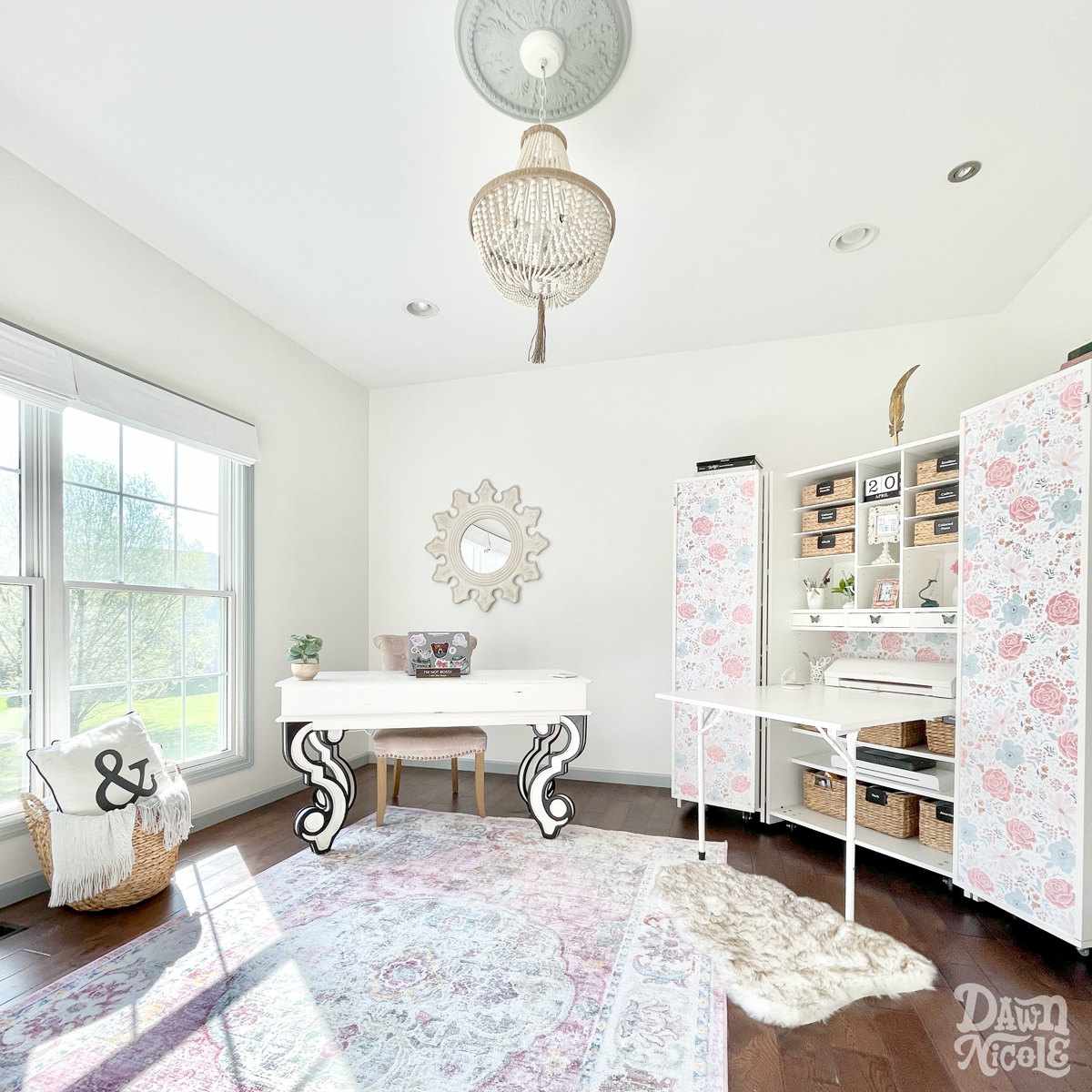 The Create Room DreamBox Wallpaper is pre-sized for the doors and nook, so installing is a breeze!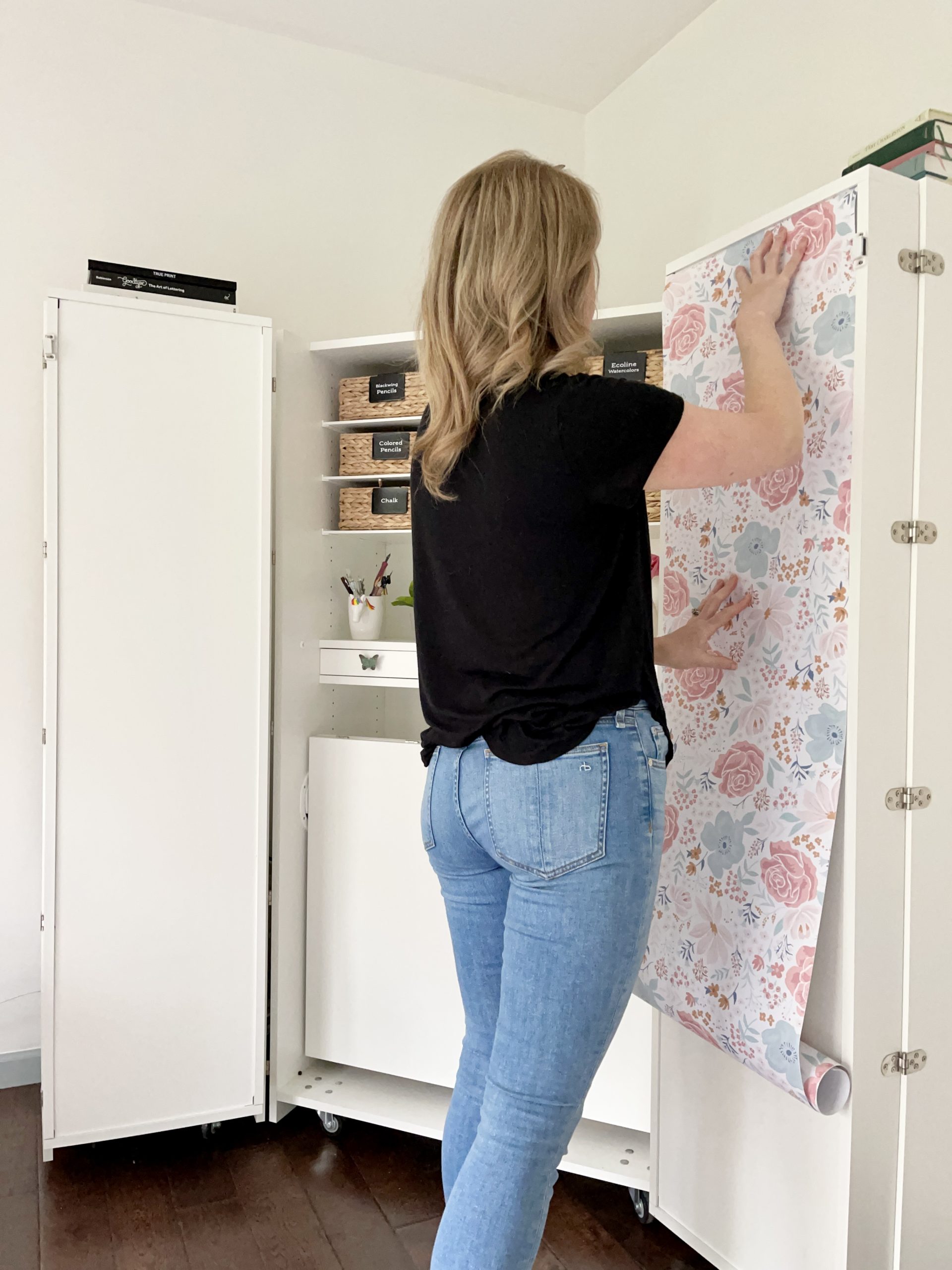 ---
EXCLUSIVE DISCOUNT CODE!
Use my codes to save $$$ on your order:
Use code BYDAWNNICOLE on the Dreambox
Use code BYDAWNNICOLE50 on the DreamCart
---
DreamBox Review Video
In this roughly five-minute video, I'll highlight my favorite features and show you how easy it is to open and close the DreamBox.
---
What features and add-ons did you choose?
White Shaker Door Cabinet
Crown Molding with LED Light
40 Tote & 55 Shelf Package. This package is included with your DreamBox at no extra charge, but you can upgrade to an 80 Tote & 79 Shelf Package for a few hundred extra bucks.
3 Built-In Drawers
Tool Cubby. I have two of these and bought them a while back. They're the two white divided boxes in the middle of my DreamBox (shown below) that hold TONS of pens and markers. You can even just buy these to use on your current desk for extra pen/marker storage.
Pre-Built Service. Last time we built it from scratch, so this time we opted for the pre-built service. I will lay out the pros and cons of each later in this lengthy blog post. (TLDR: go for the pre-built if it's in your budget. Even my hubby, the cheap one of the two of us, agrees it's worth the fee. If it's not in your budget, go the DIY route.)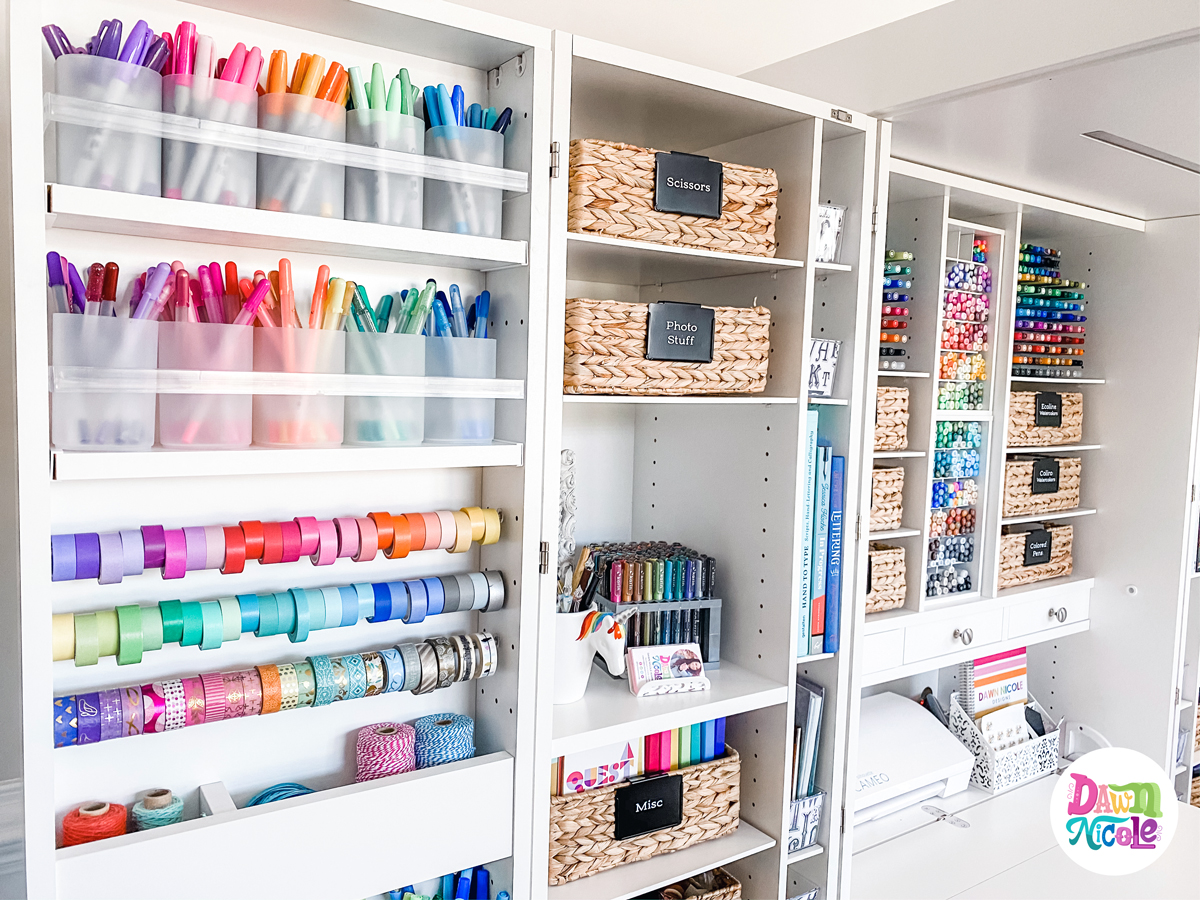 Can I purchase the add-ons later?
Yes, absolutely! You can shop the add-ons and accessories at any time here.
I plan to add the side tables to mine sometime soon since it would maximize my workspace.

What are your favorite features?
The adjustable-height table is probably my favorite feature! And it's included, not an add-on, so you don't have to spend extra on this feature.
I love that I can sit while I work on lettering and stand while I'm doing more active things, like working with my Silhouette CAMEO or wrapping presents.
When the table is at sitting-height, you have slightly more workspace than when it's at standing-height.
I also love the crown molding because it's pretty and because I use the light in it all the time! I had this upgrade on my old and current model.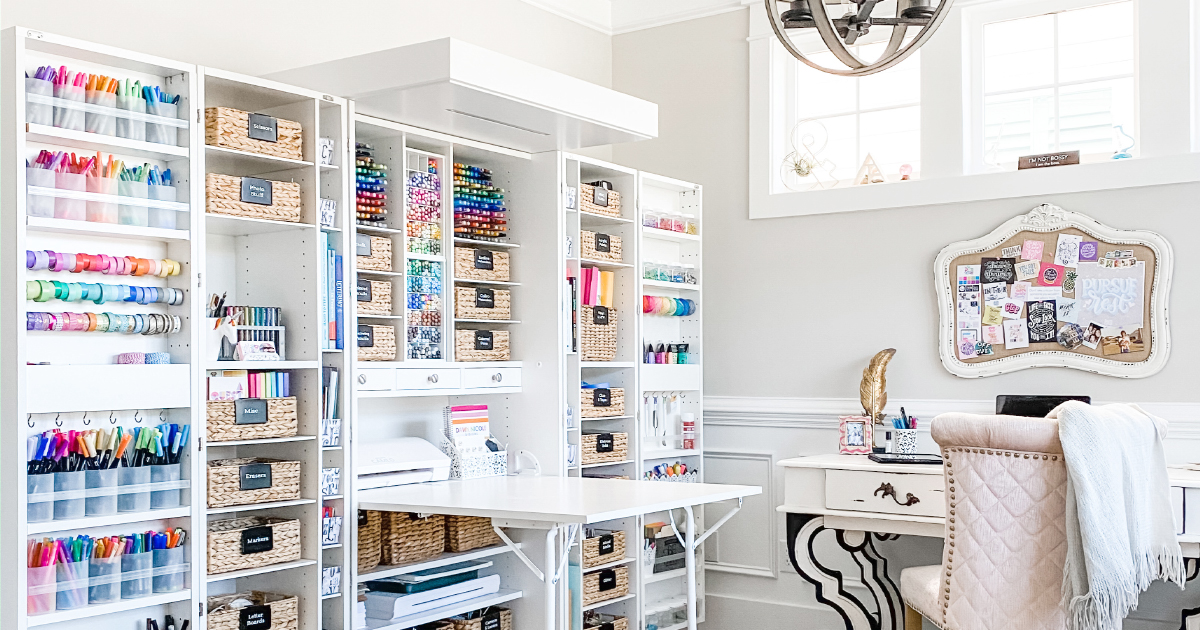 Is it hard to move around, open, and close?
It's heavy, but it's easy to move around my office because it's on caster wheels.
It opens and closes super smoothly, as I demonstrated in the video.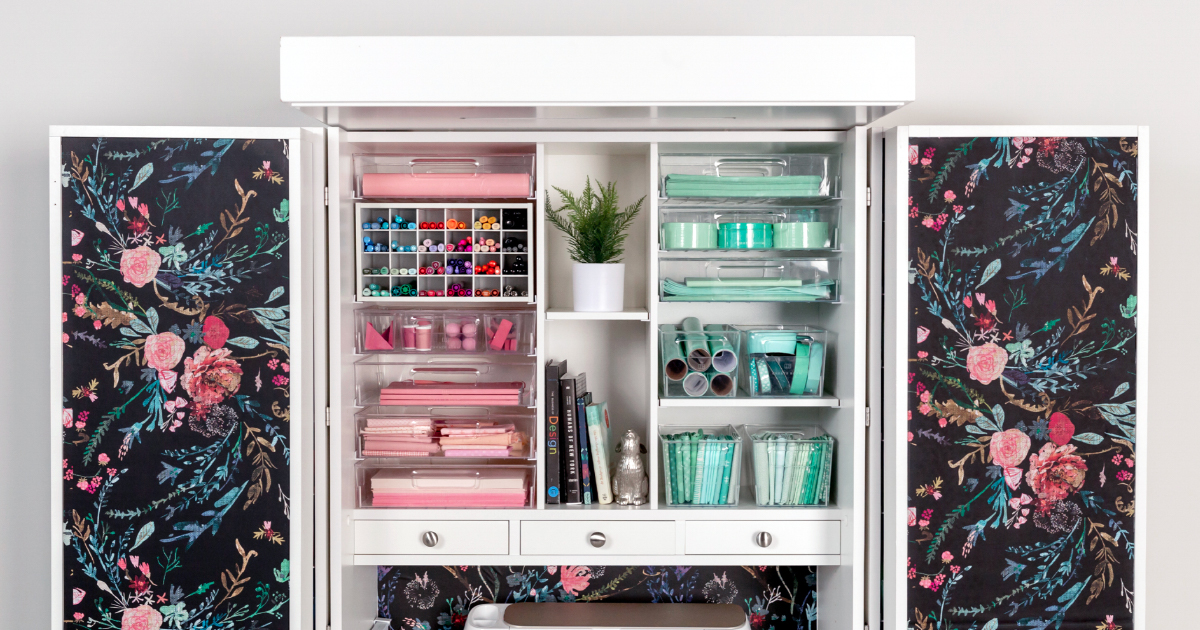 Are the shelves adjustable/customizable?
Yes, you can adjust the shelves and move bins around however you like!
The amount of custom configuration you could do is almost overwhelming, so I followed their setup with slight adjustments for mine.
Here are a few close-ups of the shelves and storage: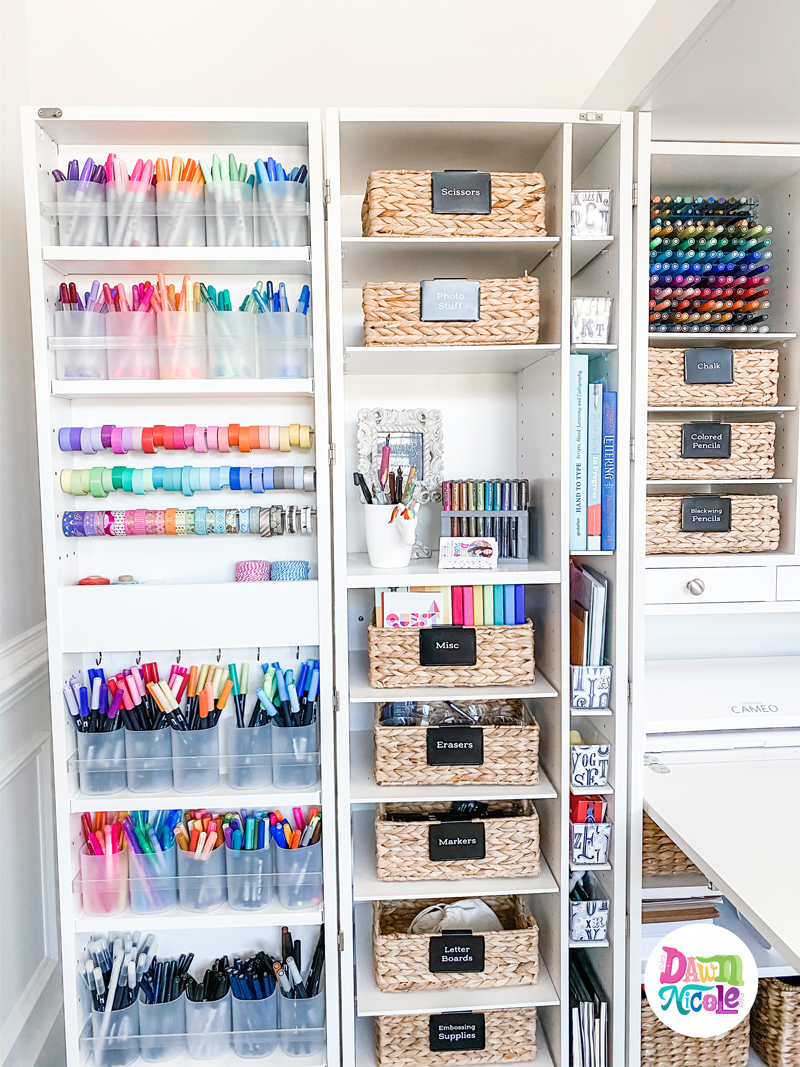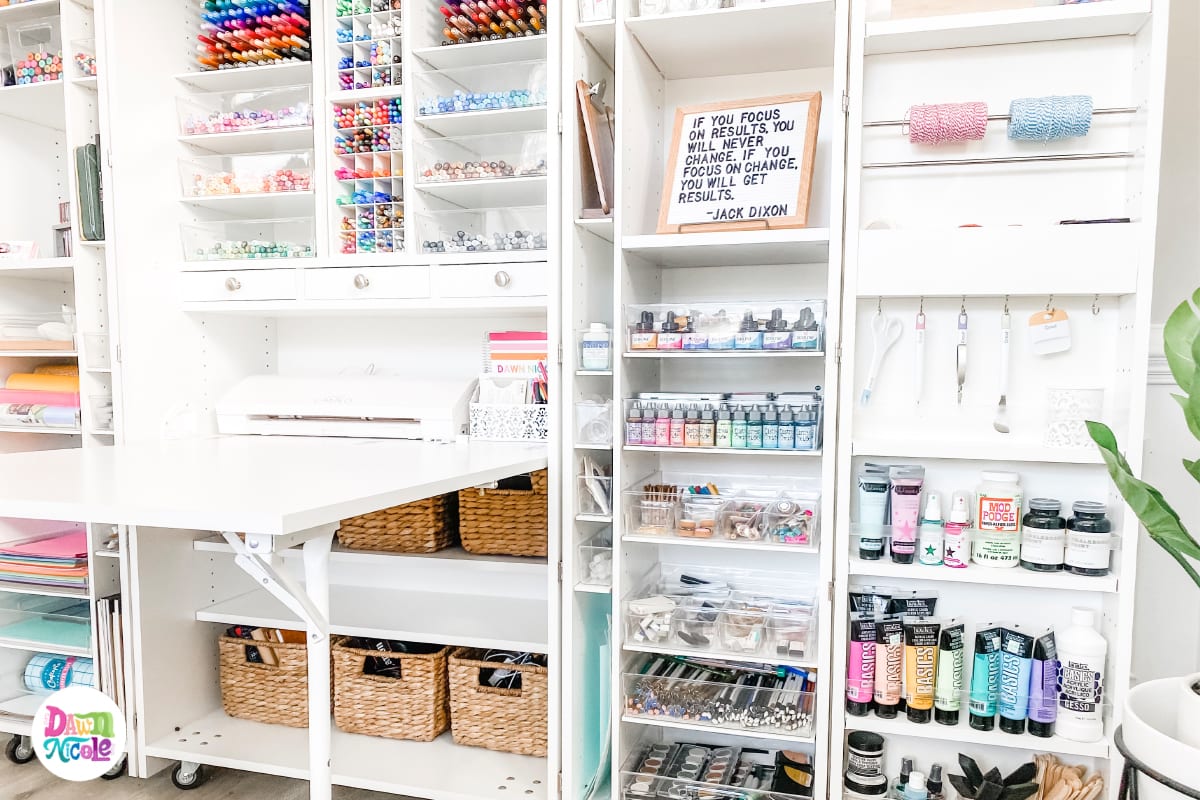 The wicker baskets under my table I picked up at Target. I actually already had them on an IKEA Kallax shelf in my office, and they fit perfectly here!
---
What size is your office?
My office is a few inches bigger than 10 feet by 12 feet. (Update: New IL home office is only a wee bit bigger at 10 x 13, but I do have a door now!)
Since my office is the first thing you see when you walk into our home, and I don't have a closet or doors, keeping my space clean and tidy is essential.
Without the DreamBox, I'm honestly not sure that would be possible!
How does it look when closed?
I typically keep mine open all the time, but it's so nice to close it when we have company. It's a two-second tidy-up!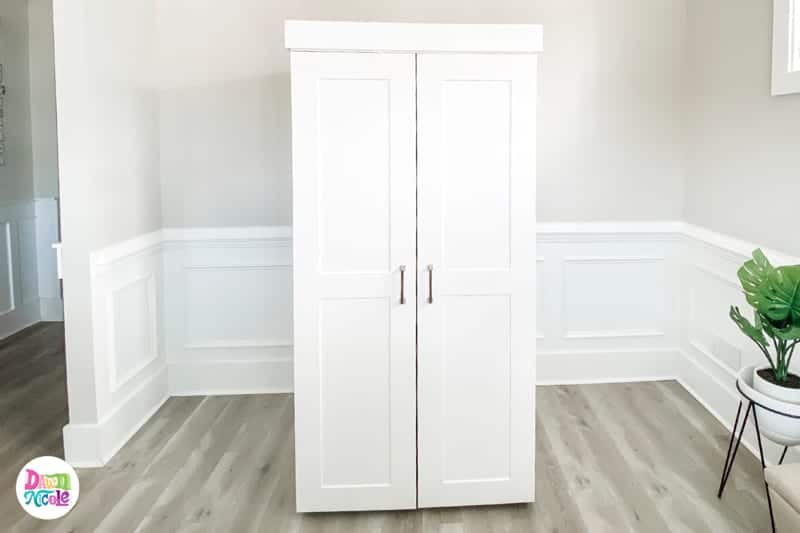 How does it get delivered?
It's in a huge, heavy crate and gets delivered curbside, so be prepared for that. This means they'll literally drop it off at your curb.
If you get a super nice driver as I did, he might put it in your garage for you…but no guarantees.
The delivery company will call you with the delivery day and time, though, so you can be prepared.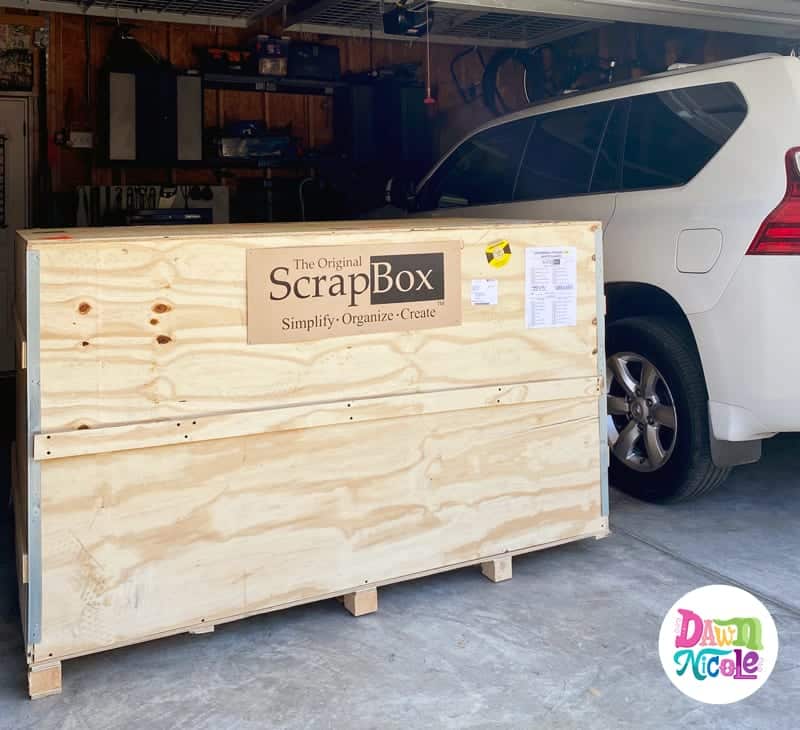 How much does it cost, and do they offer a payment plan?
If you go with the basics, the DreamBox is currently $2,499 but goes up if you do any add-on customizations. They offer a payment plan starting at less than $65/month.
It's an investment for sure, but it's one of the best investments I've ever made.
My husband would agree solely on account of the fact that my craft stuff is now confined to one room of the house, ha!
---
EXCLUSIVE DISCOUNT CODE!
Use my codes to save $$$ on your order:
Use code BYDAWNNICOLE on the Dreambox
Use code BYDAWNNICOLE50 on the DreamCart
---
The DreamBox: DIY VS PRE-BUILT
Is it HARD to assemble?
Hard, no. Time-consuming, yes. And it's definitely a two-person job. My hubby and I did it together both times. A dolly was super helpful to get it in the house. We own one, but I'd rent or borrow one if you don't.
DreamBox Estimated Assembly Time
DIY: 4-8 hours
Pre-Built: 1-3 hours
The DreamBox takes less time to assemble than the Workbox 2.0 did by a few hours. It took us a good 10 hours to put together my Workbox 2.0, and at that time, I think they estimated the assembly time at 8-10 hours.
With the pre-built option, we got my DreamBox inside and all set up within an hour or so, but organizing took me several more largely because I kept changing how I wanted to arrange it.
Assembly is not necessarily hard, but it is time-consuming. And it's definitely a two-person job. My hubby and I did it together both times.
The DreamBox is very heavy. A dolly was super helpful to get it in the house. We own one, but I'd rent or borrow one if you don't.
With the Pre-Built, the pieces are heavier because they're already together. The hubby and I got it in the house and up a few stairs with the dolly and no extra help, but we both lift a lot of weights. His strength had a lot more to do with it than mine, though, I'm sure. Ha! 😜
If you're not fairly strong or if it needs to go on an upper level of your home, you'll need to borrow a few neighbors or friends to get it in your house.
DreamBox Assembly Difficulty
DIY: Moderate. If you can build IKEA furniture, you can do it. It's just on a much bigger scale.
Pre-Built: Easy. It comes in three main pieces, so you just attach them and put your shelves and bins in. You'll also add your crown molding if you add that option. It is attached easily with a few screws.
If you're handy and have someone willing to put in a full day's work to help you build it, go for the DIY. If you hate building things, aren't good at it, or don't have someone available to help you for a full day, go for the Pre-Built option.
The Bottom Line
If you want to save time, go for the Pre-Built. If you want to save money, go for the DIY.
---
SHOP MY OFFICE + DREAMBOX STYLE

---
EXCLUSIVE DISCOUNT CODE!
Use my codes to save $$$ on your order:
Use code BYDAWNNICOLE on the Dreambox
Use code BYDAWNNICOLE50 on the DreamCart
---
I hope you enjoyed my DreamBox Review!
Did I miss any questions you have about it?
Let me know in the comments!
LET'S CONNECT
Facebook // Pinterest // Instagram // Shop