February Birth Flowers Drop Cap Tutorial. Follow my video lesson to learn how to create this floral drop cap in Procreate!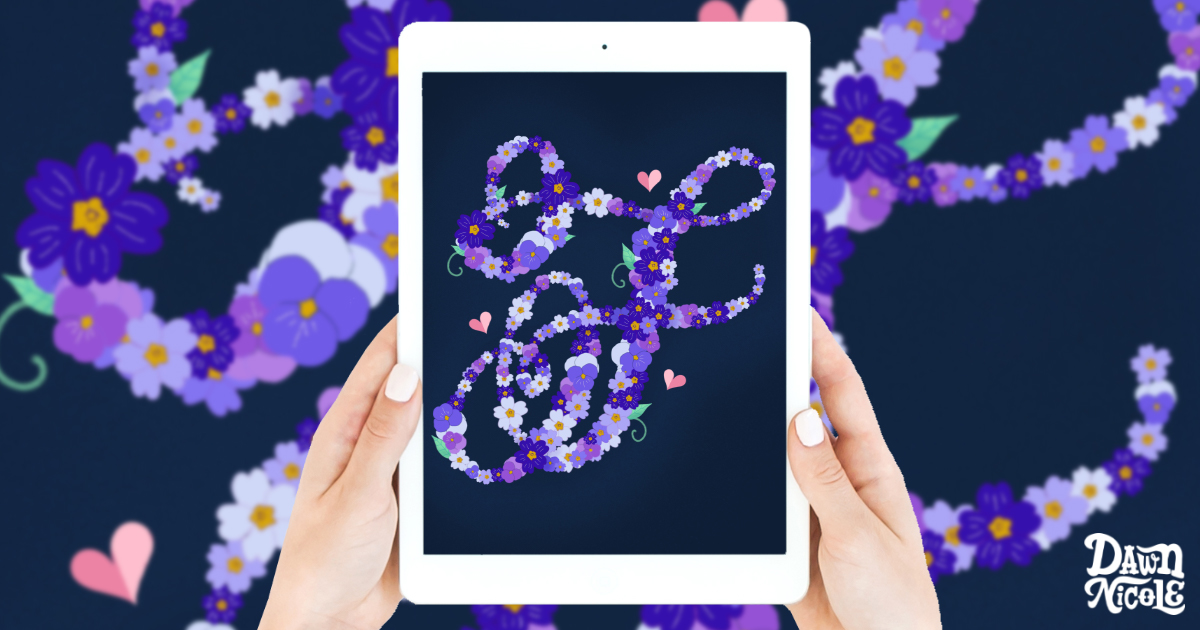 February Birth Flowers Drop Cap Tutorial
If you haven't completed the January Birth Flowers Drop Cap Tutorial, start there and then come back to this tutorial.
We'll be building upon what we learned last month to create this lovely February Floral Drop Cap.
Violets and Primrose flowers are the two birth flowers for this month. I used both flower types in this illustrative lettering.
Don't forget to Google them and study some real photos of the flowers to help you create your hand-drawn florals.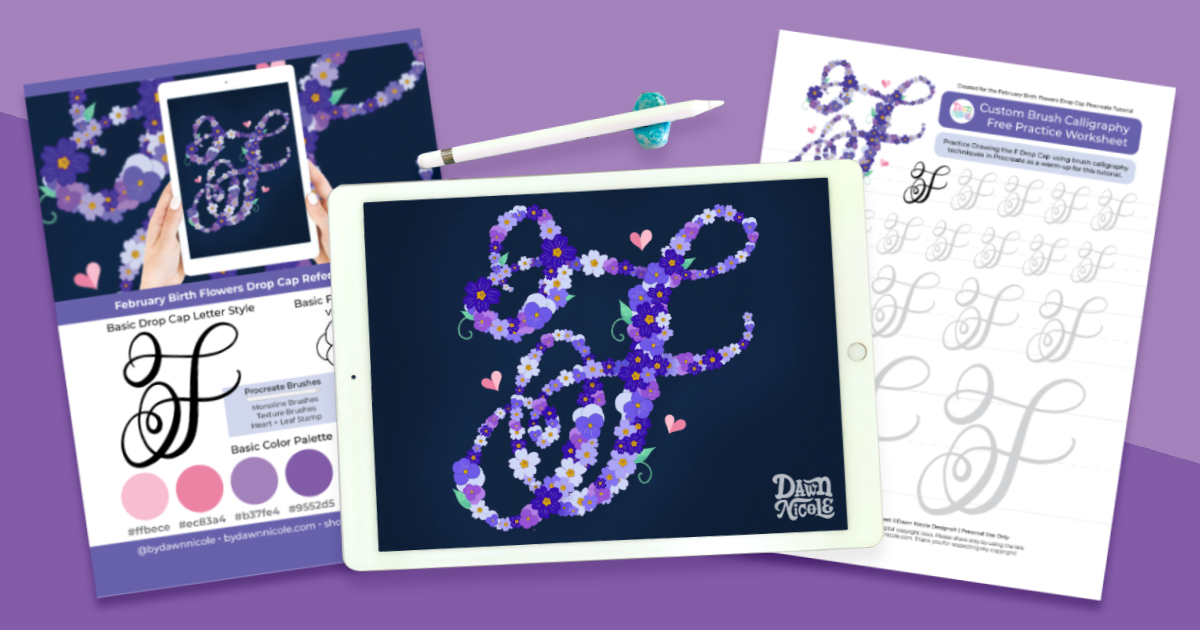 What You'll Need to Follow Along
iPad and Apple Pencil
Procreate App
Primrose and Violet Color Palette (download it free below)
A Variety of Procreate Brushes. I created this Drop Cap and artwork using my Procreate Brush Kits brushes.
Drop Cap Reference Sheet. I created a worksheet you can print and reference as we work through the step together.
Brush Calligraphy "F" Practice Sheet. Use this as a warm-up exercise or to trace for the tutorial itself.
Click the buttons below to download the freebies!
"F" Practice Sheet (Printable)
the PRIMROSE AND VIOLET Color Palette

Right-click or screenshot the photo above to save the color palette.
Import the photo into Procreate and use the Color Selection tool to save the colors to a new palette. (Google how to do this, if needed).
Use the color palette in design programs such as Photoshop and Illustrator.
Match your physical art supplies (markers, colored pencils, watercolors, etc.) to the palette and work the old-school way!
The BASIC STEPS
Here are the basic steps for this artwork. I'll walk you through them in the video below.
Draw the calligraphic "F."
Draw the Primrose and Violet flowers, each on their own layer.
Fill the "F" you've created with florals by duplicating the flowers repeatedly and adjusting the size, color, and angle of each flower as you go. If you max out the allowed layers in Procreate, you'll need to combine some layers as necessary.
Add leaves, vines, and hearts. Use clipping masks to add shading/textures as desired.
Add the background, shadow, and some shading to your Floral Drop Cap.
Watch the FEBRUARY Birth Flowers Drop Cap Tutorial Video Lesson
You can also watch this roughly 16-minute video lesson below.
---
VIDEO OUTLINE
If you want to skip or re-watch any tutorial portions, here are the timestamps for each section.
00:00 Intro
00:14 Welcome + Overview
01:16 Reference Sheet + Brush Calligraphy Practice Sheet
02:28 Creating the Calligraphic "F"
03:19 Creating and Arranging the Florals
06:05 Adding the Leaves, Vines, and Hearts (includes adding textures using clipping masks)
11:10 Adding Floral Details
12:23 Background, Shadow, and Shading
16:01 Closing Remarks
---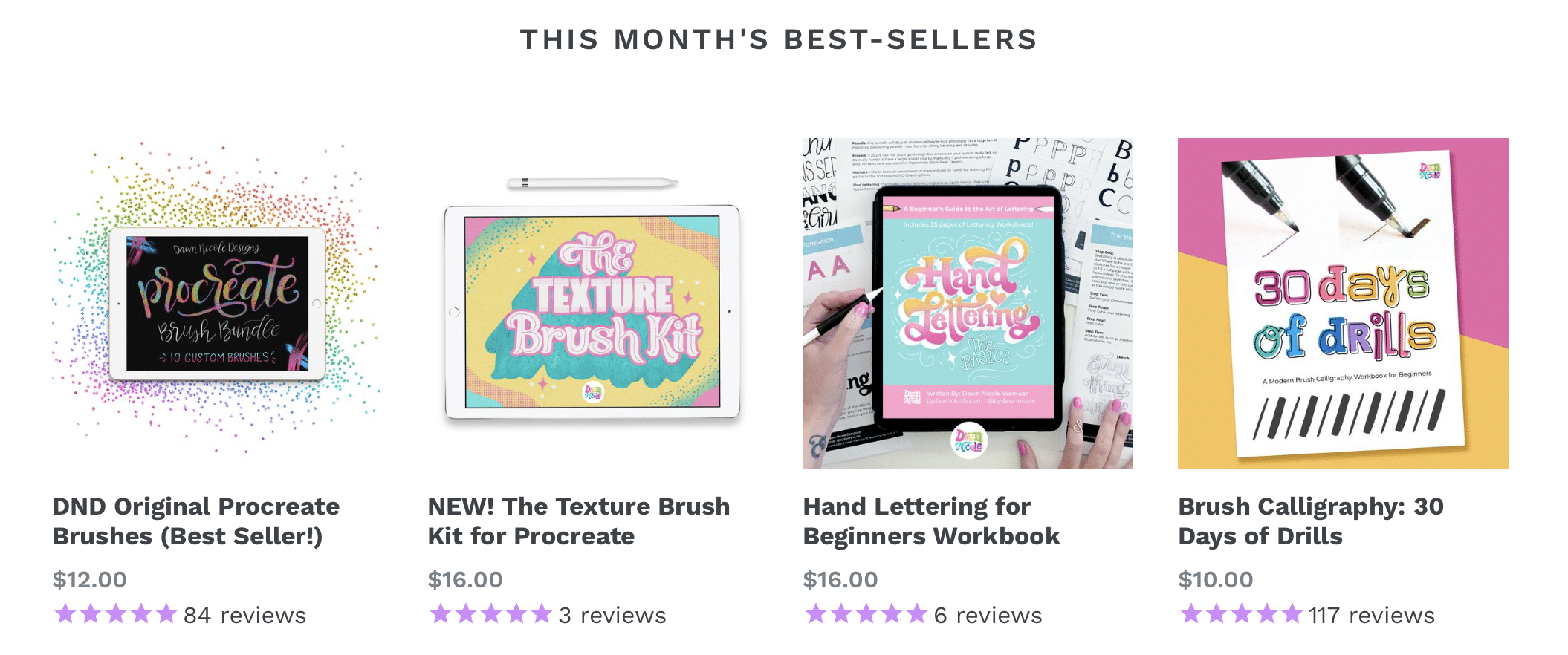 ---
v
February Birth Flowers Drop Cap Tutorial
I hope you enjoyed this month's lesson. Stay tuned for next month's Floral Drop Cap Tutorial!
LET'S CONNECT
Facebook // Pinterest // Instagram // Shop