Glitter Lettering Procreate Tutorial. Learn how to use the Holiday Shimmer Brush and Glitter Texture papers to create a super sparkly lettering style easily!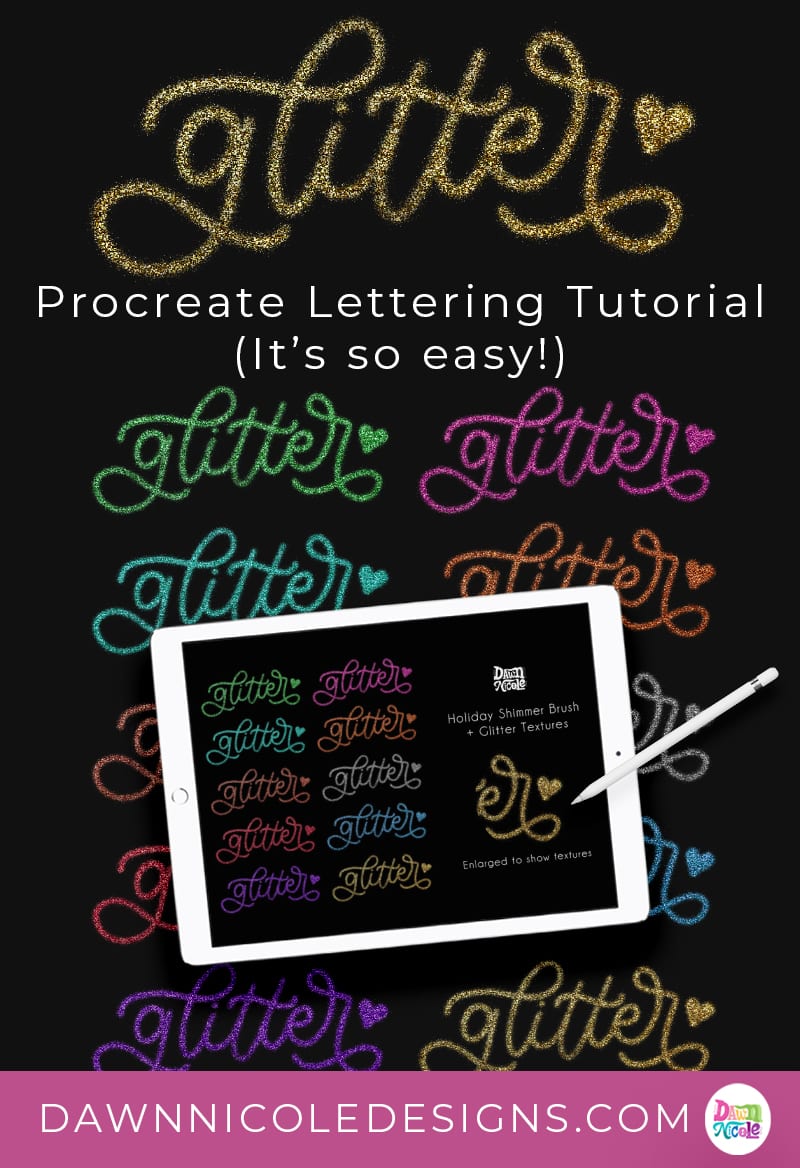 Glitter Lettering Procreate Tutorial
Sparkles just add a little something special to anything you put them on, don't you think?
When I launched my new Enchanted Winter Procreate Lettering Kit, I knew it had to include a brush and textures to create realistic-looking lettering with a ton of sparkle.
I'll show you just how easy it is in today's tutorial!
---
What You'll Need
The brush and papers are both included in my latest Procreate bundle. You can nab it here.
iPad + Apple Pencil + Procreate App
---
Check out how fun each color looks on a dark background!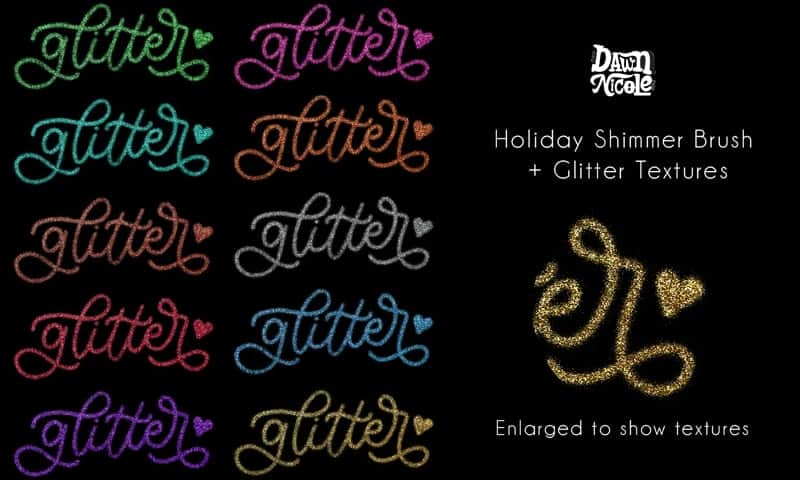 Ok, let's make some Glitter Lettering!
Before we get started, be sure the brushes are installed in Procreate and save the pretty textures papers to your photos or File App on your iPad.
Video Lesson
---
Step-by-Step Witten Lesson
Step One: Create Your Lettering
In the Procreate App, open a new artboard.
Use the DND Holiday Shimmer Brush to create your lettering. I opted for a black background, but you can use any color you wish.
It doesn't matter what color you use to do the lettering because we'll add that using the Glitter Texture Papers.
Tip: Tap your layer and rename it to keep things organized!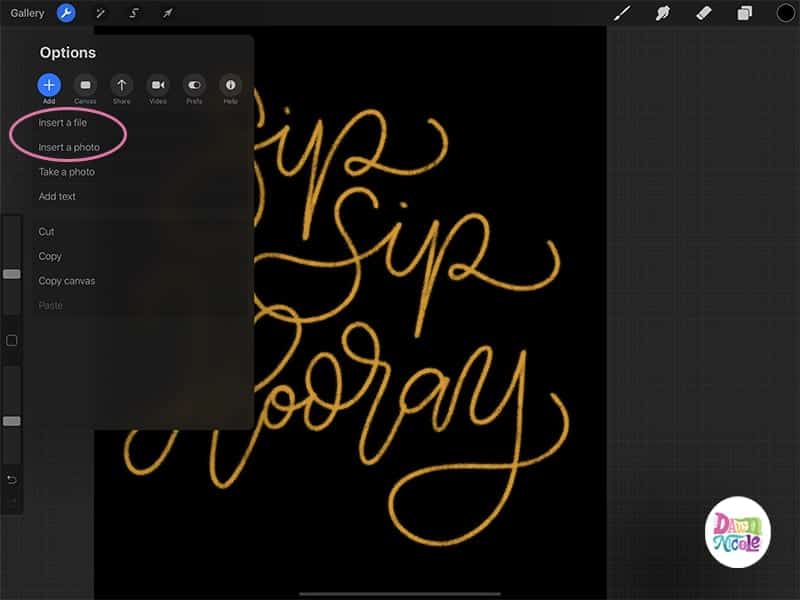 Step Two: Adding the Glitter
Along the top left menu bar, rap the Wrench Tool.
Tap "add" and "insert a photo" or "insert a file" to add one of the glitter papers from wherever you saved it (mine are in my photos).

Step Three: Clipping Mask Magic
You can see the photo on the left (above), inserting it on a new layer. I tap that layer and rename it "glitter".
Now, tap the layer again and select "clipping mask." This magically makes the glitter only show up on your lettering!
In the photo below, I've circled a little arrow in pink. That lets you know that the layer has a clipping mask that applies to the layer below it.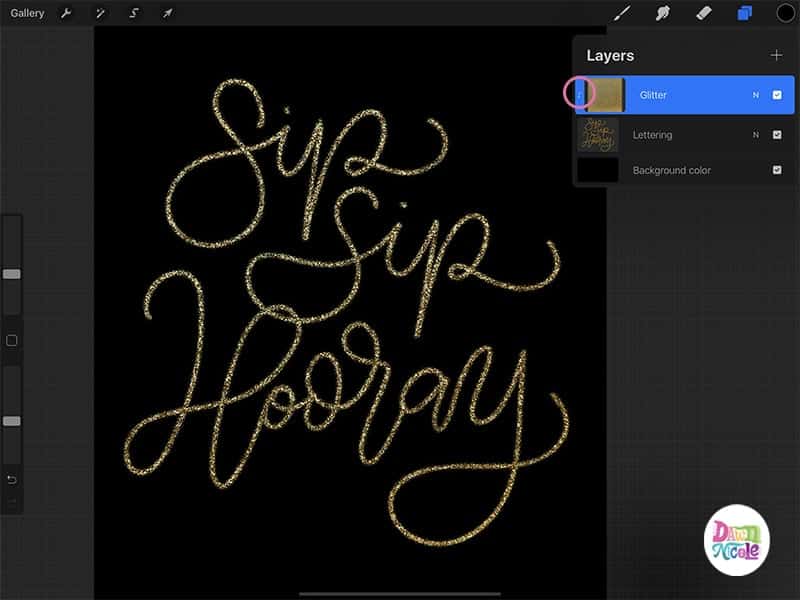 That's all there is to it. Look at the shimmery fun!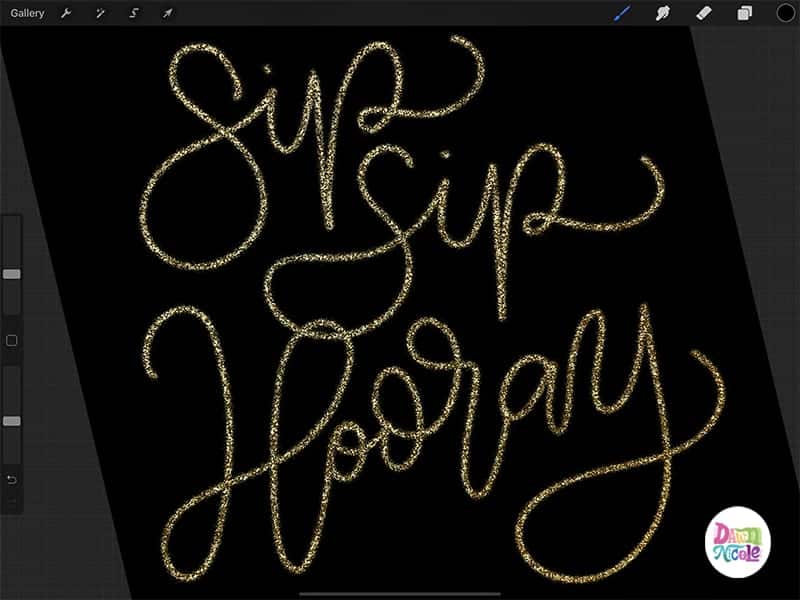 But, wait! Let's take it one simple step further. First, I changed mine to Pink Glitter just for fun.

Step Four: Add Twinkles
Grab the Holiday Twinkle Brush and add some twinkles!
I did them in white on a third layer. Keeping different elements on their own layers makes editing and moving around much easier, especially if you're working on a more detailed piece.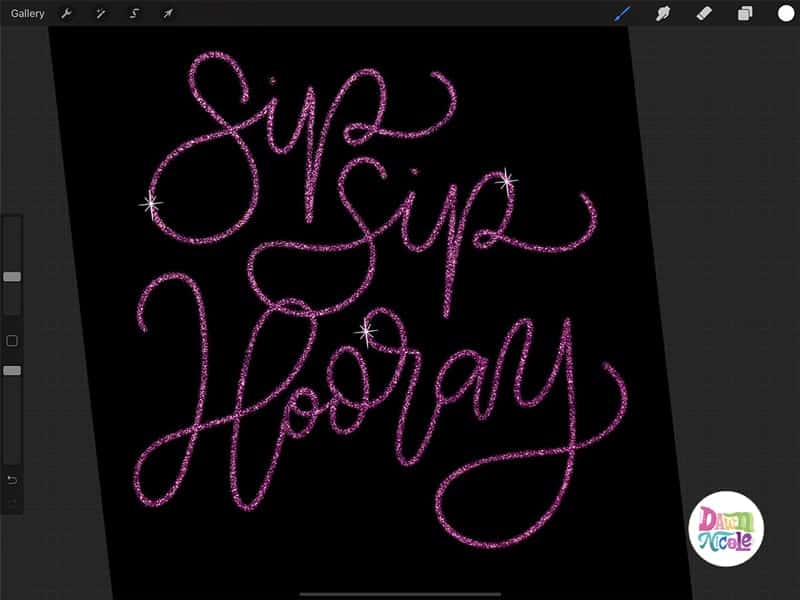 I hope you enjoyed this tutorial using brushes and stamps from my new Enchanted Winter Procreate Lettering Kit!
---

Enchanted Winter Procreate Lettering Kit
My newest Procreate Brush Bundle is full of festive fun!
5 New Festive Brushes
20 New Hand-Drawn Stamps (including five hand-lettered phrases you can use to stamp and practice your lettering)
10 Glitter Texture papers created from REAL glitter!
All of these brushes were designed with lettering artists in mind, and, as per usual, I'll be posting free step-by-step tutorials here on the blog and video lessons on my YouTube Channel so you can learn how to use them.
---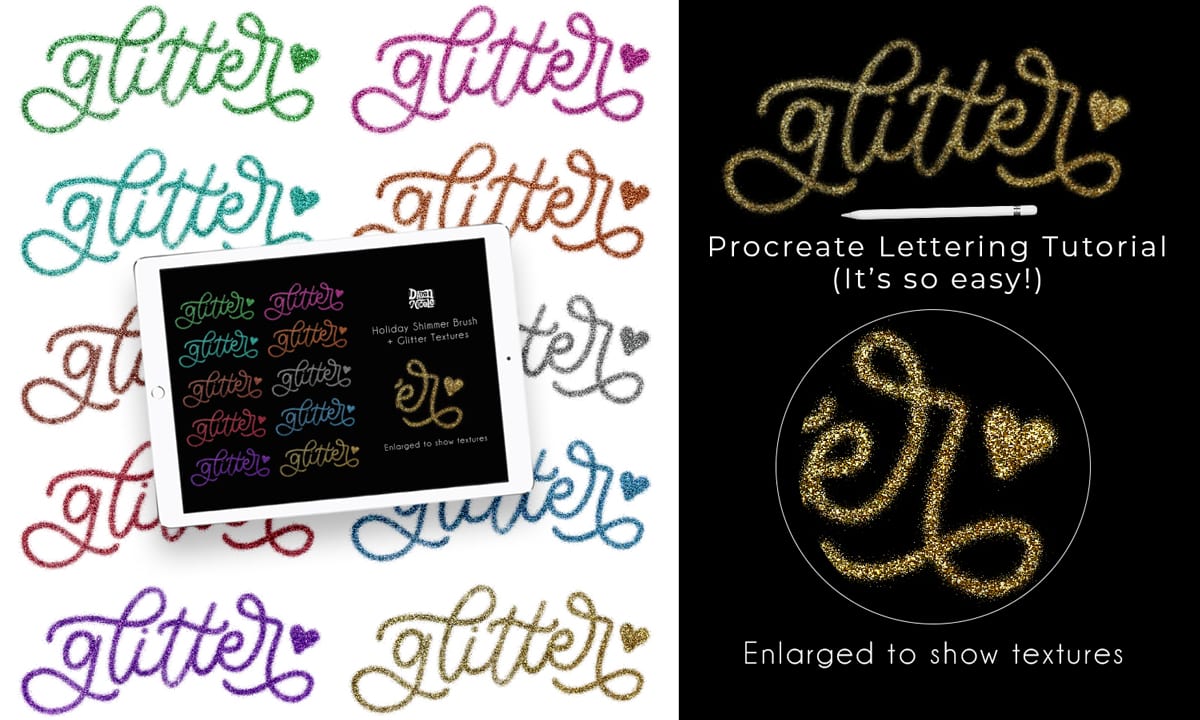 ---
Happy creating!
LET'S CONNECT
Facebook // Pinterest // Instagram // Shop