May Birth Flowers Drop Cap Tutorial. Follow along with my video on Procreate tips and tricks for creating this Botanical Folk Art Letter.

May Birth Flowers Drop Cap Tutorial
For this month's video lesson, I'll be teaching you two main things:
The Four Main Elements of Modern Folk Art Style.
Procreate Tips and Tricks for creating this style, including app features like Color Fill and Drawing Assist.
If you're new to the series, I recommend completing the previous lessons and then returning to this one, as some lessons build on things taught in prior tutorials.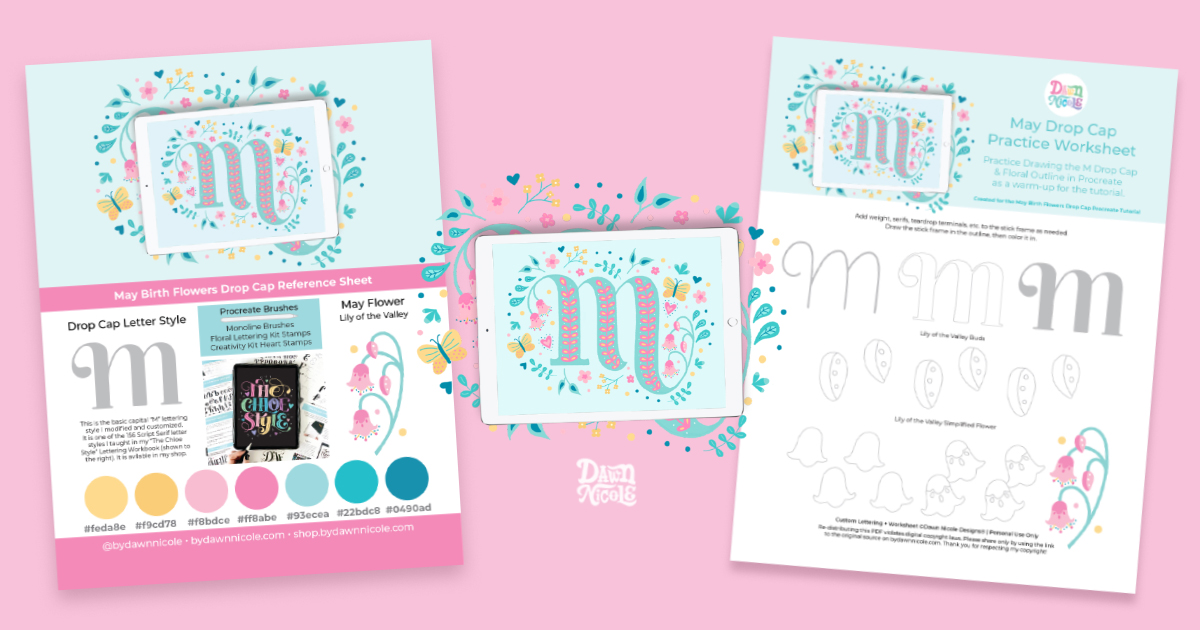 What You'll Need to Follow Along
iPad and Apple Pencil
Procreate App
Botanical Folk Art Color Palette (download it free below)
A Variety of Procreate Brushes. I created this Drop Cap and artwork using my Procreate Brush Kits brushes.
Drop Cap Reference Sheet. I created a worksheet you can print and reference as we work through the step together.
Practice Worksheet. Use this as a warm-up exercise or to trace for the tutorial itself.
Click the buttons below to download the freebies!
Practice Worksheet (Printable)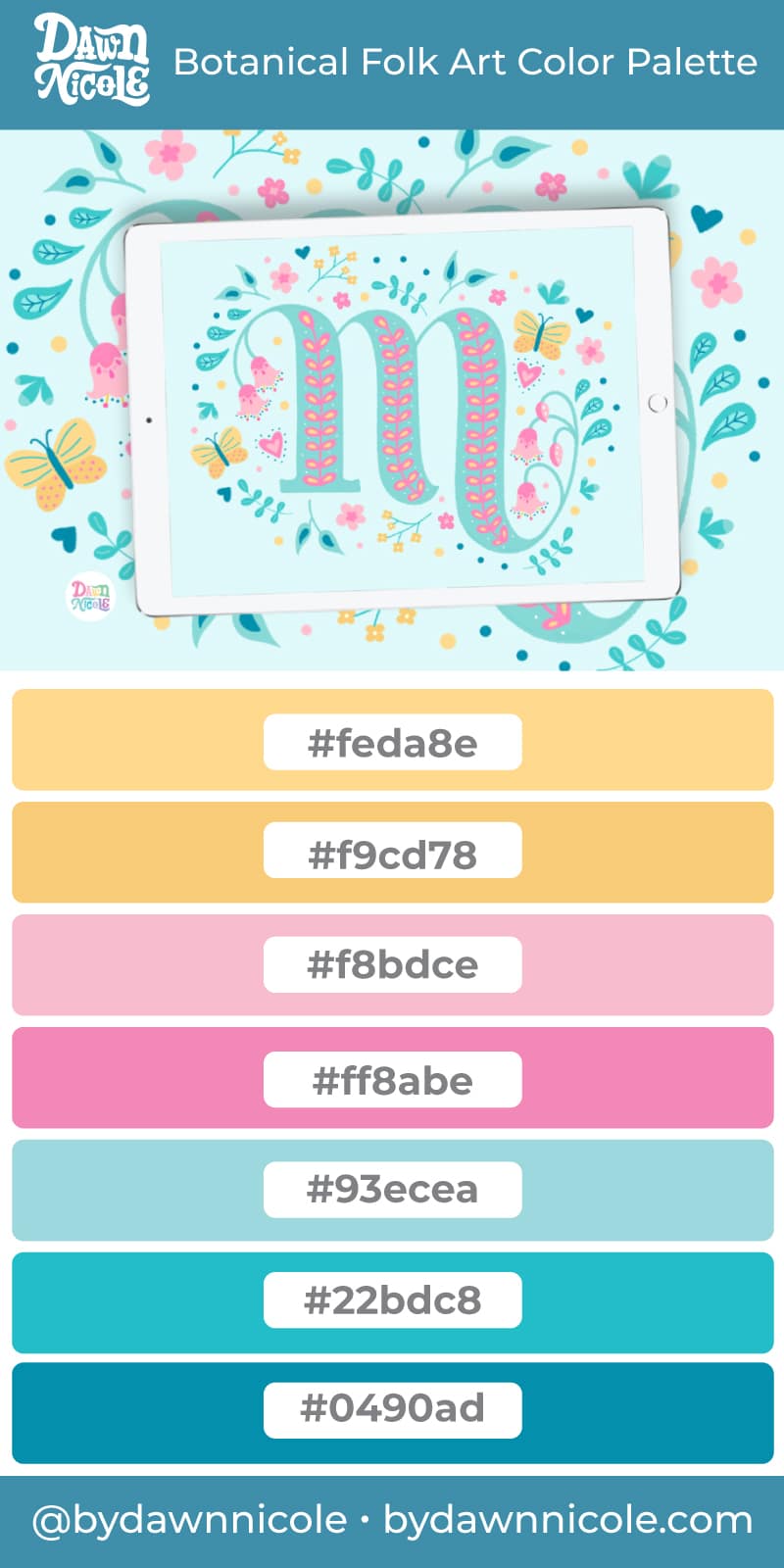 the BOTANICAL FOLK ART Color Palette
Right-click or screenshot the photos above/below to save the color palette.
Import into Procreate and use the color picker tool to set up a custom color palette. Google how to do this if you're new to Procreate. It's easy!
Use the color palette in design programs such as Photoshop and Illustrator.
Match your physical art supplies (markers, colored pencils, watercolors, etc.) to the palette and work the old-school way!

---
Modern Folk Art Style Lettering and Illustration Tips
Here are a few things I keep in mind when creating in this style:
Use a lot of bright, fun, and bold colors.
Create balance and fill the space around the letters using what I call "imperfect" symmetry.
Keep your illustrations simple in shape and add then basic details all over. I use a lot of lines and dots.
Flat illustrations are typical. I don't usually use textures or shadows in this type of artwork.
And as always, using many layers makes it easier to edit and adjust your artwork when needed. 🙂
Watch the May Birth Flowers Drop Cap Tutorial Video Lesson
You can also watch this roughly 14-minute video lesson below.
---
VIDEO OUTLINE
If you want to skip or re-watch any tutorial portions, here are the timestamps for each section.
00:00 Intro
00:13 Welcome + Overview
01:23 Explanation of Worksheets and Tools and Sketching to Plan your Project
03:09 The Four Main Elements of Modern Folk Art
07:23 Drawing Assist and Symmetry Tools in Procreate
09:11 Color Fill Tool (so handy!)
11:08 Saving Time with Stamps
13:45 Start-to-finish Timelapse
13:50 Outro
---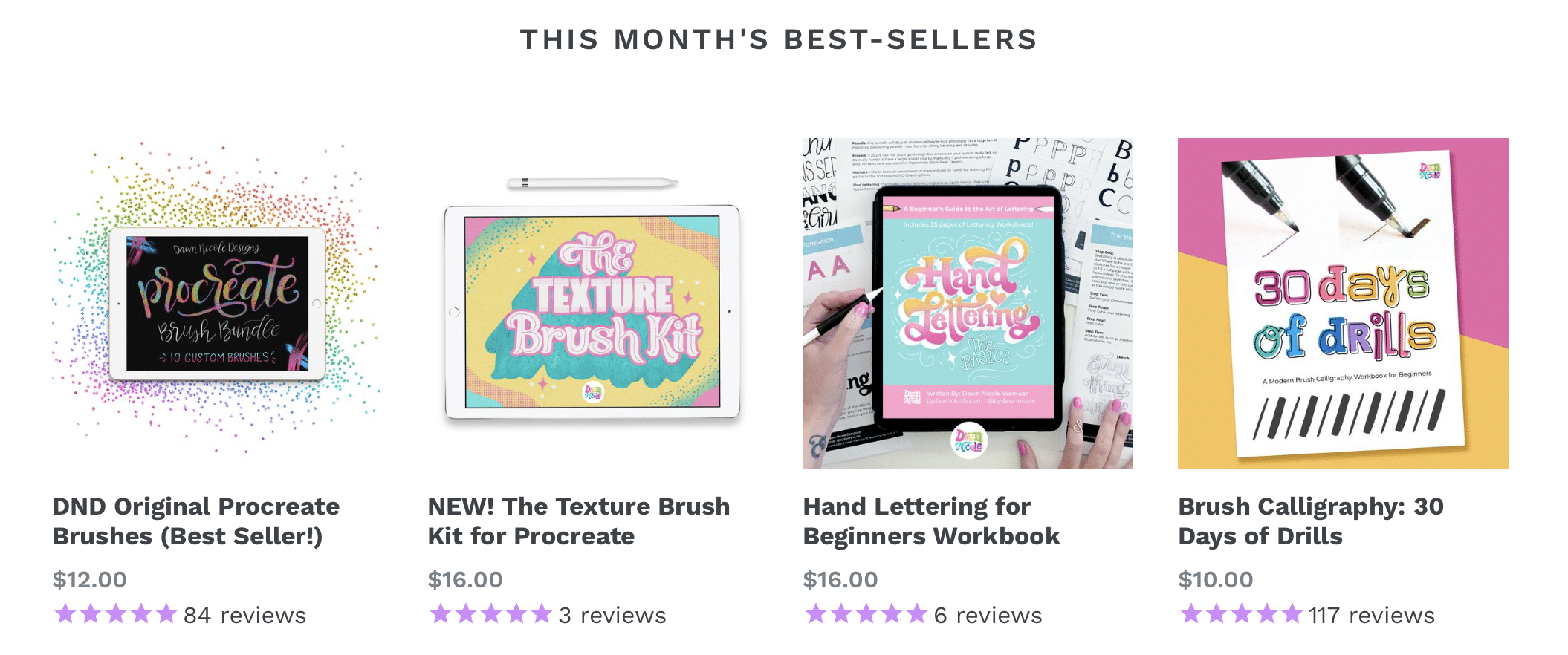 ---
Happy creating!
I hope you enjoyed this month's video lesson.
Stay tuned for next month's Floral Drop Cap Tutorial!
LET'S CONNECT
Facebook // Pinterest // Instagram // Shop