Modern Calligraphy. What is modern calligraphy and how do you learn it? Find out in this detailed blog post on the stunning art form.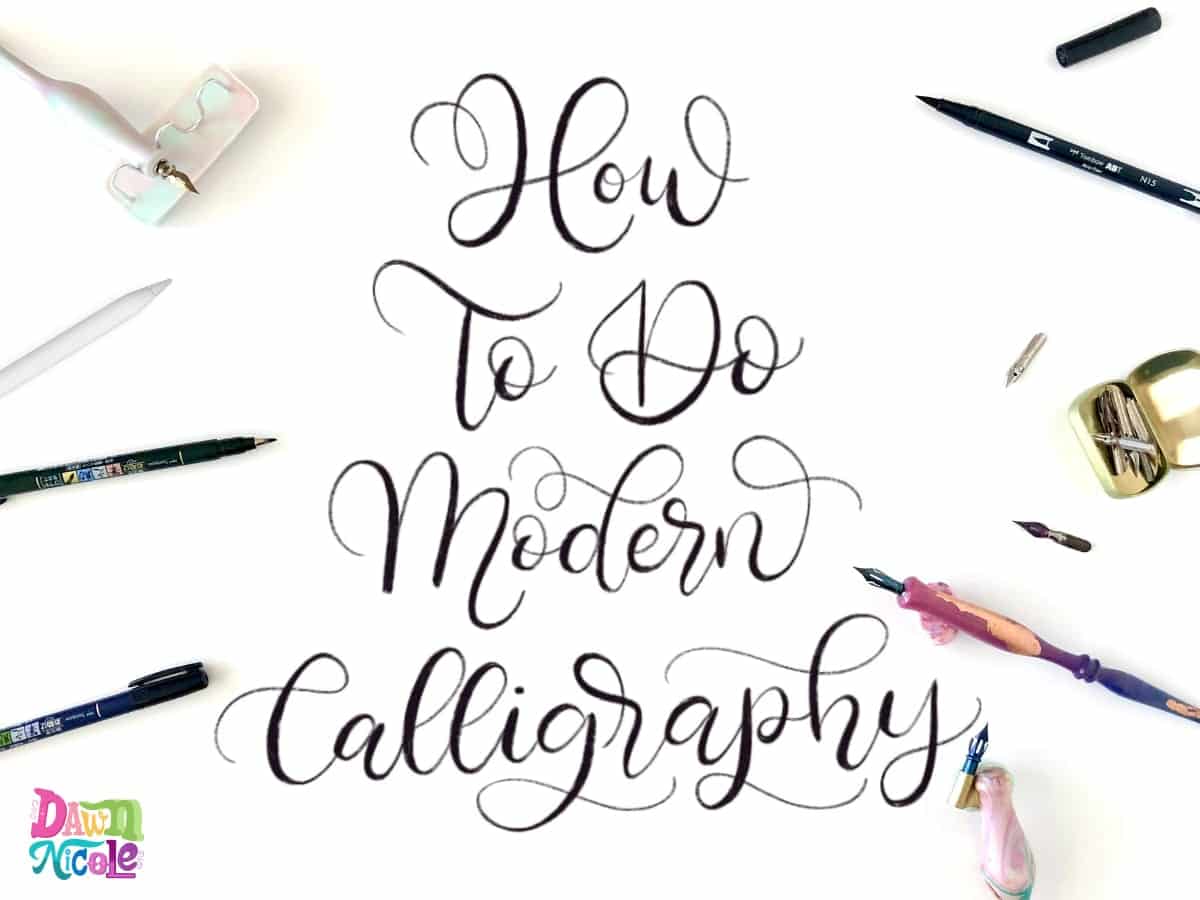 How to Do Modern Calligraphy

It was so hard at first. I almost gave up. I'm a lefty, and though I am a hand-lettering artist, I never had much luck with getting calligraphy with a traditional pen to look like anything more than a hot mess.
Then I tried brush pen calligraphy. Practicing that started to make using pressure to control my stroke become second nature. So, when I picked up a dip pen again, it just clicked.
And now, lettering and calligraphy are my full-time freelance career.
What is Modern Calligraphy?
Modern calligraphy is a contemporary version of traditional calligraphy.
While you use pressure to control the varying widths of your stroke in both types of calligraphy, the modern version allows the penman much more creative freedom.
In essence, we break many traditional calligraphy rules and create calligraphy that shows a lot of personal styles.
This more casual calligraphic style gives a lot of freedom and fun.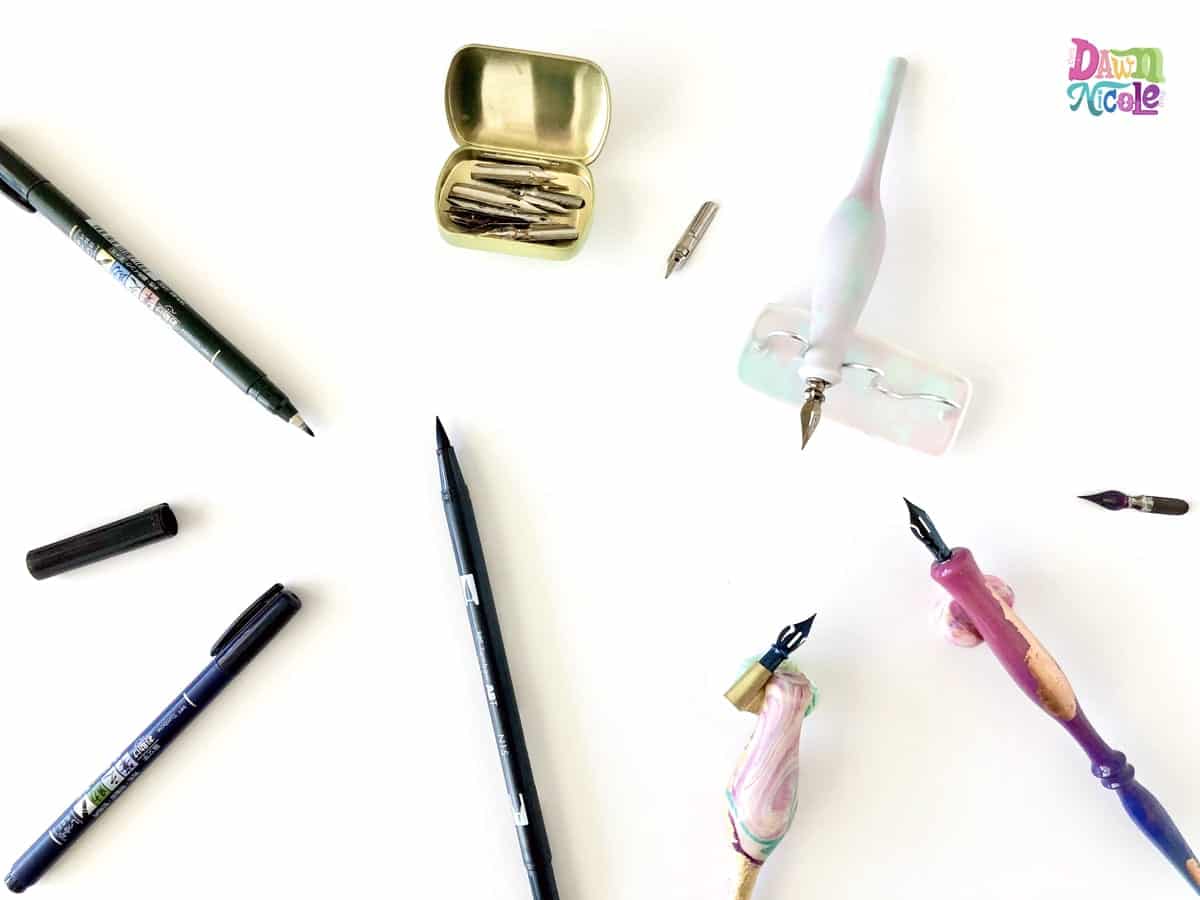 What Type of Pens Can I Use?
There are three main categories of "pens" you can use.
Dip Pen/Pointed Pen
The most traditional tool is a dip pen fitted with a pointed nib. I also think this one is the most challenging to learn.
Some of my favorite nibs to work with are the Nikko G, the Brause Steno 361 (a.k.a. the Blue Pumpkin), and the Leonardt 40.
Brush Pen
A brush pen with a flexible nib is another option. These popular pens come in a wide variety of options, and they're both affordable and beginner-friendly.
For brush calligraphy, I primarily use Tombow Brush Pens and Karin Brush Marker PROs.
Apple Pencil
The magic trio of the iPad, Apple Pencil, and Procreate App have changed modern calligraphy, allowing calligraphers to create stunning calligraphy digitally.
My workflow is super streamlined thanks to being able to do digital calligraphy. You can usually find me with an Apple Pencil in one hand and coffee in the other.
Even though caffeine and calligraphy don't mix well.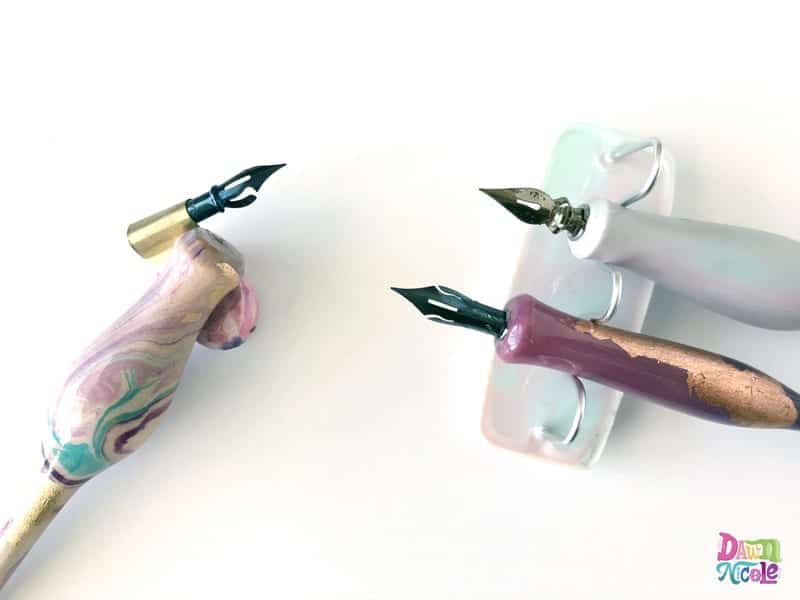 Which Should Tool I Start With?
I recommend starting with a small nibbed brush pen.
The most beginner-friendly option is the Tombow Fudenosuke. It comes in hard tip and soft tip options. Both are flexible but to varying degrees.
Grab the combo pack to see which you prefer. I regularly use both of them.
A small tipped brush pen is much easier to control and thus easier to learn with. The photo below shows how much larger the tip of a Tombow Dual Tip Brush Pen is than a Tombow Fudenosuke.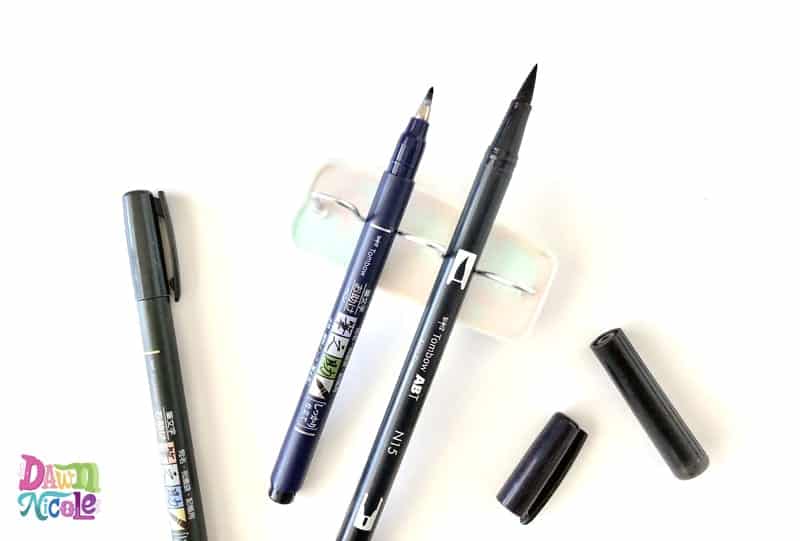 Basic Modern Calligraphy Supplies
We've talked about the pens, but there are a few more tools to discuss to learn and practice.
You don't need the fanciest stuff to begin. These are fairly inexpensive but not so cheap that they don't work.
I'm a bigger believer in the value of purchasing quality art supplies!
Dip Pen Supplies
Calligraphy Straight Pen and Nib Set – This is the set I started out with. My favorite nib in the set is the pointed 512. I find it easiest to work with as a beginner.
Oblique Pen Holder – They say the straight pen holder is better for lefties, but I find the oblique much easier to work with.
Strathmore Calligraphy Pad – This pad is designed to work well with calligraphy pens inks.
Sumi Ink – There are so many lovely inks you can use for calligraphy, but this basic one is perfect for getting started.
Liquid Gum Arabic – This helps prep your nibs so the ink coats them properly. I didn't have it to start but invested in it recently, and oh, what a difference it makes!
Pen Cleaner – Pretty self-explanatory. This is for cleaning your nibs.
Brush Pen Supplies
Paper matters big time when it comes to brush pens. Nylon tips are durable, but felt-tipped brush pens will fray if you don't use the proper paper.
HP Premium 32 – This is ultra-smooth copy paper and what I use for practice 99% of the time.
Rhodia Dot Pad – I use this pad a lot for sketching and practice. The little dots are perfect for keeping your calligraphy straight.
Apple Pencil Supplies
I've covered the main supplies, but practice sheets and fun Procreate brushes are a huge part of learning iPad Calligraphy.
Check out my shop for a bunch of five-star rated resources to help you get started!

How to Prep your Dip Pen Nibs
If you choose to do calligraphy with a Dip Pen, you'll need to prep your pointed nibs first.
New nibs are coated to keep them from rusting.
Prep a new nib by briefly running it through a candle's flame or scrubbing it with a toothpaste and toothbrush.
Rinse and dry it. Your ink should coat the nib smoothly if the nib is properly prepped.
If it beads, try running it through the flame of a candle very briefly or scrubbing it with a toothpaste and toothbrush once more.
How to Use Your Dip Pen
Dip it in the liquid gum arabic and gently wipe clean before dipping it into your ink.
This helps the ink flow smoothly and prevents the nib from catching on the paper.
It's especially useful for thicker inks like the FineTec Metallic Mica Gold Paints I've used in some photos in this post.
Now, it's time to practice.
---
---
Practice, Practice, and Practice Some More!
Again, I recommend you begin learning modern calligraphy using a brush pen. Start by doing drills to get the hang of doing basic strokes using pressure.
Here are some free practice sheets to get you started.
Don't worry if your strokes and letters don't match up perfectly with mine. What matters most is just that you practice. Get used to using pressure to control your stroke width.
Practice as often as you can, even if it's just a few minutes a day. You'll be amazed at how quickly you improve just by doing it!
Once you get the basic strokes and drills down, then move on to letters. When letters get easier, then you can move on to words and sentences.
Brush Calligraphy Free Video LessonS
Getting Started with Brush Calligraphy
Basic Strokes Video Tutorial
---
Watch More Free Brush Calligraphy Video Lessons
---
Happy practicing!
Let's Connect
Facebook // Pinterest // Instagram // Shop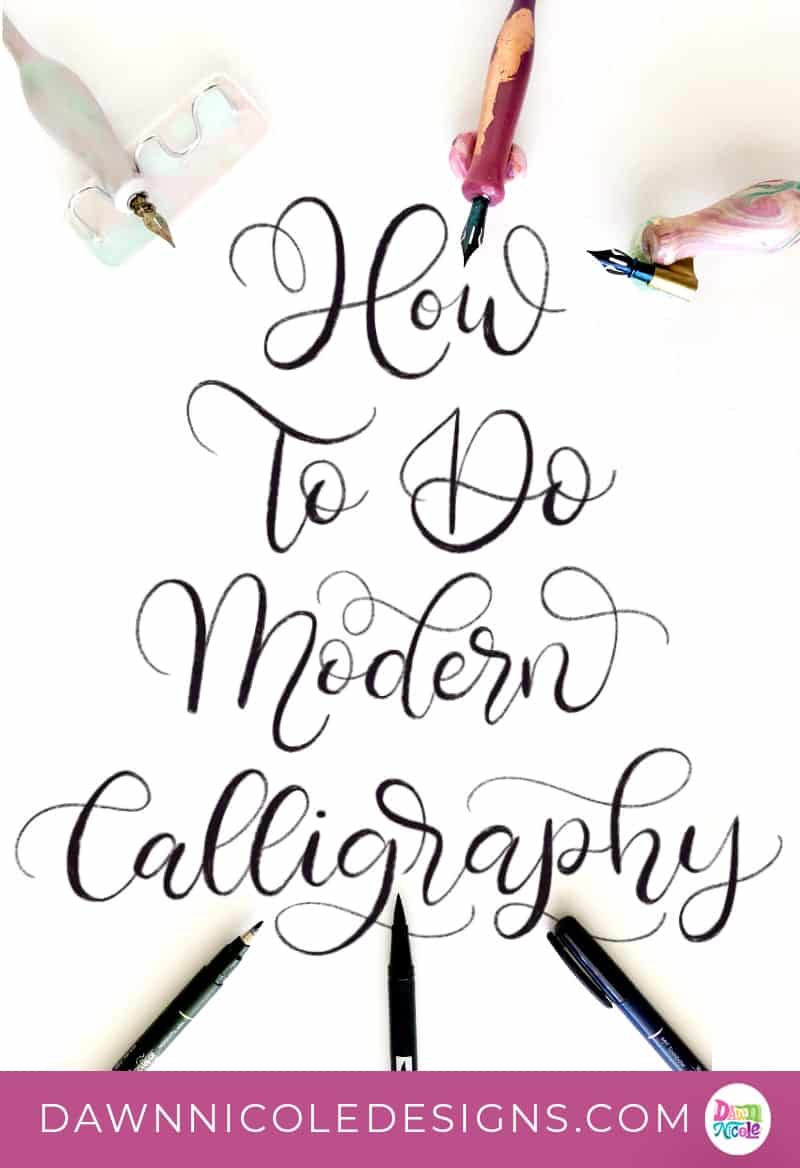 SaveSave