Procreate Tutorial: Artsy Painted Calligraphy. A step-by-step lesson on how I created this bright and happy painted calligraphy style in the Procreate app. Plus, a free color palette!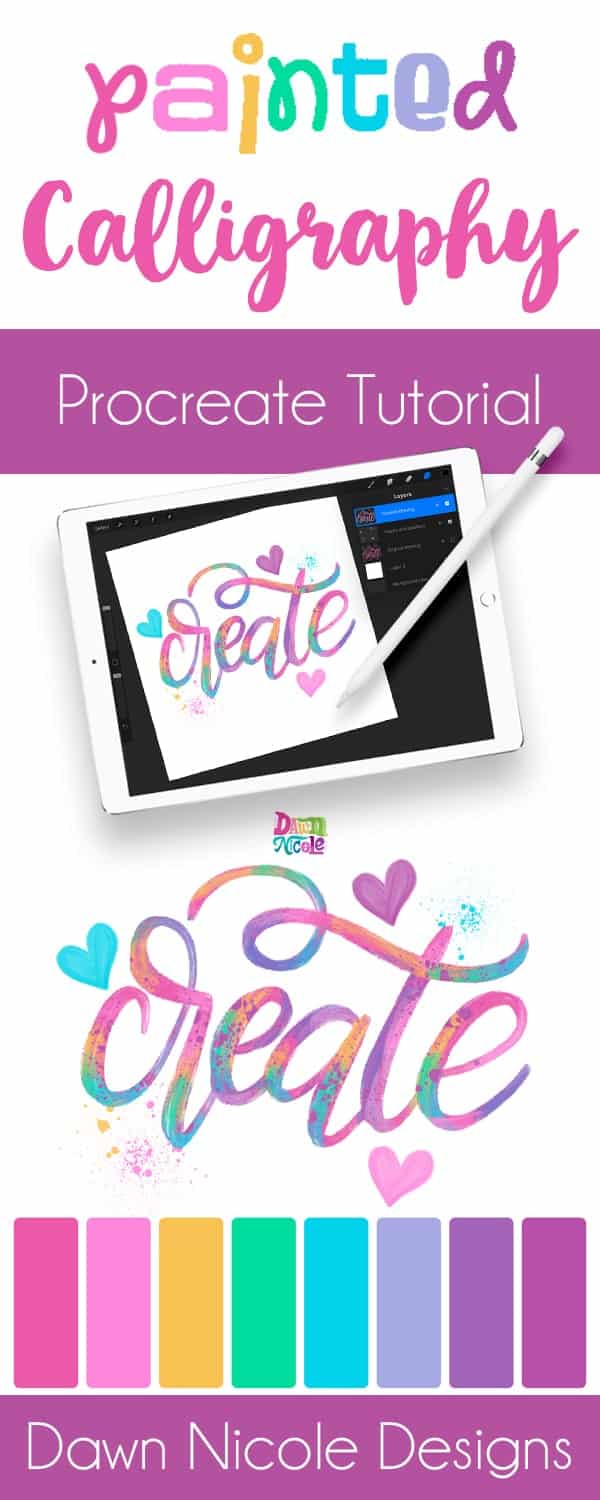 Procreate Tutorial: Artsy Painted Calligraphy
When I released my new Creative Lettering Bundle for Procreate, I promised some new iPad Lettering tutorials on how to create the styles I did in some of my promo images.
Yesterday, I showed you how to create Rainbow Calligraphy Crayon lettering. Today, I'm showing you how to do this artsy painted calligraphy style.
WHAT YOU'LL NEED:
iPad Pro (I work on a 12.9″)
Apple Pencil
Calligraphy Painted and Painter Brushes (from my Creative Lettering Procreate Bundle)
Heart and Splatter Stamp Brushes (also from the Creative Lettering Procreate Bundle)
Bright Rainbow Color Palette (free, below)
This is what we'll be making: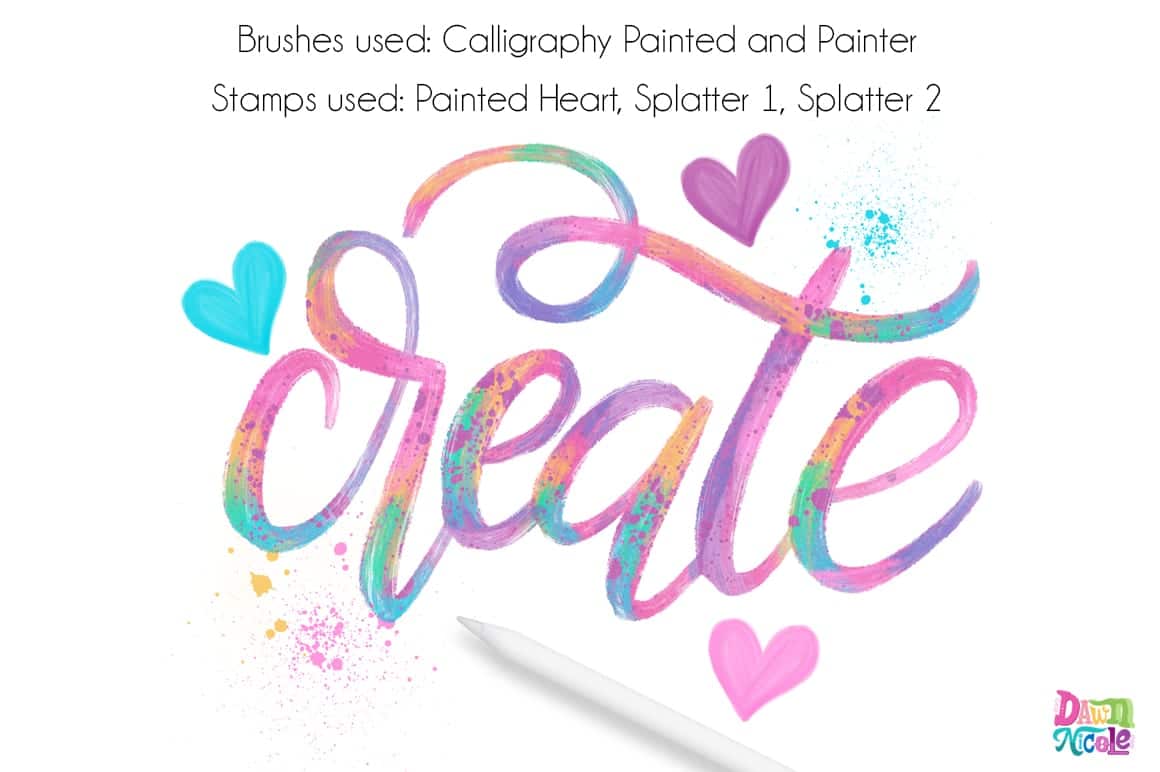 STEP ONE (OPTIONAL)
If you want to use the same color palette, click here to download it. Follow this tutorial to set up your custom rainbow color palette in Procreate.
If you have a different color palette you want to use, skip to step two.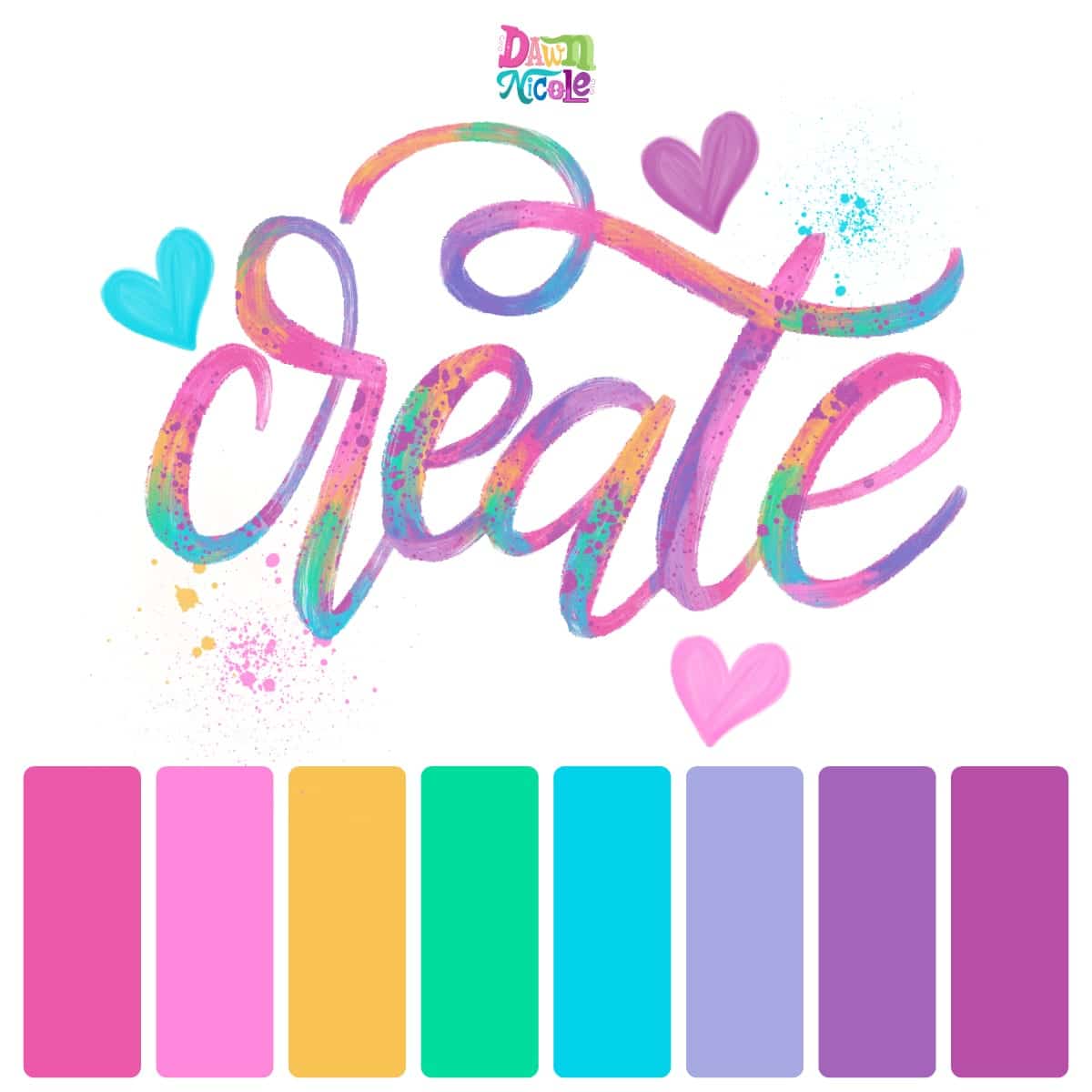 STEP TWO
Open a new canvas in Procreate. I opted for a square canvas.
Draw a script letter using the Painted Calligraphy brush with the darker of the two pink colors. You can copy my "create" style or letter the word of your choice.
On the screenshot below, I've highlighted where you select your brushes and choose a color.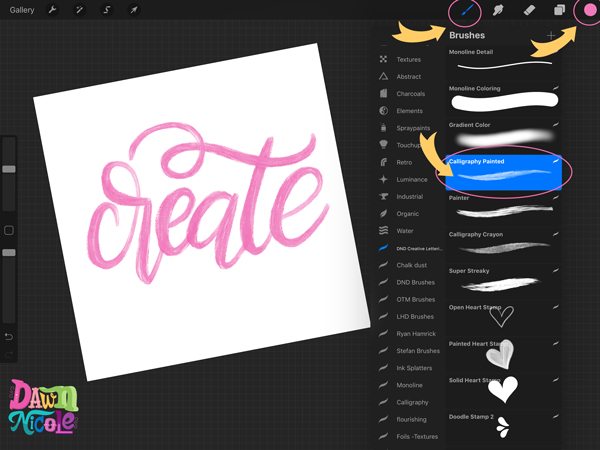 Step Three
From the layer panel, tap once on the layer with the letter you just drew and click "Alpha Lock." Alpha lock allows us to color right on our letter.
Tip: Swipe left on this layer and click "Duplicate." Tap the box on the layer to turn it off. This just saves a layer with your original lettering, so it's easy to start over with the painting step if you're not happy with how it comes out. I do this every time.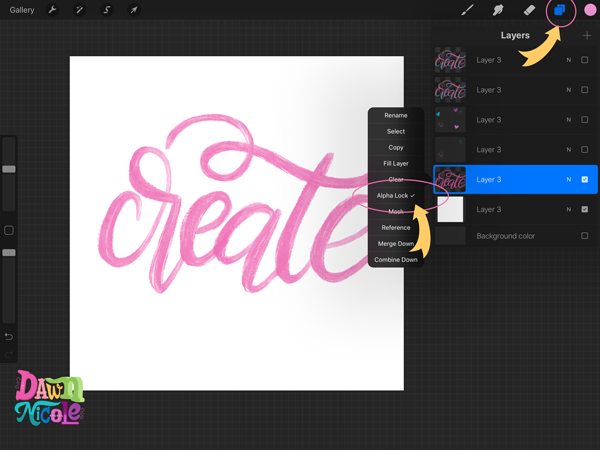 Step Four
Now, we get artsy! This step always comes out differently. Have fun playing with it until you're happy with the end results.
Using the Painter Brush, paint right on your letter randomly, using this project's color palette. Be mindful of what colors would blend well when placed next to each other if you were using real paint.
Use the smudge tool (the little hand) also set on the Painter Brush to gently blend the color together where they meet.
Add a few splatters on your lettering with the Splatter 2 stamp and a darker color. I used the color on the far right of the color palette for this step (it's my go-to color for this on-the-calligraphy splattering).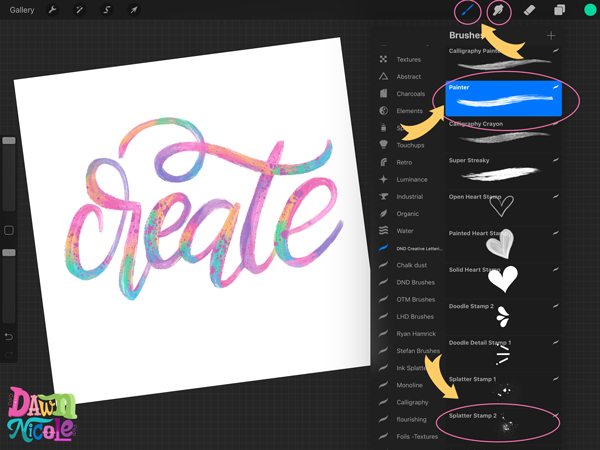 Step Five
On a new layer, use the Painted Stamp Brush and Splatter 1 and Splatter 2 Stamp Brushes to add some fun and easy details. As with any brush, pick your color first and stamp on the hearts and splatters.
Placing details on their own layers makes them easier to move around and place as I wish.
All done!
This style of lettering looks great on light and dark backgrounds, so play around with colors. ?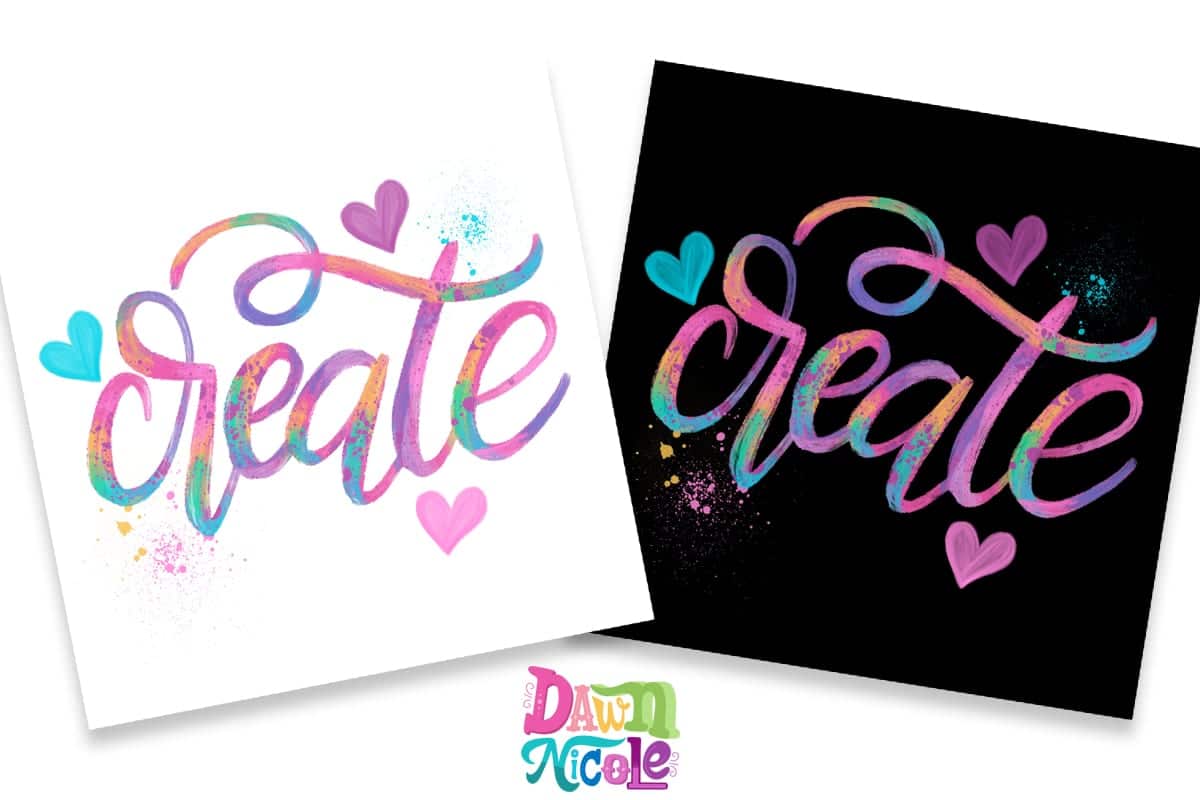 BONUS TIP
As I demonstrated yesterday: If you want your finished letter to be brighter, swipe left on the layer to duplicate it.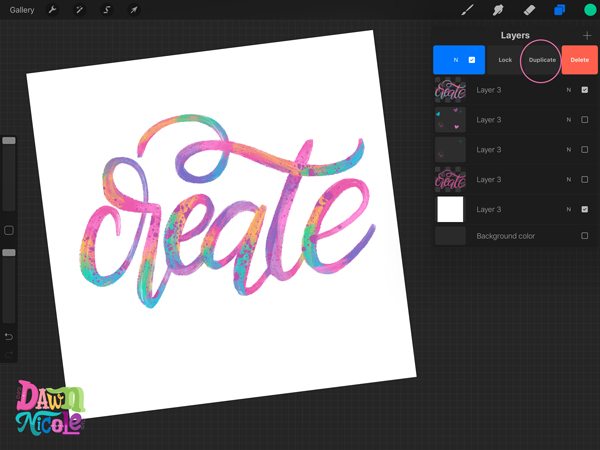 Tap the "N" to adjust the opacity of the second layer to get the desired level of brightness.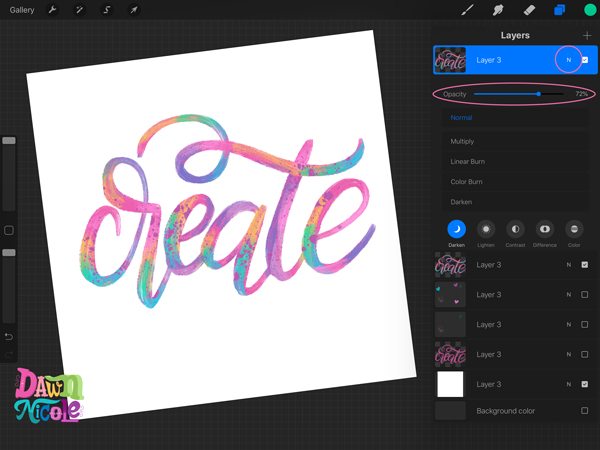 ---
As I noted yesterday, the first time around is always the most challenging. Once you follow this tutorial once or twice, you won't need it anymore. You'll be whipping up all kinds of colorful Artsy Painted Calligraphy on your own!
Happy creating!
LET'S CONNECT
Facebook // Pinterest // Instagram // Shop