Colorful Blended Calligraphy Procreate Tutorial. Learn how to use my free Ombré Bleed Procreate Brush to create this easy, colorful blended calligraphy.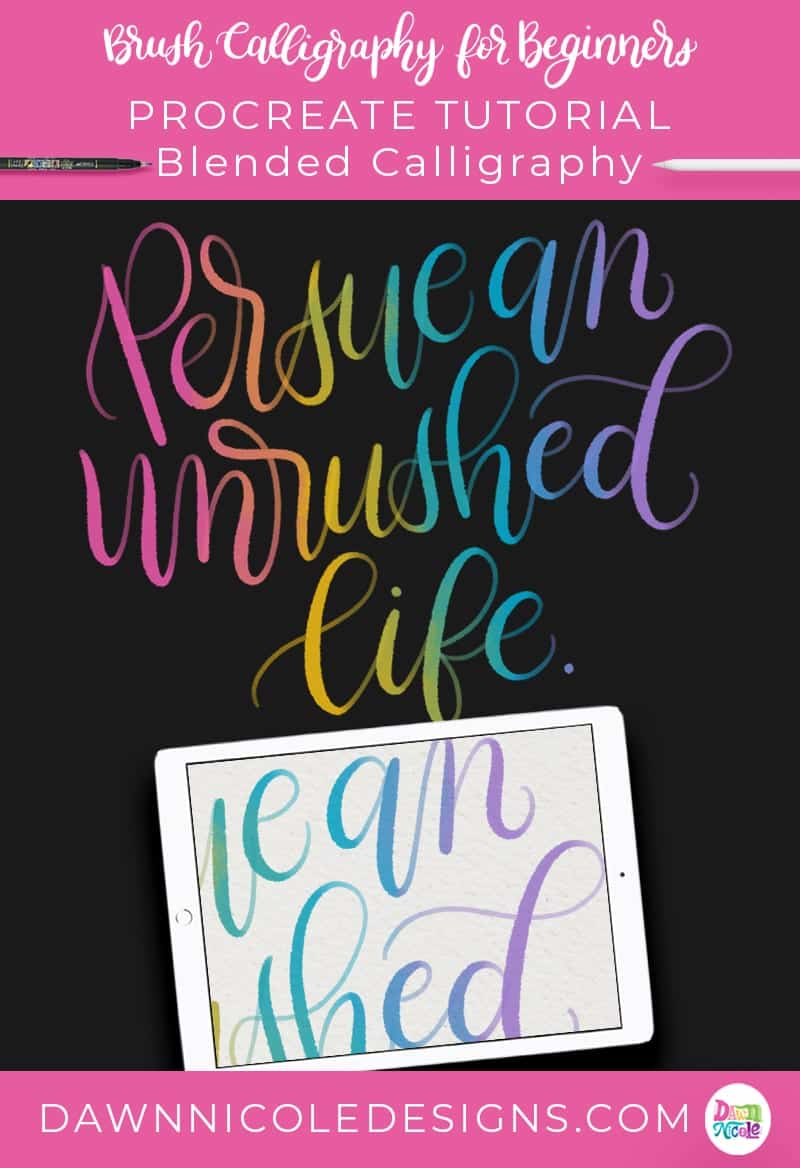 Procreate Tutorial: Colorful Blended Calligraphy
Last week on the blog, I shared a free Procreate Brush called DND Ombré Bleed. If you didn't already download it, pop over and do so here because you'll need it for this Procreate tutorial.
While you're over there, download the Watercolor Paper Background from the same post we'll be using in this lesson.
If you want to use my "ombré bleed" calligraphy shown below while you follow this tutorial, you can grab it here.
Let's get started!
Video Procreate Tutorial
Follow along with the video lesson on this Colorful Blended Calligraphy style below! Written instructions also appear below the video.
---
Note: If you're new to Procreate, be sure to watch the video first and then use the written steps. Seeing it done visually will show you how much easier it is than it may sound in the written steps.
---
Step One
Open the Procreate App and create your calligraphy on a single layer using the DND Ombré Bleed Brush.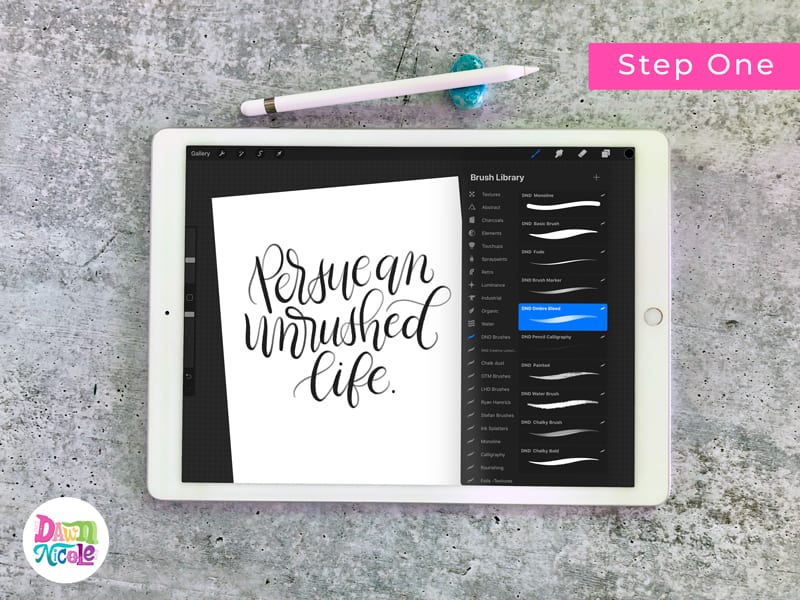 Step Two
Add color to your calligraphy. Do this by tapping your calligraphy layer and selecting the "Alpha Lock" option.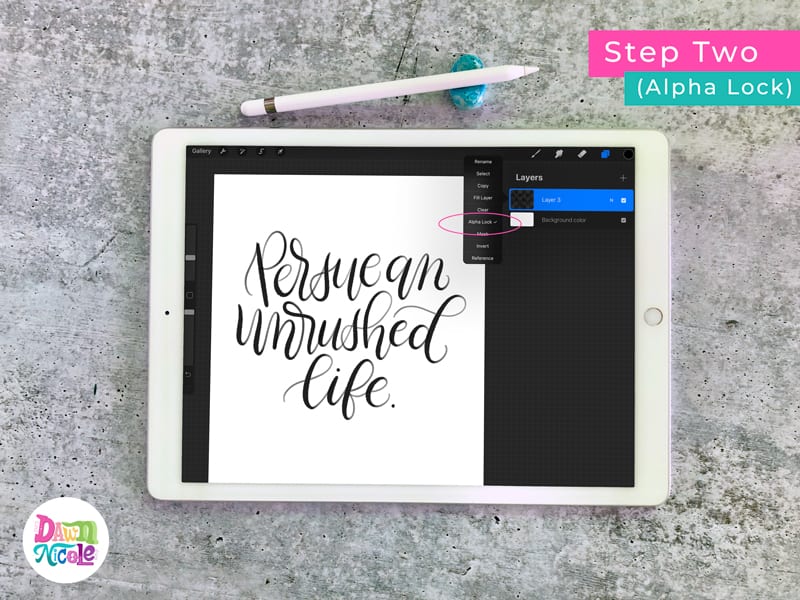 Using a monoline brush, add color to your calligraphy as desired.
I use the DND Coloring Brush from my Creative Lettering Procreate Bundle for this step.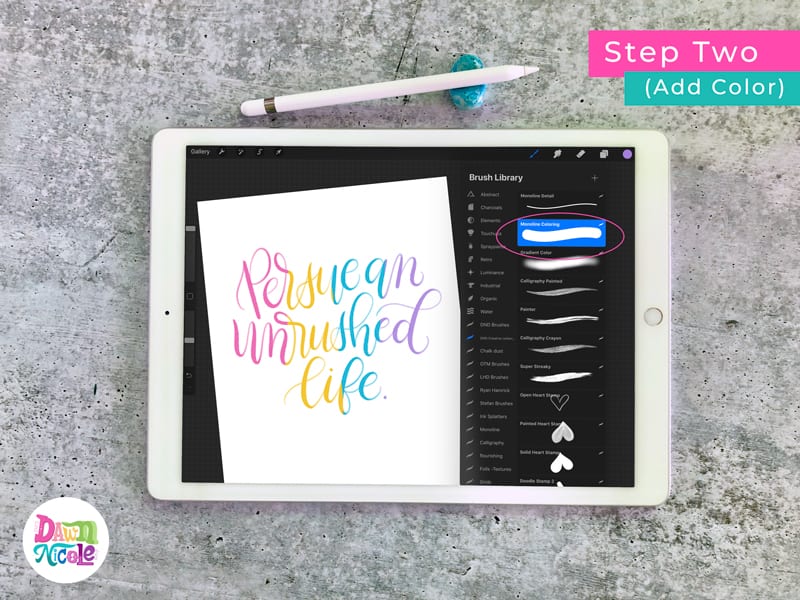 Step Three
It's time to blend the color together. A great brush for this comes standard in the Procreate App.
You can find it under the "Artistic Brushes," and it's called "Fresco."
Use it to gently blend the "hard" lines between each color together, so you get a pretty, soft blended look.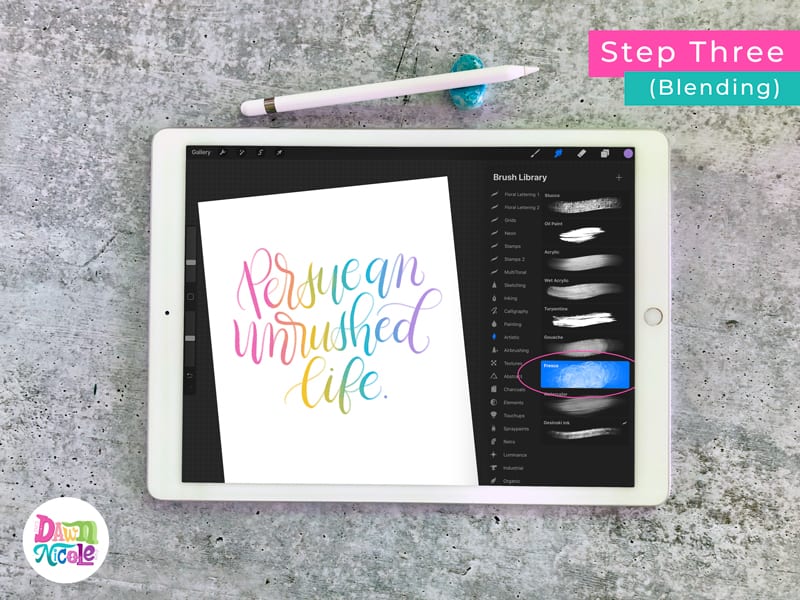 ---
The "Pursue an unrushed life" quote is from the "Embraced" Devotional by Lysa TerKeurst.
---
Step Four
Click the wrench icon in the menu bar to access the "Action" panel. Under the "Add" section, chose "Insert a photo" and chose the Watercolor Paper background you downloaded earlier in this post (It was in the same blog post as the free procreate brush).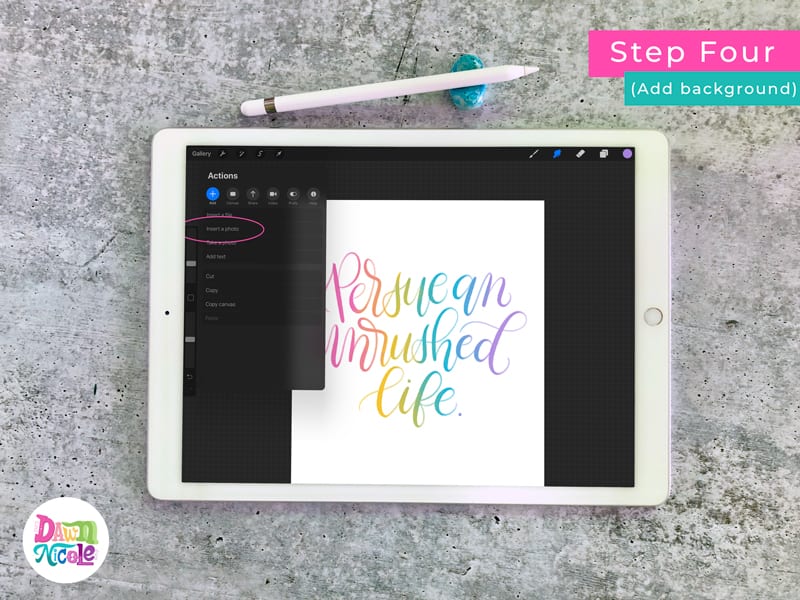 Step Five
From the layers panel, tap the layer your calligraphy is on to be sure it is selected.
As shown below, tap the "N" on the layer and change the blend mode to multiply.
This allows the texture of the watercolor paper to show through the lettering, giving it a more realistic look.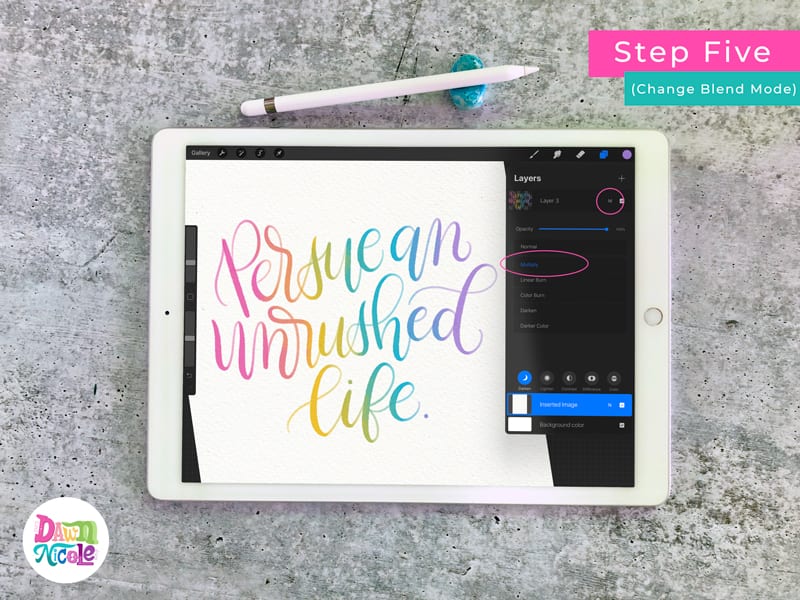 Easy and fun, right?! Zoom in to check out that delicious texture and blending!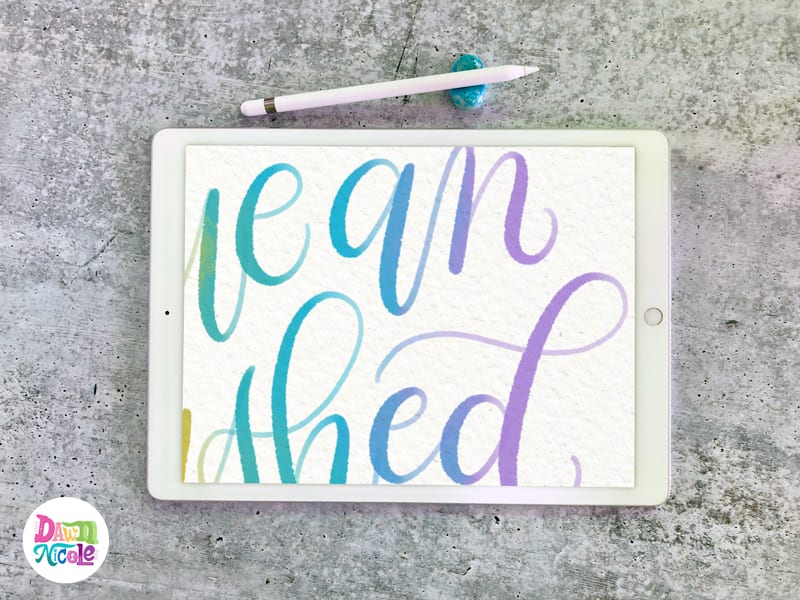 ---
Get MY full ORIGINAL Procreate Brush SET
Check out more detailed examples of each Procreate Brush over in my shop. It's my best-selling item!
Dawn Nicole's Original Procreate Brushes →
---
LET'S CONNECT
Facebook // Pinterest // Instagram // Shop