Patterned Clipping Mask Letters. You can create these tropical letters in Procreate in just a few simple steps!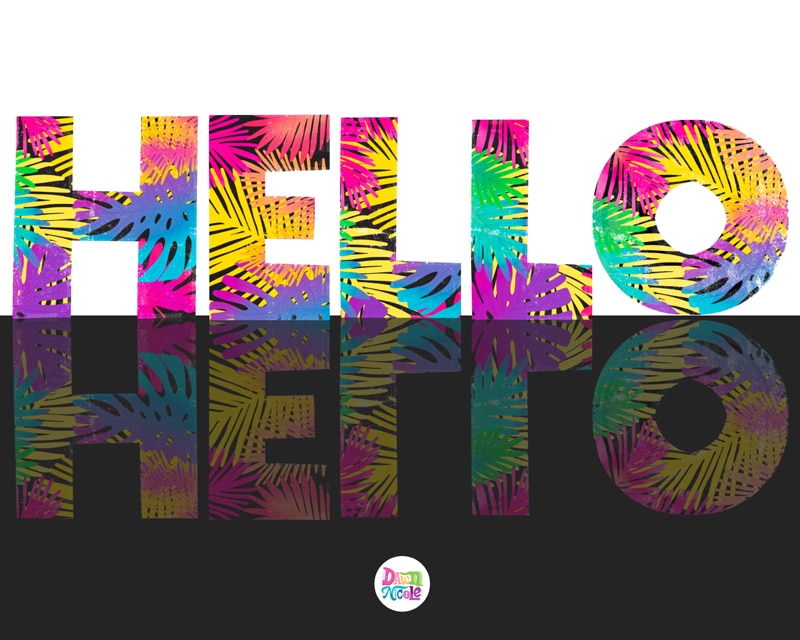 Patterned Clipping Mask Letters
Last week, I showed you how to use my Tropical Vibes Procreate stamps to create realistic-looking tropical florals and leaves. (If you missed that tutorial, you can check it out right here. Start there and then come back to this post.)
This week, we're going to build on that tutorial and use the stamps to create patterned letters, as shown below.
Once again, we'll be using my Tropical Vibes Procreate Brush Lettering Kit. I'll show you how to make patterned letters using stamps and clipping masks in just a few easy steps.
Get the Tropical Vibes Procreate Brushes →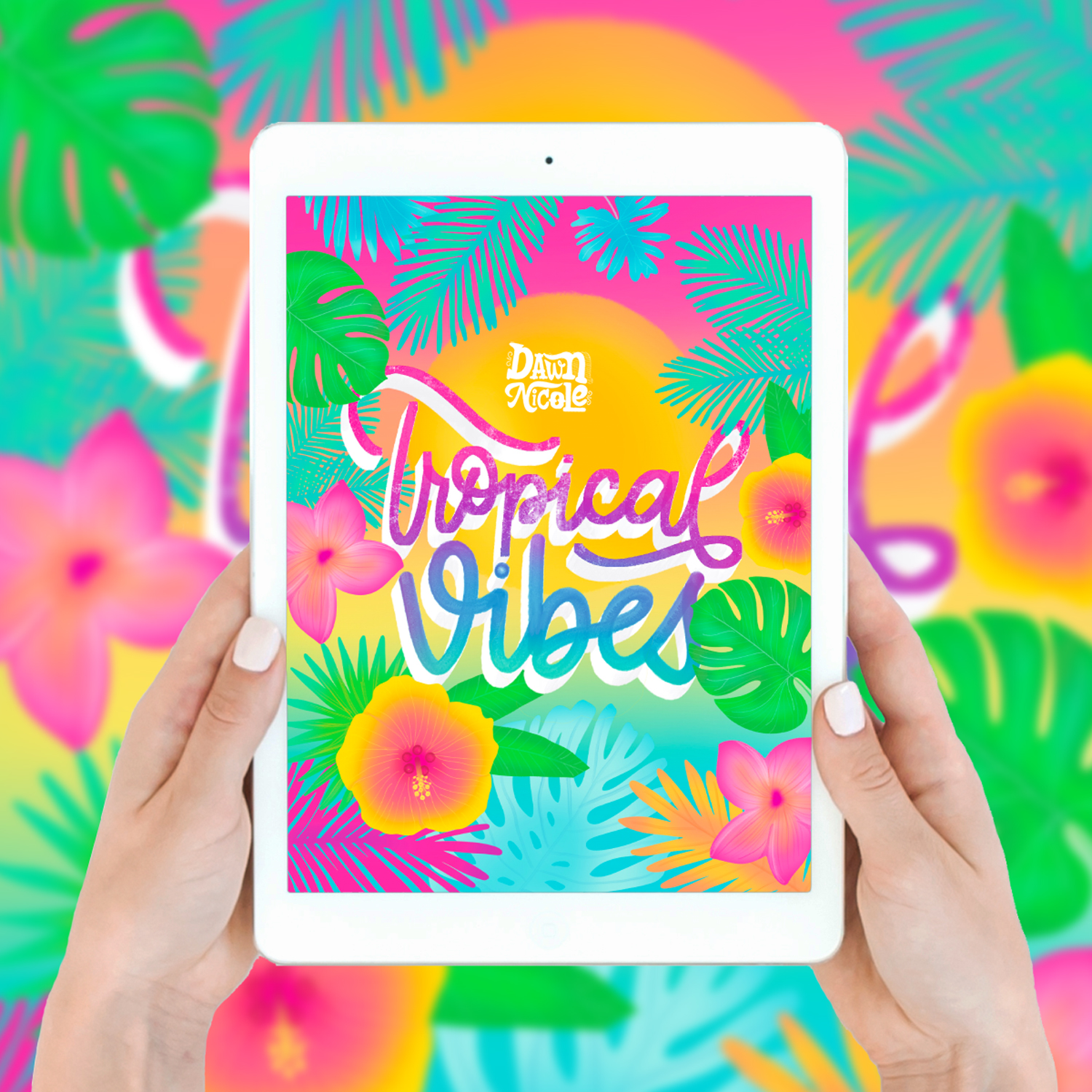 Ready? Let's get started!
How to Create Patterned Clipping Mask Letters
To keep things simple, I'm going to show you how to create a single letter today. Then, you can use the same steps to go on to more significant projects, like creating full words.
Bold block letters work best with busy patterns, so keep that in mind as you create your letters.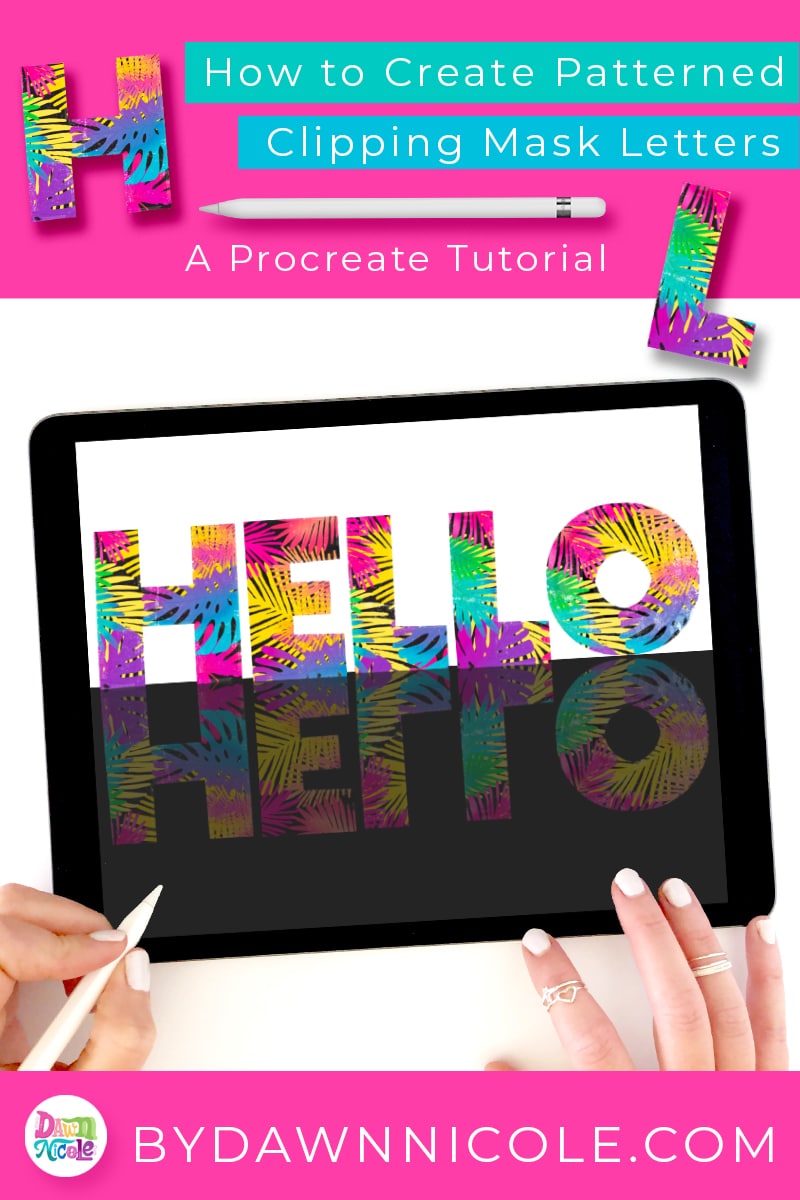 Step One
Open a new canvas in Procreate. On layer one, draw a bold block letter. I used the Tropical Block Brush to draw a big letter "O," but you can draw any letter you'd like.
Note: I've renamed layer one as "Letter" in the screenshot below to keep things organized. To rename a layer, simply tap on the layer. On the menu that pops up, tap the "rename" option.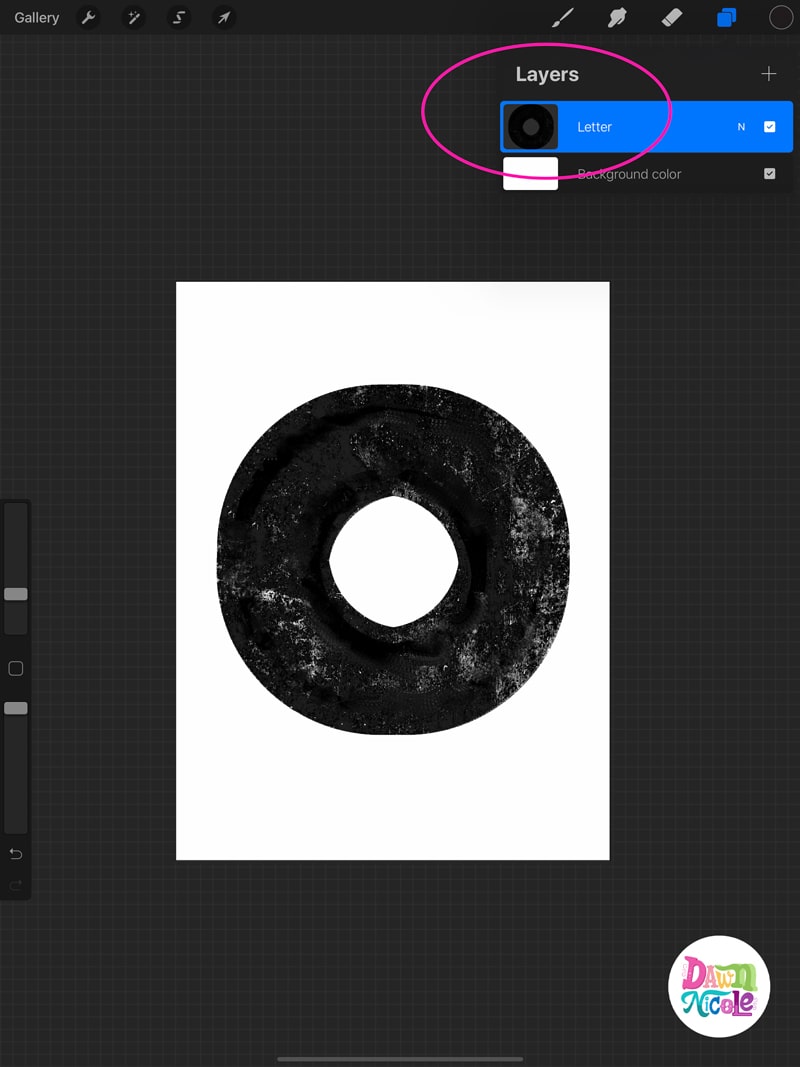 Step Two
As I've done below, use the tropical staps on a new layer (Layer 2) to create a colorful design pattern. Make sure the pattern or design you create covers the entire letter.
This is the step that requires you to put into use what you learned in the Procreate Stamp Tutorial I shared last week.
I renamed this layer "Pattern."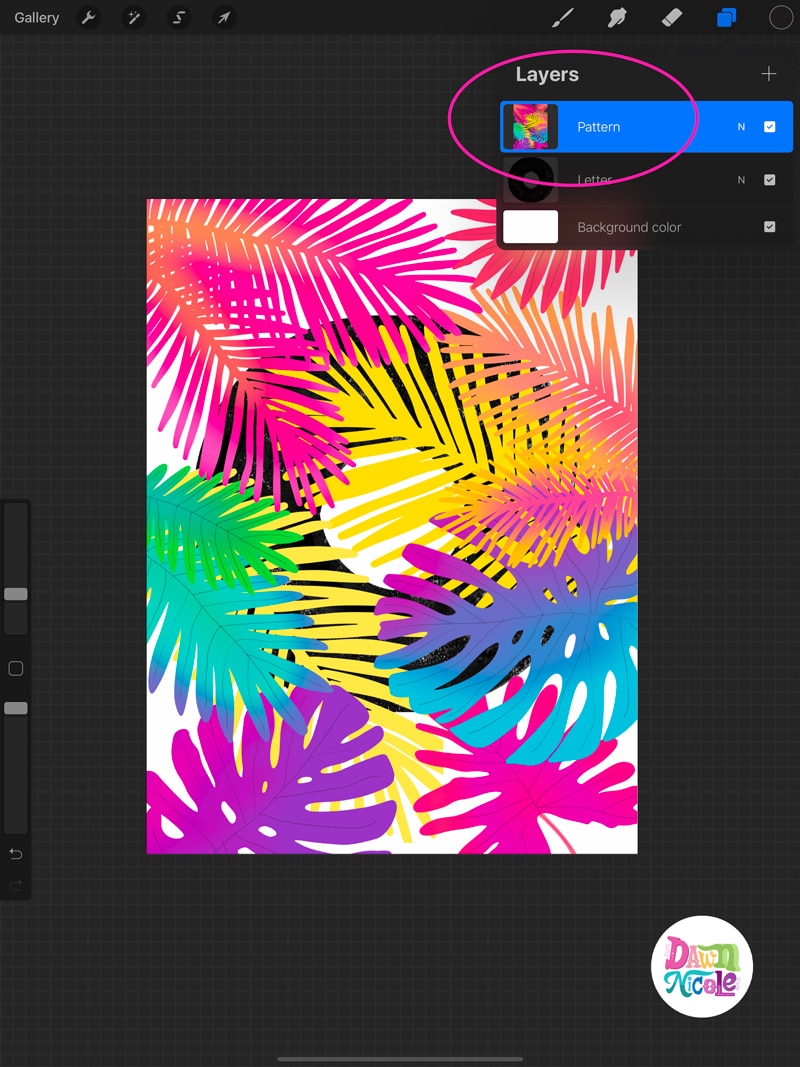 Step Three
Tap your pattern layer (Layer 2) so the menu pops up.
Tap the "clipping mask" option and watch the magic happen.
Optional: With your "Pattern" layer selected, you can use the arrow tool to move the pattern around so it "lays" on the letter in a particular way.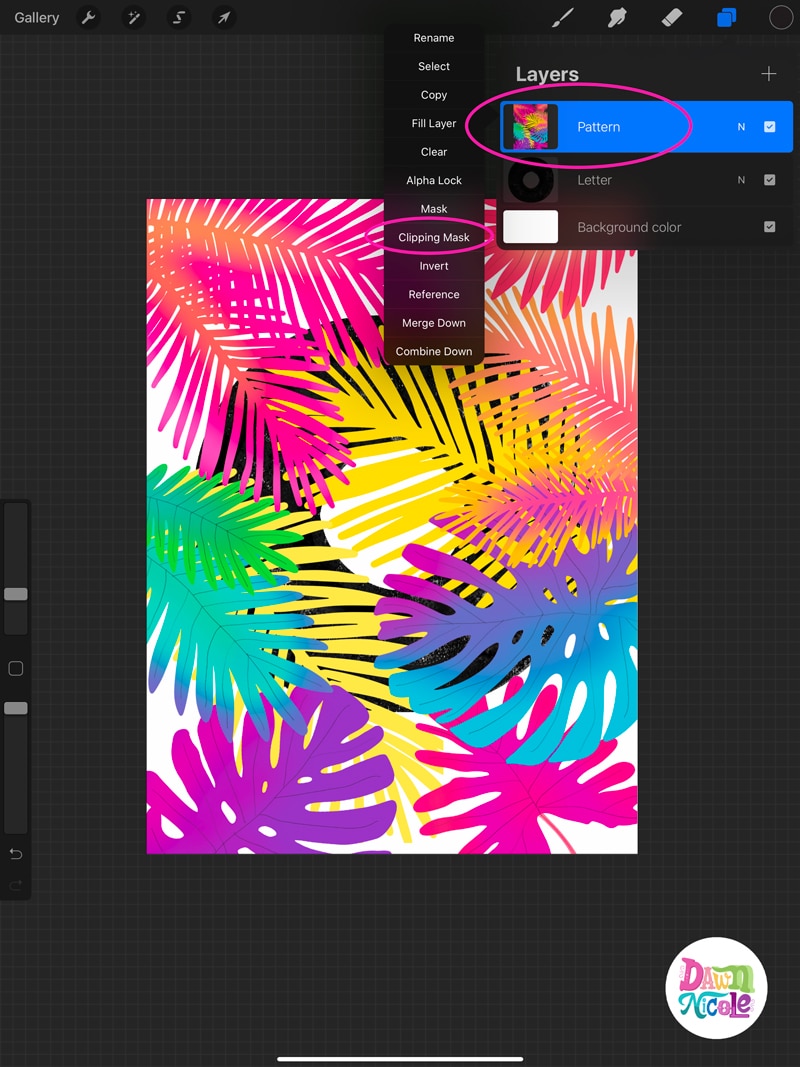 The little arrow I've circled below indicates that a clipping mask is applied to that layer.
The clipping mask pattern only affects the layer directly below it, so you could use multiple clipping masks in a more intricate, multi-layered lettering piece.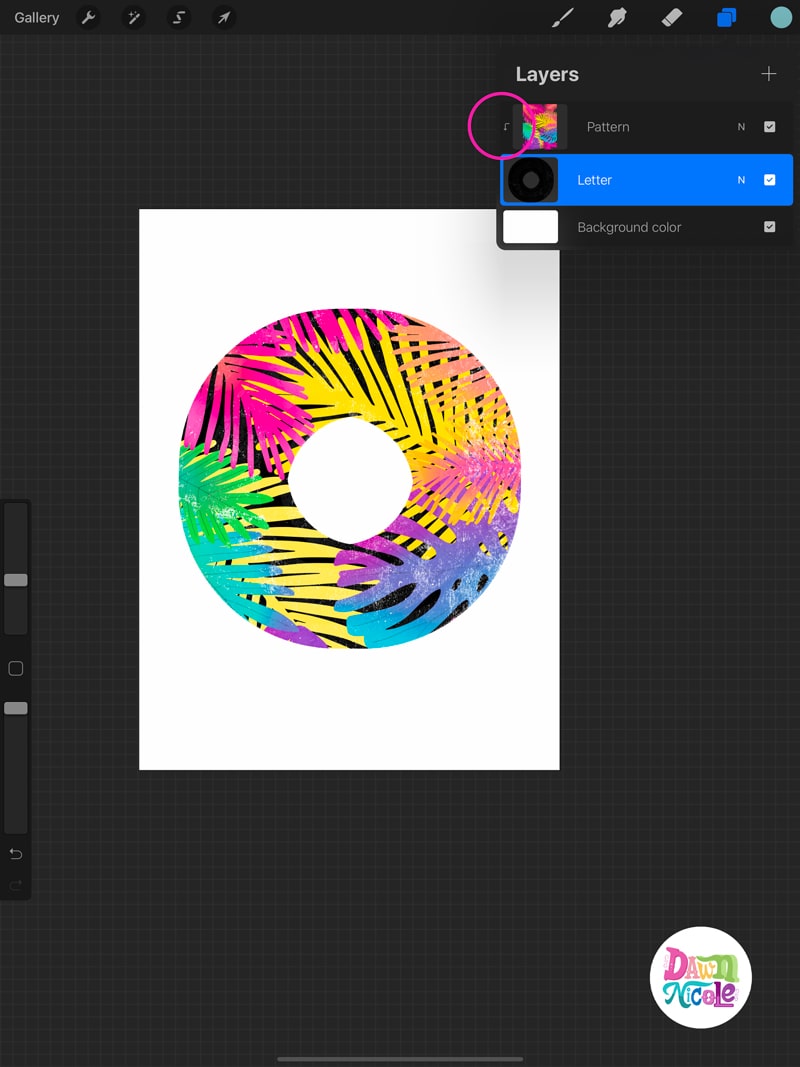 Step Four (optional)
Play with the background color to see how the patterned letters pop! I liked mine on both a white and black background.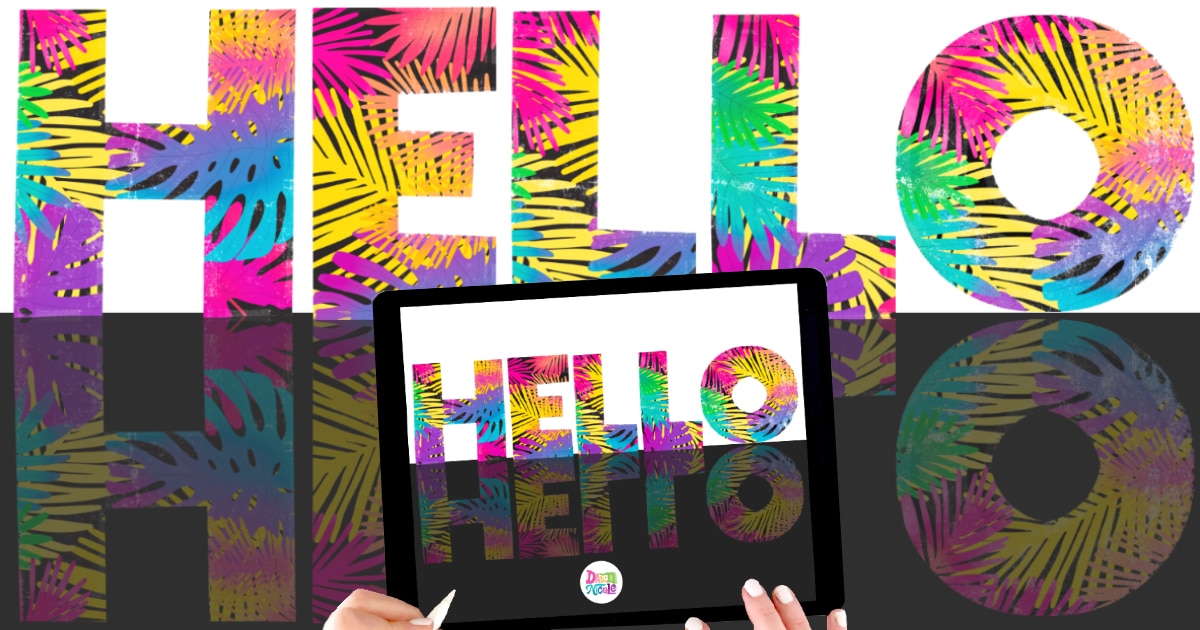 ---
---
I hope you found this Clipping Mask Tutorial helpful!
Happy creating!
LET'S CONNECT
Facebook // Pinterest // Instagram // Shop