September Birth Flowers Drop Cap Tutorial. Follow along with my video on Procreate tips for creating this whimsical, childlike letter S.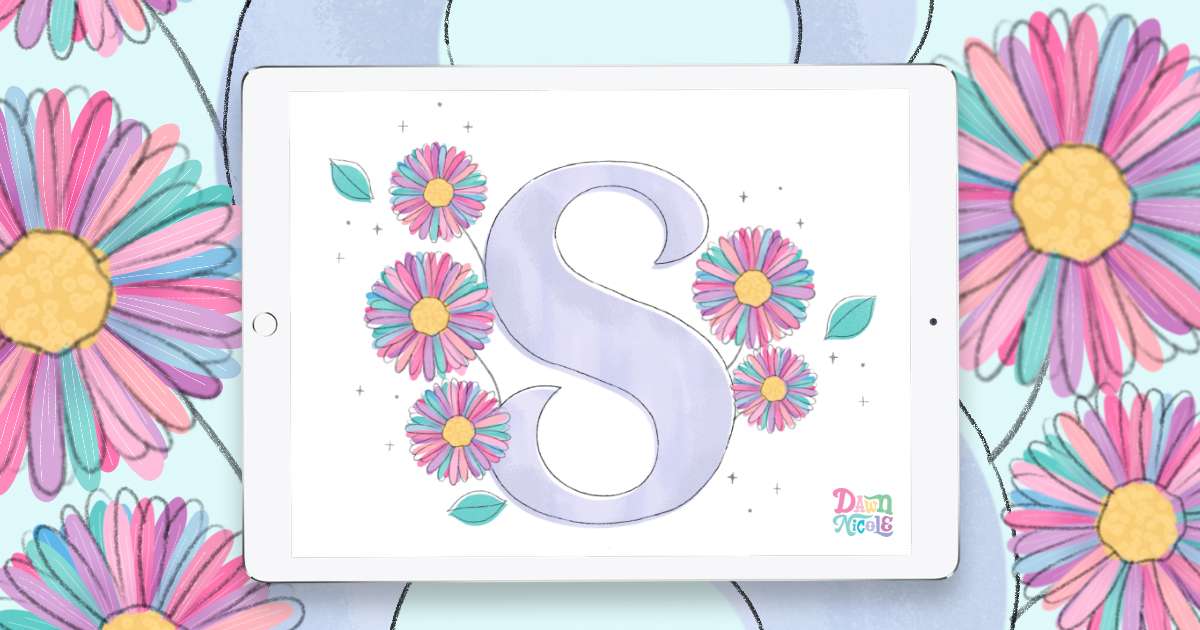 September Birth Flowers Drop Cap Tutorial
A script letter "S" combined with Aster florals in a whimsical, childlike illustration style is what we'll be creating together this month.
The video tutorial is nearly 40 minutes long, but I had some requests to break things down even further, and you'll probably need to press pause along the way. I'd expect this project to take you about an hour or even up to 90 minutes to complete. 🙂
New to this series?
I recommend completing the previous lessons first and then returning to this one, as some lessons build on things taught in prior tutorials, although this one is pretty beginner-friendly. 🙂

What You'll Need to Follow Along
iPad and Apple Pencil
Procreate App
September Color Palette (Download it free below. It's in a Procreate-specific format)
A Variety of Procreate Brushes. I created this Drop Cap and artwork using brushes from The Creativity Kit and one stamp from the Modern Folk Art Procreate Stamp Kit.
Drop Cap Reference Sheet. I created a worksheet you can print and reference as we work through the step together.
Click the buttons below to download the freebies!
September Drop Cap Reference Sheet
Procreate Color Palette for September
---
Watch the SEPTEMBER Birth Flowers Drop Cap Tutorial Video Lesson
Follow along with the video below to create this whimsical Floral Drop Cap.
This month's video lesson is just under 40 minutes long.
---
VIDEO OUTLINE
If you want to skip or re-watch any tutorial portions, here are the timestamps for each section.
00:00 Intro
00:14 Project Overview
00:48 Opening a new Canvas + Creating the S Drop Cap
07: 45 Creating the Aster Flowers using a Reference Photo
25:33 Duplicating the Florals and Adding the Offset Outlines
30:20 Adding the Floral Stems
31:10 Creating the Leaves Using Stamps + Leaf Offset Outlines
34:12 Adding the Spark and Dot Detail Elements
37:00 Closing Comments and Notes
38:40 Outro
---

Happy creating!
I hope you enjoyed the September video lesson.
Stay tuned for next month's Floral Drop Cap Tutorial.
October is my birth month so that will be extra fun!
LET'S CONNECT
Facebook // Pinterest // Instagram // Shop