Ombré Bleed Free Procreate Brush. Download a sample brush from my DND Procreate Brush Bundle. Plus, a free high-res watercolor paper background!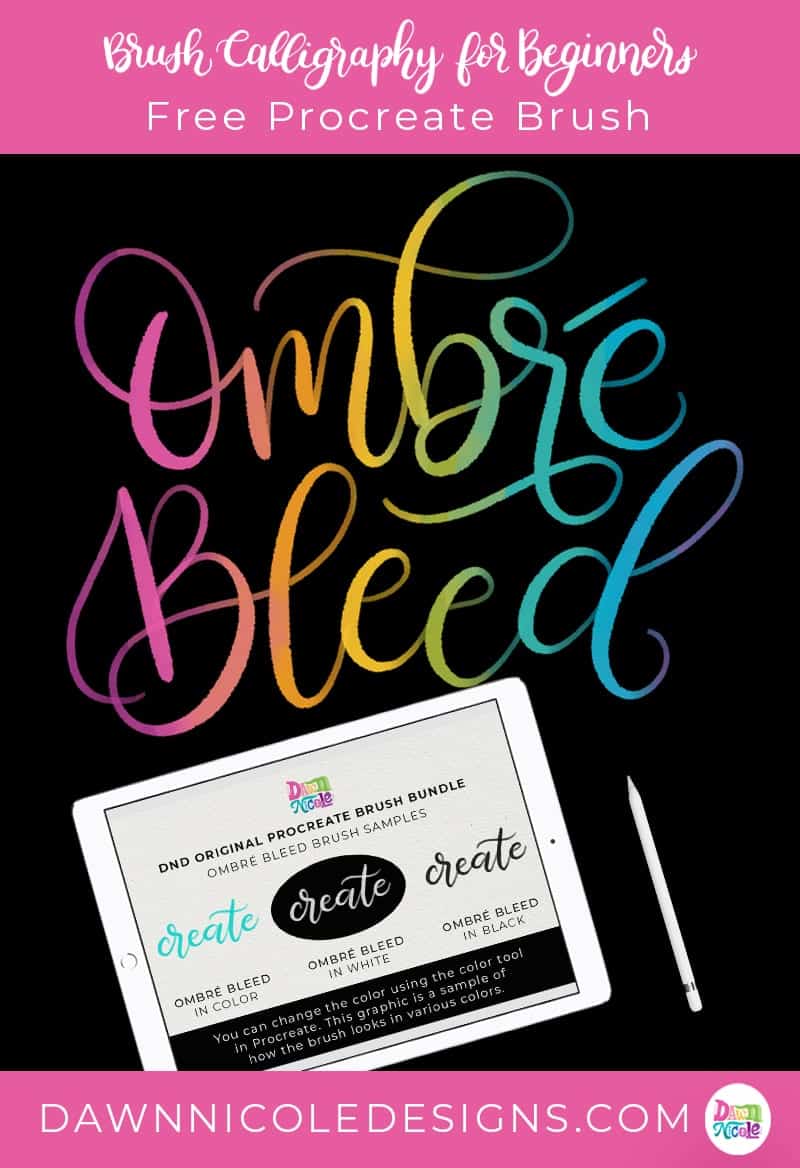 Free Procreate Brush: DND Ombré Bleed
After countless hours of work, I released this bundle of DND Procreate Brushes last year. I wanted the brushes to emulate my favorite "real-life" lettering pens and tools, and all of the brushes were designed with lettering artists (and aspiring lettering artists) in mind.
I'm sharing a free procreate brush from the bundle with you today! First, I'm going to tell you about the DND Ombré Bleed Brush (and the rest of the bundle). The free download is near the end of the post.
---
Dawn Nicole's Original Procreate Brushes
This pack includes 10 Custom Procreate Brushes (samples are shown above and below):

DND Monoline. Because no brush set is complete without a good monoline brush.
DND Painted. This was the main brush used to create the painted-style lettering I did for the hero image for the bundle.
DND Brush Marker. Inspired by the Tombow Dual Tip Markers.
DND Ombré Bleed. Inspired by my well-loved and frayed Tombow Dual Tips.
DND Basic Brush. My go-to brush. It's ideal for designing hand-lettered SVG Cut Files because it's smooth and easily cuttable!
DND Fude. Inspired by the Tombow Fudenosuke Brush Pen.
DND Chalky Brush. Chalky with lots of texture in a brush calligraphy-friendly style.
DND Chalky Bold. For when you want a bolder chalk calligraphy style.
DND Pencil Calligraphy. I start all my lettering projects in pencil and prefer to do it with a calligraphy-style pencil.
DND Water Brush. I use this brush to create all kinds of watercolor-style lettering.
The DND Ombré Bleed Procreate Brush
I'll be sharing a step-by-step tutorial for creating this colorful look using the Ombré Bleed brush on the blog next week, so stay tuned. (UPDATE: You can find that tutorial HERE.)
In the meantime, here's a peek at a few things I've created with the free procreate brush.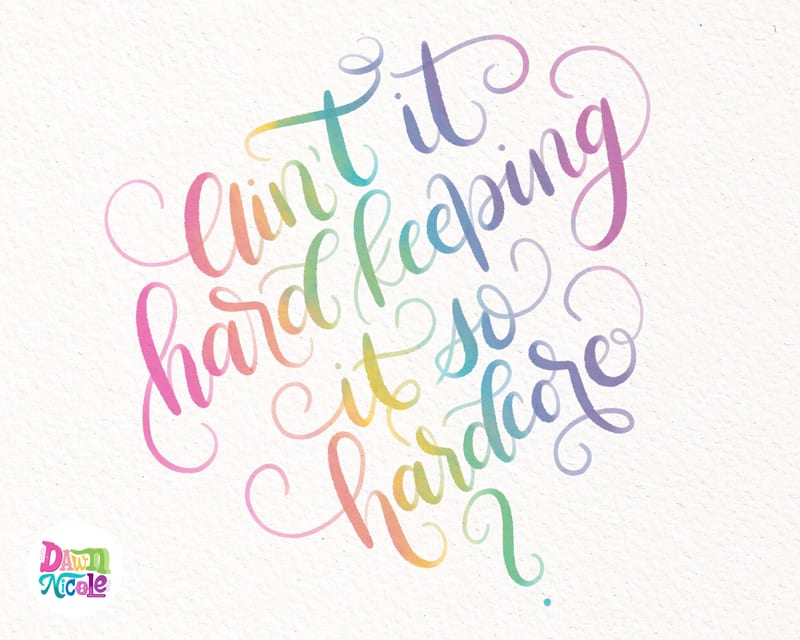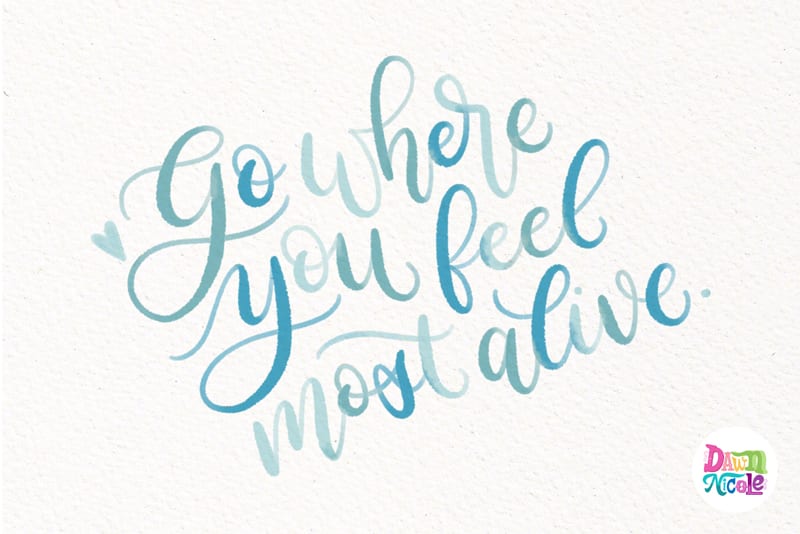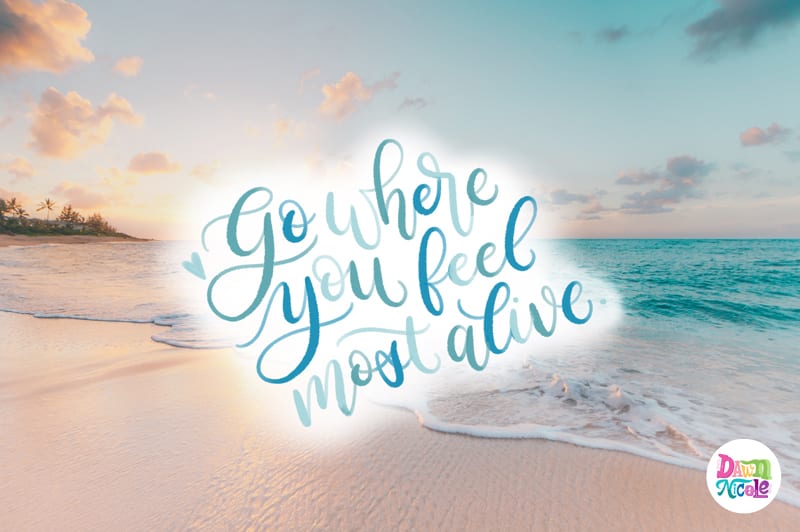 ---
Please Note:
The following downloads are in a .zip file format. If you need to know how to unzip a file or install a Procreate Brush, head to Google. There are a ton of great, simple tutorials online to follow for both things.
---
Download the Free Procreate Brush
Terms of use: Custom Procreate Brush ©Dawn Nicole Designs®. Re-distributing the files violates digital copyright laws. Please share the freebie only by using the link to this original blog post on bydawnnicole.com. Thank you for respecting my copyright! Hand-Lettered artwork you create with the free brush may be sold in your shop.
Download the Ombré Bleed Brush
Download the Free Watercolor Background
I created a high-res watercolor paper background for this brush to use in my promo pics. Feel free to use it in the same manner. I'll show you more about how to use it in Procreate in next week's tutorial.
---

Get MY full ORIGINAL Procreate Brush SET
Check out more detailed examples of each Procreate Brush over in my shop. It's my best-selling item!
Dawn Nicole's Original Procreate Brushes →
---
LET'S CONNECT
Facebook // Pinterest // Instagram // Shop