Paperlike Grips for Apple Pencil. All about the new Precision and Comfort Grip duo from Paperlike. Plus, the updated screen protector.
Noteworthy: I became a Paperlike Brand Ambassador because I'm obsessed with their products. I never liked using a screen protector on my iPad until theirs came out. The scratchy paper sound and feel are unmatched. As a brand ambassador, I get to try their products for free, but I was not paid to write this blog post.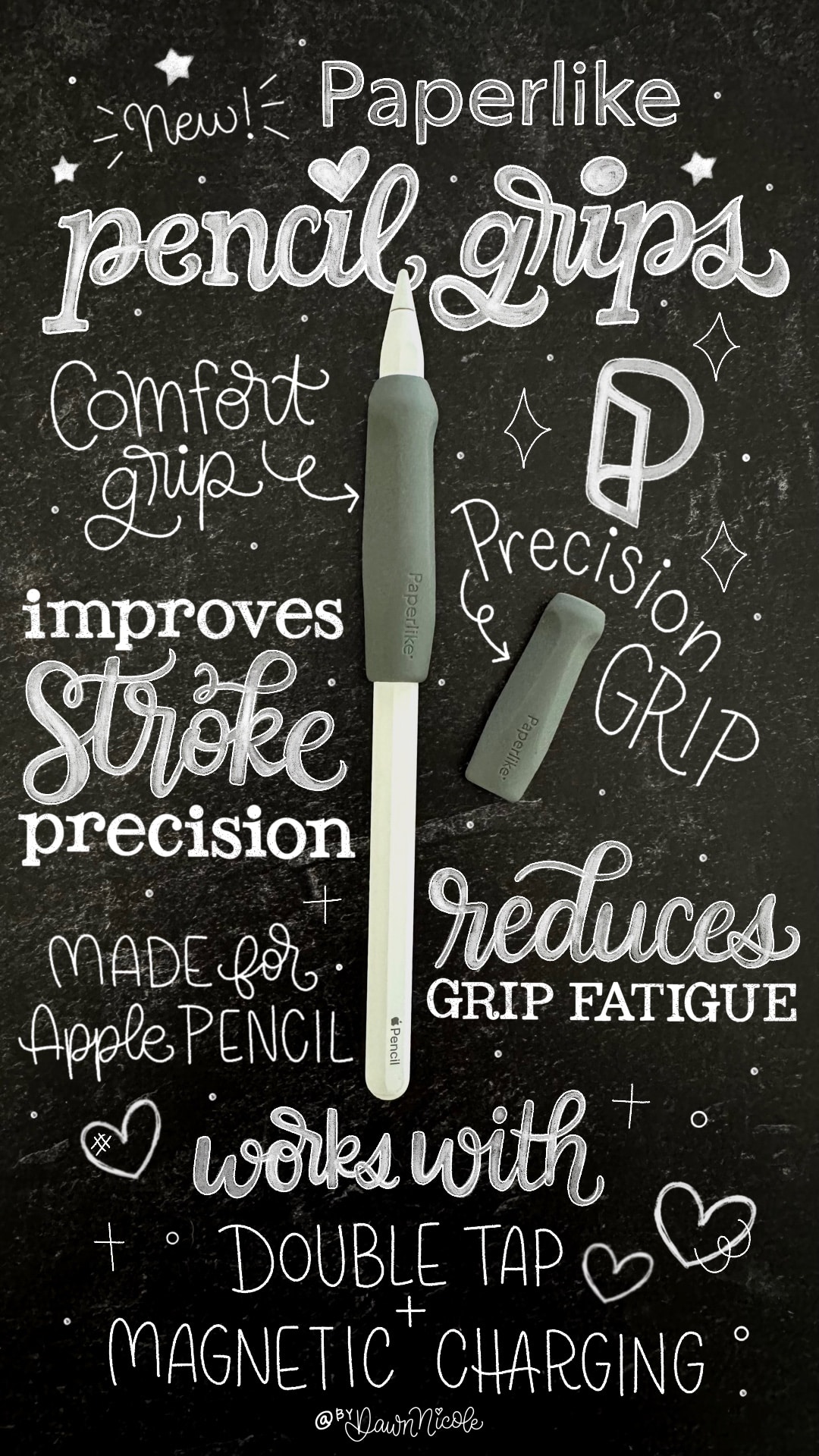 Paperlike Grips for Apple Pencil
My Apple Pencil just got a comfy glow-up thanks to the fab new Pencil Grips my friends at Paperlike sent me last week.
Creating the artwork above for an Instagram Reel was the perfect way to test them.
I started using the Precision Grip, but my hand started cramping around the two-hour mark, so I switched to the Comfort Grip.
The cheap grip I had before slipped around, which was super annoying, so my favorite thing about these is how snugly they fit my Apple Pencil.
About the Grips
Designed to Improve Stroke Precision and Reduce Grip Fatigue
Made for Apple Pencil (Gen 1 and 2)
Work with the Double Tap Pencil Gesture and Magnetic Charging
It comes as a set of two grips (Comfort + Precision)
Several Color Options (I have the Charcoal set.)
---
Creating the Artwork
Using my iPhone, I shot a photo of my Apple Pencil with the grips on a chalkboard-like background. Since I planned to use it for a Reel, I took the photo with a 16:9 ratio.
Then, I edited and brought the photo into Procreate.
I added a new layer above the photo and sketched my lettering plan.
Finally, I refined the lettering into the final artwork shown in this post.
Check out the final Reel over on Instagram.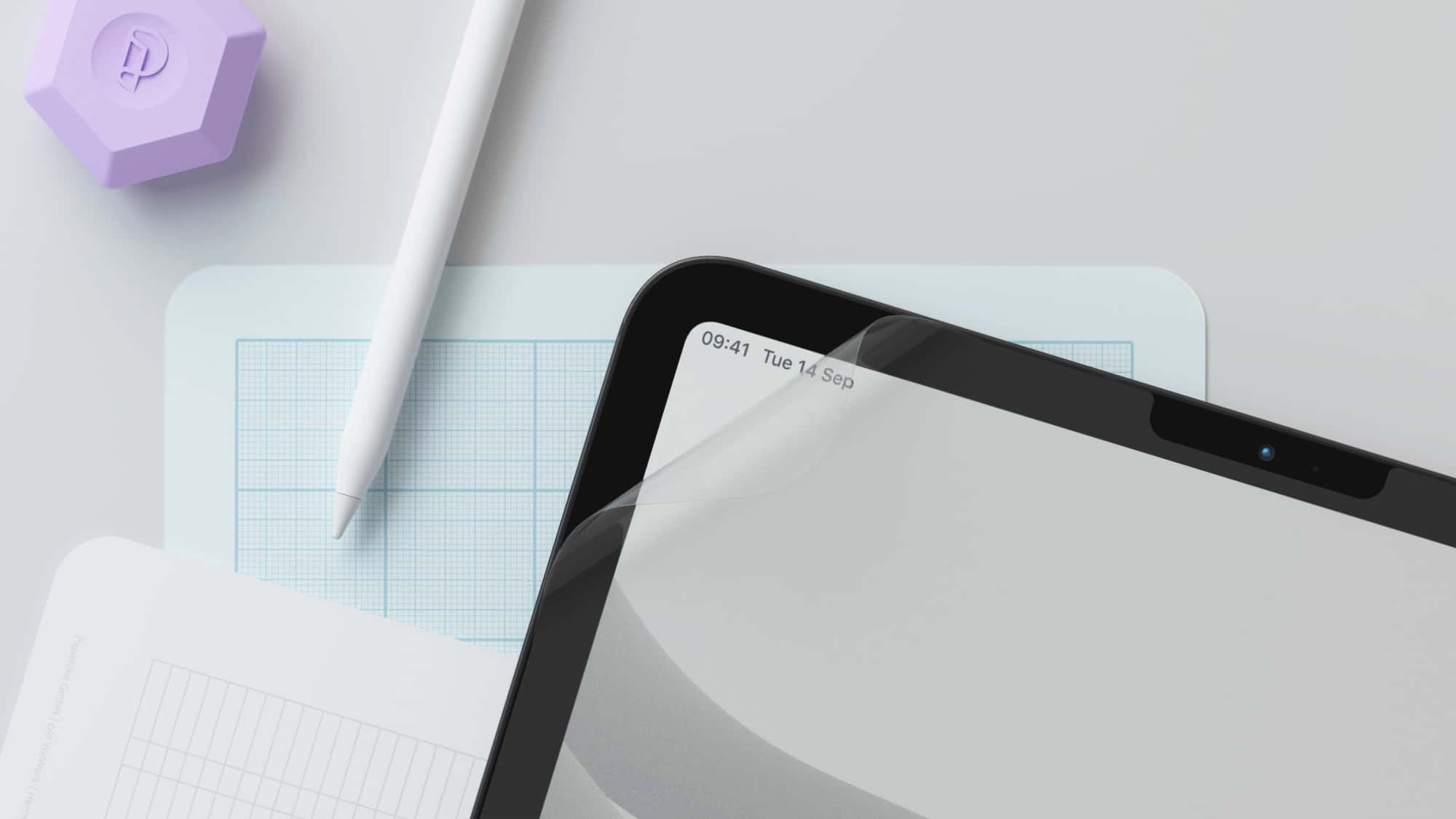 The Paperlike Screen Protector
While we're on Paperlike, I'd be remiss not to tell you about my screen protector.
I was an avid Team No Screen Protector artist until I tried the Paperlike.
Manufactured in Switzerland, the Paperlike iPad Screen Protector uses high-quality plastic foils developed exclusively for Paperlike products.
It features proprietary Nanodots® Surface technology that delivers superior stroke precision and clarity when writing and drawing with your iPad.
It brings the feel of drawing on traditional paper to digital art. That scratchy pencil sound it makes brings me so much joy!
It's noteworthy that every Paperlike comes in a set of two.
---

The Art of Playful Lettering Book
My new book, The Art of Playful Lettering, is on Amazon.
I'll teach you The Art of Playful Lettering in my signature style in Six Chapters (208 pages).
It features Lettering Basics, Color Palettes, Lettering Styles (ten complete alphabets!), Easy Illustrations, Step-by-Step Projects, and a Lettering Challenge.⁣
---
LET'S CONNECT
Facebook // Pinterest // Instagram // Shop