Rainy Day Color Palette. Grab the bluesy color palette I used to create this motivational hand lettering in the Procreate app!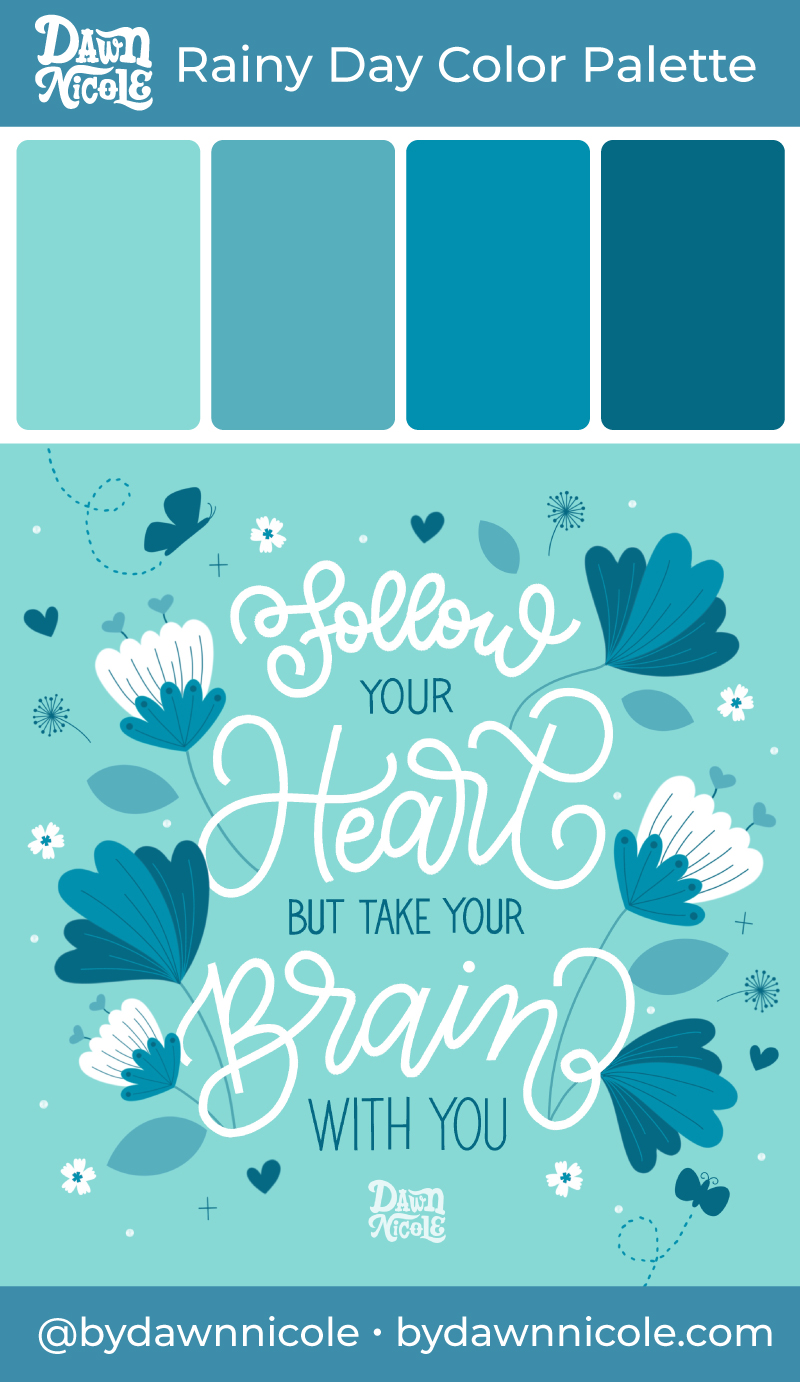 Rainy DaY Color Palette
"Follow your heart but take your brain with you."
I decided to call this the Rainy Days Color palette because the bluesy vibe is calming, just like the sound of the rain.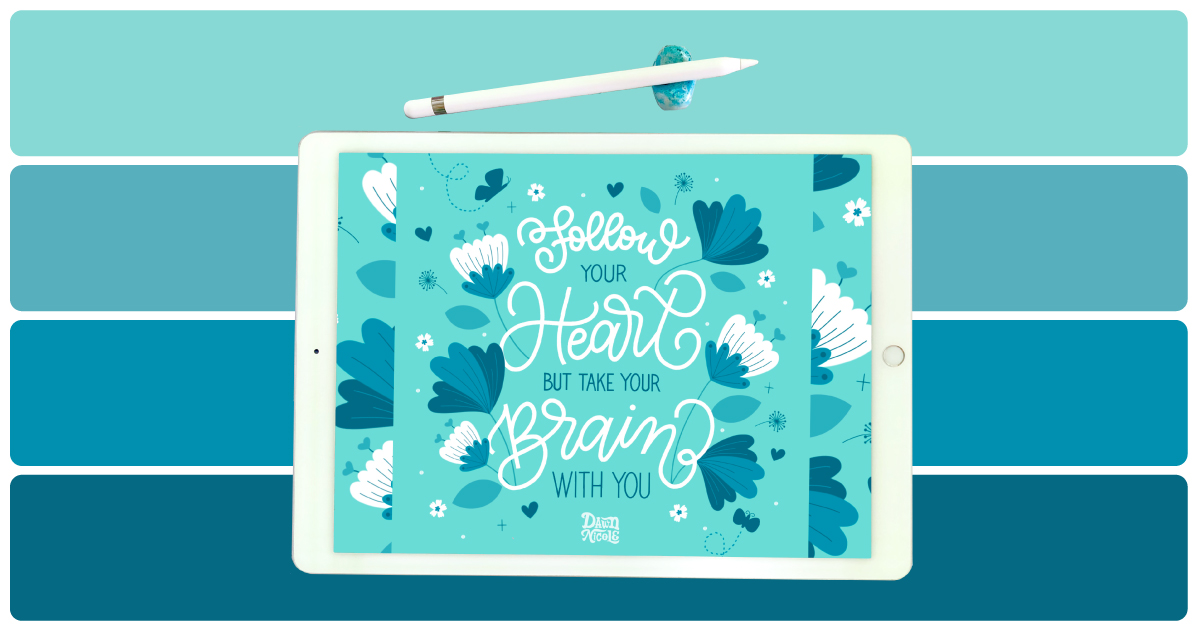 Artwork Details + Lettering Tips
I created this lettering and artwork using The Modern Folk Art Stamp Kit and The Creativity Kit for Procreate, both of which are available in my Lettering Shop.
Need help with how to use my Procreate Brushes? I have tons of free tutorials!
Browse my Procreate Tutorials →
Shop my 5-Star Rated Procreate Brush Kits →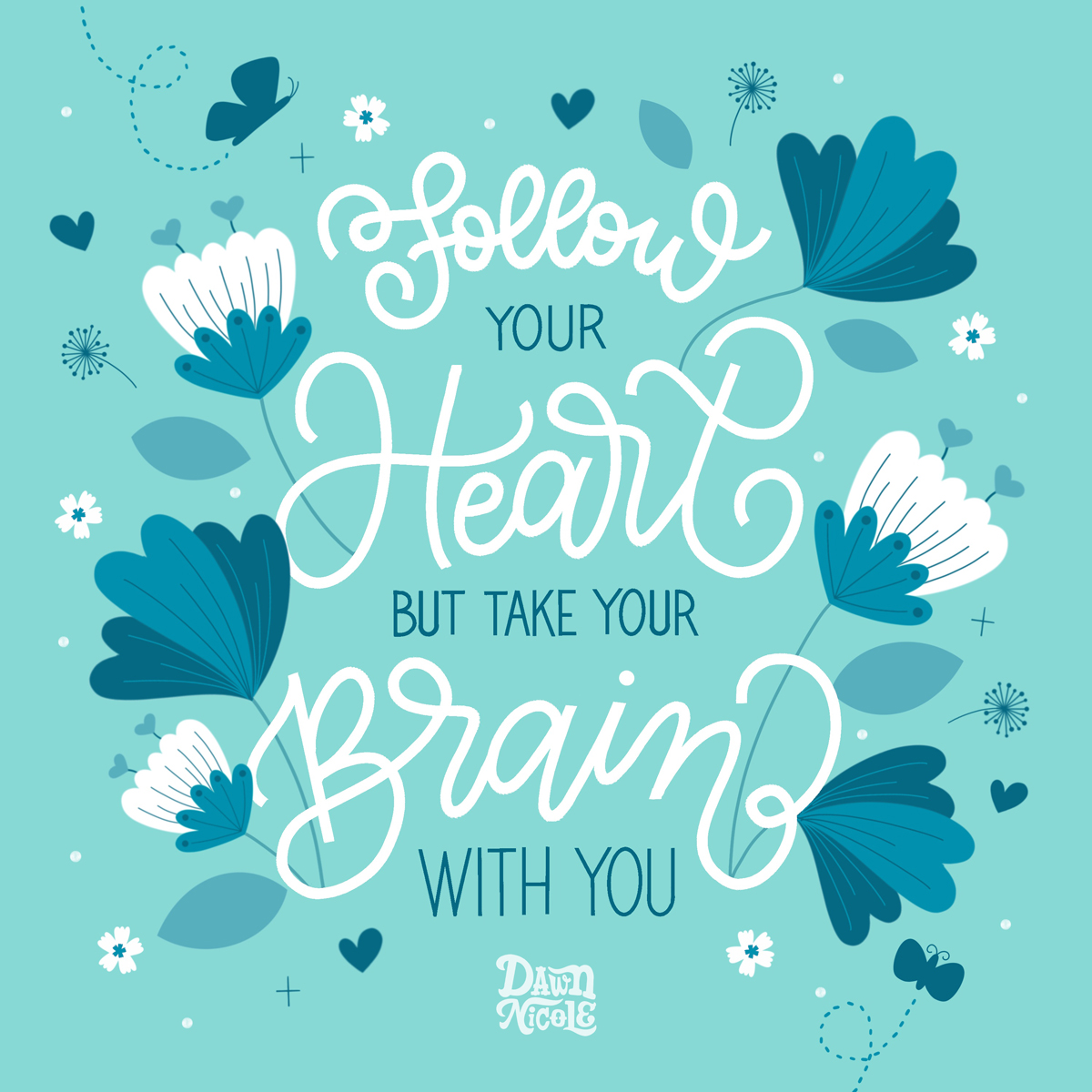 ---
Using the Rainy Days Color Palette
Right-click or screenshot the photos in the blog post to save each lettering example and color palette.
Learn How to set up Custom Color Palettes in Procreate here.
Use them in design programs such as Photoshop and Illustrator.
Match your physical art supplies (markers, colored pencils, watercolors, etc.) to the palette and work the old-school way!
Insta-Inspo
On my Instagram, many of my posts include a "Swipe to watch the process video," which shows you how I take things from a sketch to a final piece.
I also love using grid stamps from the Lettering + Grid Builder Bundle by Stefan Kunz and Ian Barnard for creating layouts.
I hope that you'll use my lettering work to inspire your own artwork. Please remember, there's a fine line between being inspired by someone else's work and being a copycat, so be sure to create something original.
---

---
Learn lettering with me!

Grab my new Hand Lettering for Beginners Workbook and learn all about lettering basics.
Complete the 25 worksheets to learn varied weight Sans Serif, Script, and Serif lettering styles. Then use them in your original lettering work!
You Might Also Like…
The Quinn Style Workbook is a follow-up to the Hand Lettering for Beginners Workbook.
Pop over to this post to read all about what's inside!
The Chloe Style is the latest in my hand-lettering workbook series. Check it out HERE.
---
Have fun creating with the Rainy Day Color Palette!
LET'S CONNECT
Facebook // Pinterest // Instagram // Shop