January Birth Flowers Drop Cap Tutorial. Learn how to create this floral drop cap in Procreate by following my step-by-step lesson!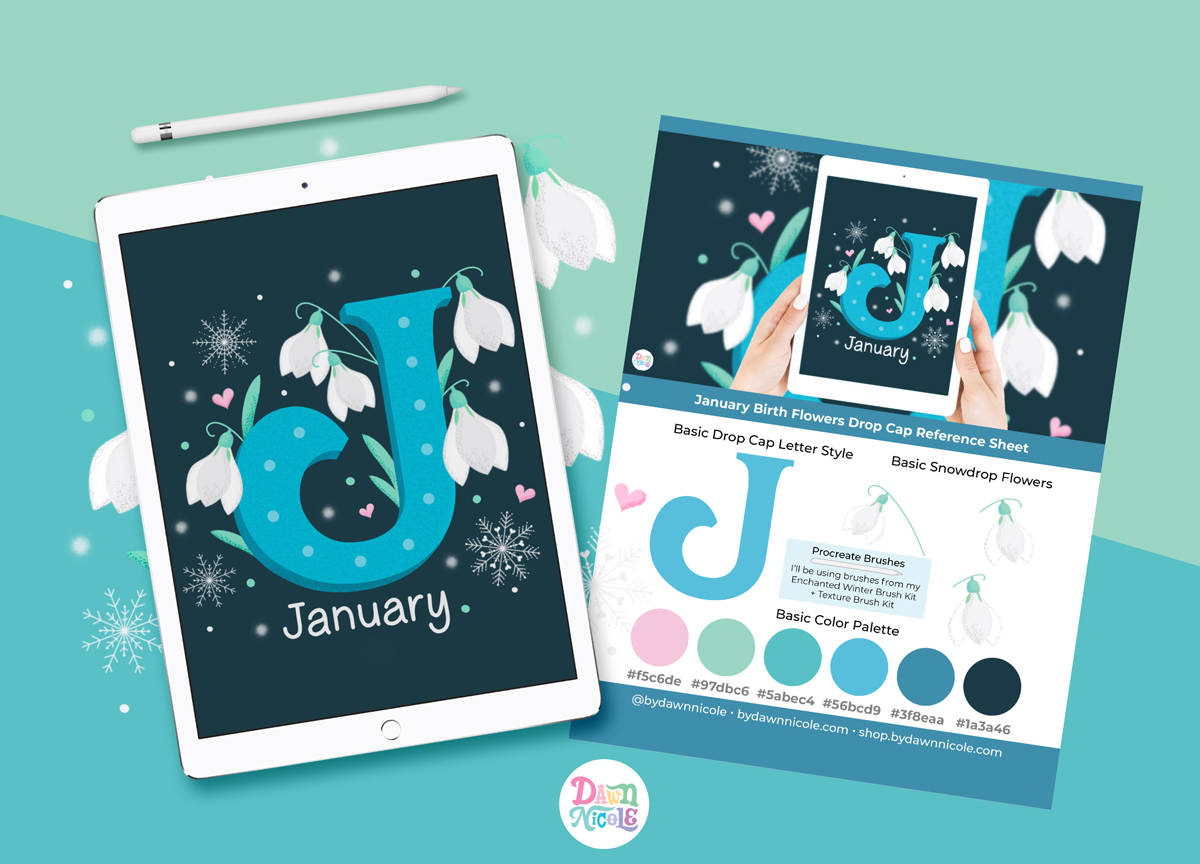 January Birth Flowers Drop Cap Tutorial
Are you ready to kick off the year-long Procreate Series using Birth Flower Drop Caps today?!
One of January's birth flowers is the Snowdrop, which is the one I opted to use for this month's tutorial. You can study the photo of them below. It will be helpful to refer to it as we work through the Procreate Tutorial. Aren't they adorable?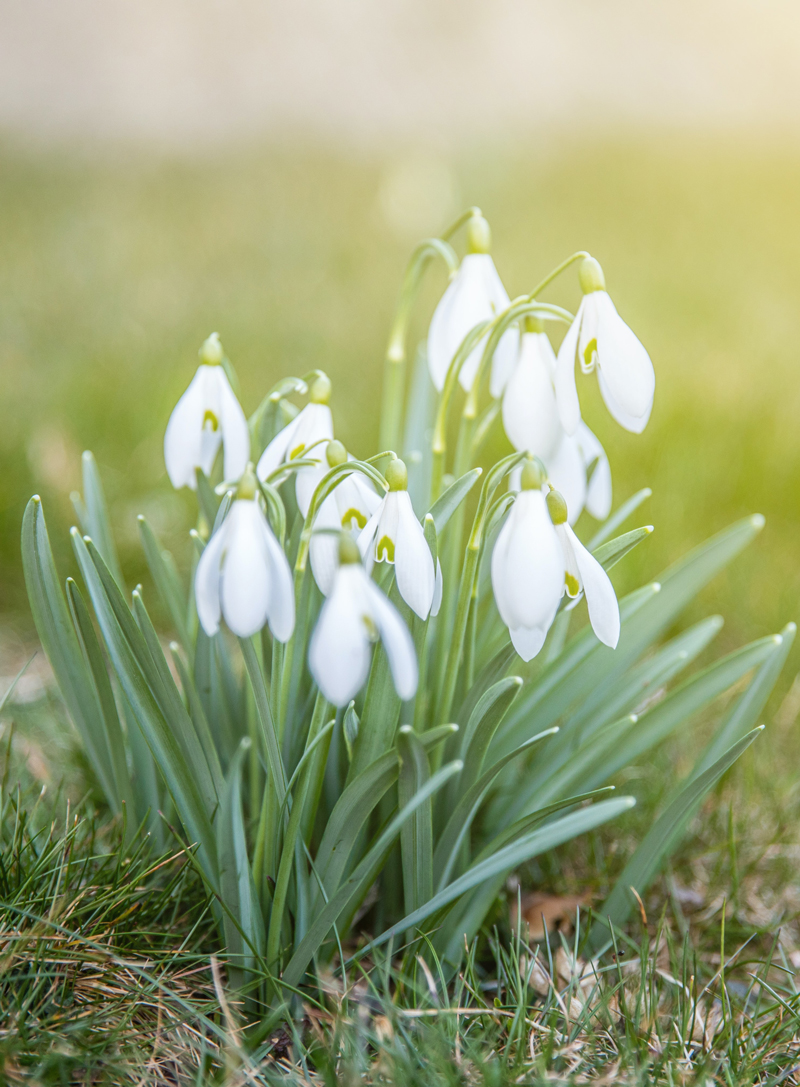 What You'll Need to Follow Along
iPad and Apple Pencil
Procreate App
Snowdrop Color Palette (download it free below)
A Variety of Procreate Brushes. I created this Drop Cap and artwork primarily using two of my Procreate Brush Sets:
Drop Cap Reference Sheet. I created a worksheet you can print and reference as we work through the step together.
Download the Reference Sheet →
---
the SNOWDROP FLOWERS Color Palette

Right-click or screenshot the photo above to save the color palette.
Import the photo into Procreate and use the Color Selection tool to save the colors to a new palette. (Google how to do this, if needed).
Use the color palette in design programs such as Photoshop and Illustrator.
Match your physical art supplies (markers, colored pencils, watercolors, etc.) to the palette and work the old-school way!
---
The BASIC STEPS + TUTORIAL OVERVIEW
In the tutorial, you'll learn a variety of Procreate techniques such as:
Adding Textures with Clipping Masks
How Using a Lot of Layers Helps You Stay Organized
Creating Drop Shadows Two Ways (manually or the quick way)
Duplicating Illustrations to Save Time
Exporting Your Work as a PNG
Here are the basic steps for this artwork. I'll walk you through them step by step in the video below.
Draw the "J" Drop Cap.
Add a Drop Shadow to your letter.
Draw the SnowDrop Illustrations.
Add dots, hearts, snowflakes, and "January" lettering.
Watch the January Birth Flowers Drop Cap Tutorial Video Lesson
You can also watch the roughly 30-minute video lesson below.
VIDEO OUTLINE
In case you want to skip or re-watch any portions of the tutorial, here are the timestamps for each section.
00:00 Intro
00:14 Overview
01:25 Canvas + Color Palettes
04:43 Creating the J Drop Cap
07:43 Two Ways to Create a Drop Shadow
10:41 Adding Textures to the Drop Shadow using Clipping Masks
14:08 Creating the Florals and using Duplicate to Save Time
25:25 Adding the background elements (Snowflakes, dots, hearts, etc.)
---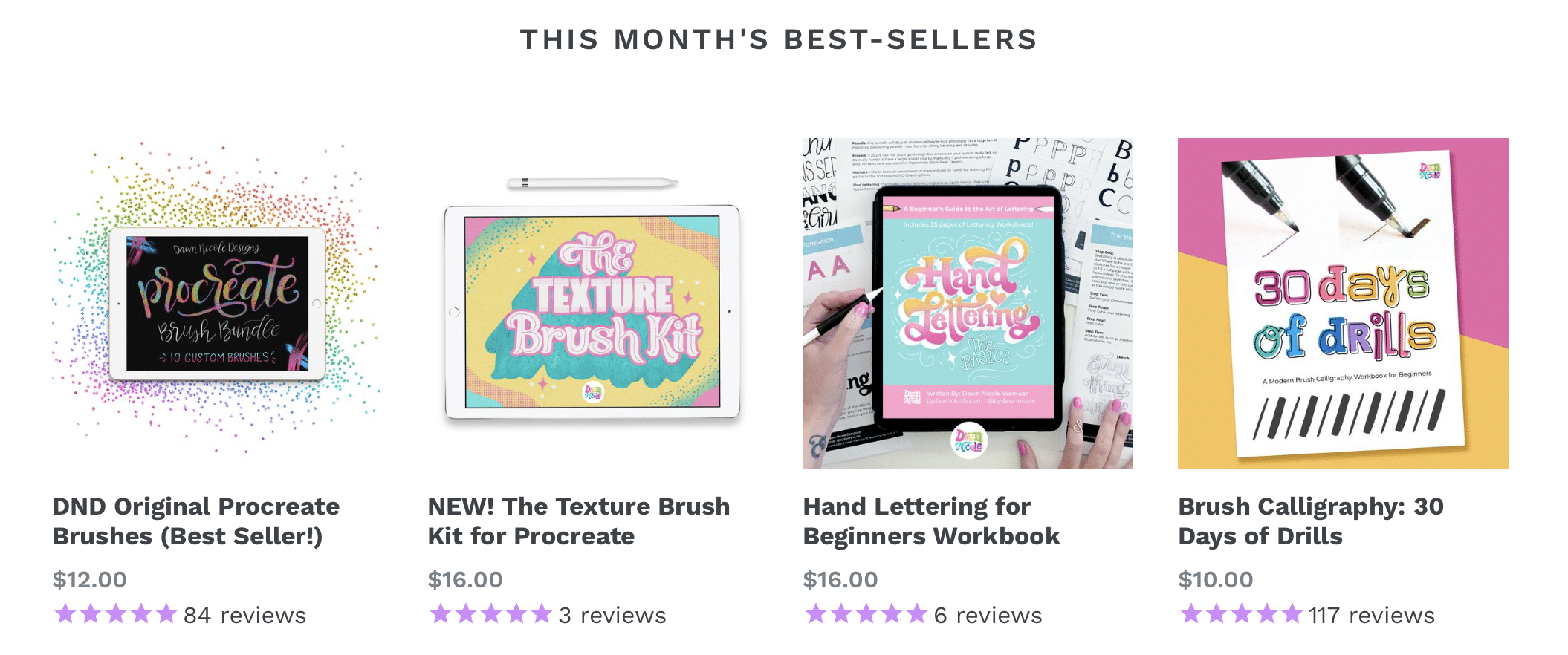 ---
January Birth Flowers Drop Cap Tutorial
I hope you enjoyed this month's lesson. Stay tuned for next month's Floral Drop Cap Tutorial!
LET'S CONNECT
Facebook // Pinterest // Instagram // Shop